words by M.deermount, photos by n.jebson
INTRO TO Poland
Poland certainly isn't a place we thought about going to five years ago. But enough people have sang her praises and convinced us to give it a shot. That and our list of available countries in Europe continue to dwindle. So in late April we did a four night trip from New York.
Most of what I knew about Poland were the jokes I had heard as a kid, the sausages, and that it spent much of last century being pummeled by one of its neighbors. Few countries have been bullied as much as Poland. Its invasion helped spark the first real shots of WWII, some of the most notorious concentration camps were here, and the country's most famous moment in battle was a heroic uprising in 1945 that ultimately failed and resulted in: 1) over two hundred thousand dead, many executed; 2) the systematic destruction of their capital city as retaliation that destroyed 85% of it; and 3) the subsequent and immediate occupation and subjugation by the Soviets for the next forty five years. The Soviets left in 1989 but the country is still rebuilding and catching up to the rest of Europe. A driver we had in Krakow best summarized Poland's view of the past and perhaps where it's headed. He was ~65. Born and raised in cold war occupied Poland, eventually got a job in the U.S. and lived there for 7 years before returning home when the Soviets left.
Me: "So how does Poland get along with Germany now?"

Him: "We get along fine. What happened is done. War is hell, but it's done and now we are friends."

Me: "How about the Russians?"

Him: "F#ck those guys!"
Poland is in the European Union but not on the Euro. Poland is really cheap. Food, booze, cabs, Airbnb, etc. We took a fifteen minute Uber ride (yup, they have Uber…same app) in Krakow from our apartment to the train station…$3.98. For four of us in a nice restaurant it was hard to spend more than $100 total, that includes multiple courses, wine, and cocktails. The culinary scene isn't 'change your life good' but we were more than impressed over the course of four days. Of course you'll find pierogies everywhere and some of them are really good. Their soups are delicious, actually this may be the first time I'm ever going to give accolades to a country for their soup. There were also a lot meat and game dishes as well. The best meal I had was homemade beef stroganoff. And then there's the vodka. Like the Russians and Ukrainians, the Poles love vodka. Flavors are popular. You're most likely to encounter cherry but keep your eyes out for more exotic ones like horseradish.
Like other Eastern European cities everybody speaks English but it's helpful and polite to learn a few simple greetings (Hello -"Dzien' dobry" [jyen dob-ry], Thank you "Dziekuje" [jyen-KOO-yeah], Cheers! "Na zdrowie!" [nah zdroh-vee-eh]).
When we went
Late April for four nights.
Accessibility
There are direct flights to Warsaw from several North American cities. Flights are cheaper than many other European destinations. We decided to fly into Krakow and out of Warsaw which meant the flight over required a quick layover and a 45 minute connection. Both flights were on LOT Airlines and everything went smooth.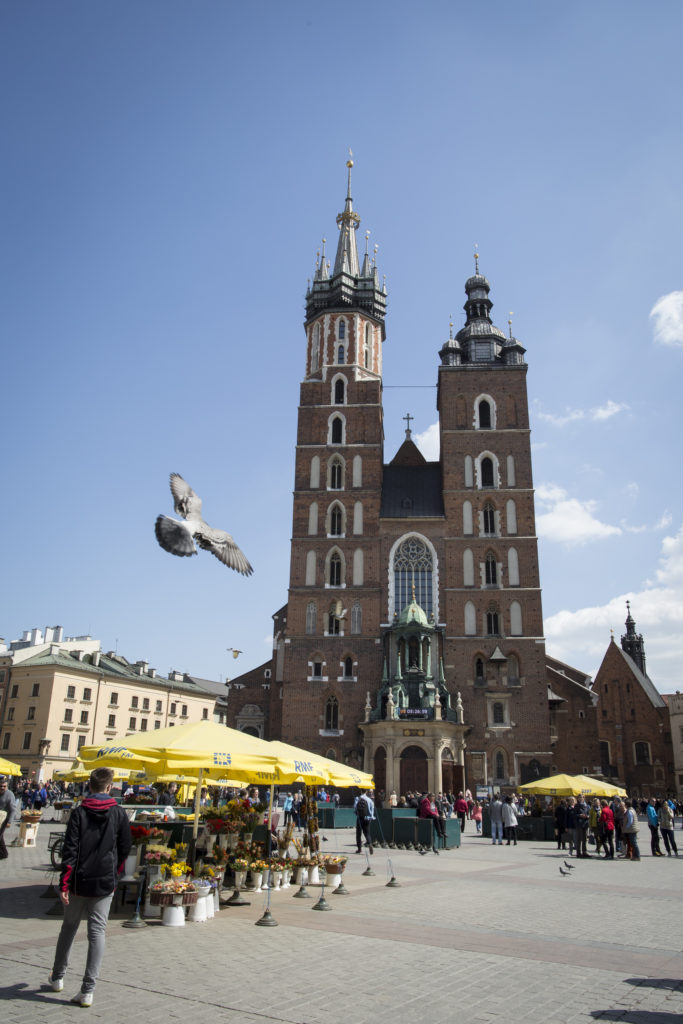 Once in Krakow and Warsaw we had no problem getting around whether it was walking, taking public transit or using a cab. They also have Uber if you'd like to totally avoid the language barrier. Many street cars in both cities are a cool throwback, similar to the ones in Budapest. Rides are super cheap and one-way tickets can be purchased at the stops or on the tram (or bus). Make sure to validate your ticket once on board. There are apps that can be downloaded and run offline that show specific routes and line numbers which can otherwise be hard to understand. If you're in a rush, take a cab. They are easy to hail, metered, and very cheap.
Between Krakow and Warsaw there is a 2hr 15 min express train that runs multiple times throughout the day. You can buy your tickets online beforehand, highly recommended.
Our travel Video
our travel map of poland
What we did
With four nights we decided to spend three in Krakow and one in Warsaw. It amounted to two full days and two half days in Krakow and the equivalent of one full day in Warsaw. It was a good amount of time for each. Late evening (direct) flights from Warsaw to NYC made this itinerary possible. If a morning return was the only option we would not have seen enough of Warsaw.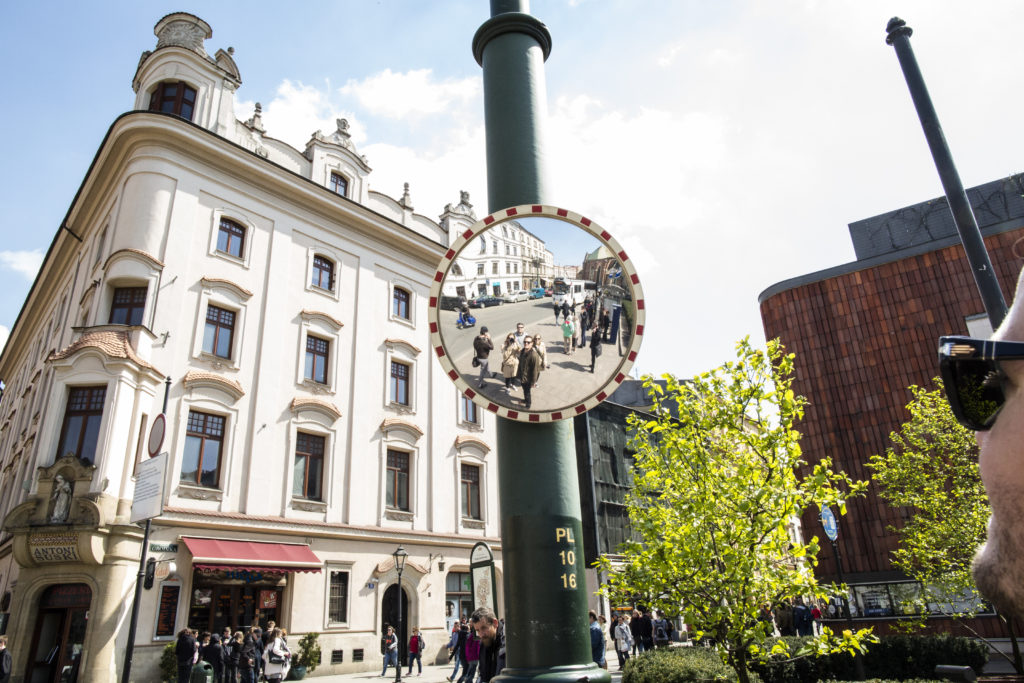 We picked Krakow to spend more time because the city's old town looked really charming, the nightlife looked a bit better, we wanted to do a day trip to Auschwitz, and Warsaw didn't look like it needed more than 24 hours. And I think those all worked out as we thought they would.
Krakow's charm is undeniable. Take one step into the giant medieval square and it's impossible to not be impressed. The walled in medieval part of the city is the tourist hub. Every street is cobbled and leads to the main square. It's obligatory to have at least one drink here on even the shortest visit. The best full day itinerary in Krakow is heading to the farmers market north of the barbican for a freshly made donut, wandering south through the old town and stopping at the two churches mentioned in more detail below, admiring the main square, having a drink in the main square, eating a snack at a milk bar or having a longer lunch, exploring the  castle and cathedral on Wawel Hill, walking to Kazimierz for some historic Jewish sightseeing, having dinner in Kazimierz, then heading back to the main square for a night cap. With more than one full day you can slow down a little.
Krakow's old town used to be surrounded by nearly 2 miles of fortifications, built in the middle ages after repeated invasions from central Europe's Tartars. When Austria ruled Poland the walls were no longer needed and they were mostly taken down. In their place is a park called the Planty that rings the old town. At the north end there is one remaining barbican, once a main entry way into the city. At the south end, along the lazy Vistula River, is the mighty Wawel Castle, which dates back to the beginning of Polish history. It's here you'll find the national cathedral and crypt.
There are a lot of churches in Krakow. Unlike many other European and American cities they actually contain not just tourists but worshipers. Catholic Poland is one of the most religious countries in Europe. Pope John Paul was from Krakow and remains a popular figure. His church in Krakow, the Gothic Church of St. Francis of Assisi  (Kościół św. Franciszka z Asyżu) is worth a look and has some great stained glass windows. The other church worth seeing is St. Mary's (Bazylika Mariacka) in the main square. If the weather is nice you can climb to the top for a good view of the old town. The inside is quite elaborate and the wood carved altarpiece is one of a kind.  
The other area of Krakow worth exploring and easily walkable from the old town is Kazimierz, the old Jewish Quarter. The neighborhood is named after the Polish King Kazimierz the Great who found Poland made of wood and left it made of stone. He also allowed the Jews into Poland when few other countries would. There are a number of old synagogues in Kazimierz as well as an old Jewish Cemetery.  The area looked a lot like areas of Prague and could be considered the Jewish heartland of Europe. Of course there aren't many Jews left in the area as those that survived the war and the holocaust moved out long ago.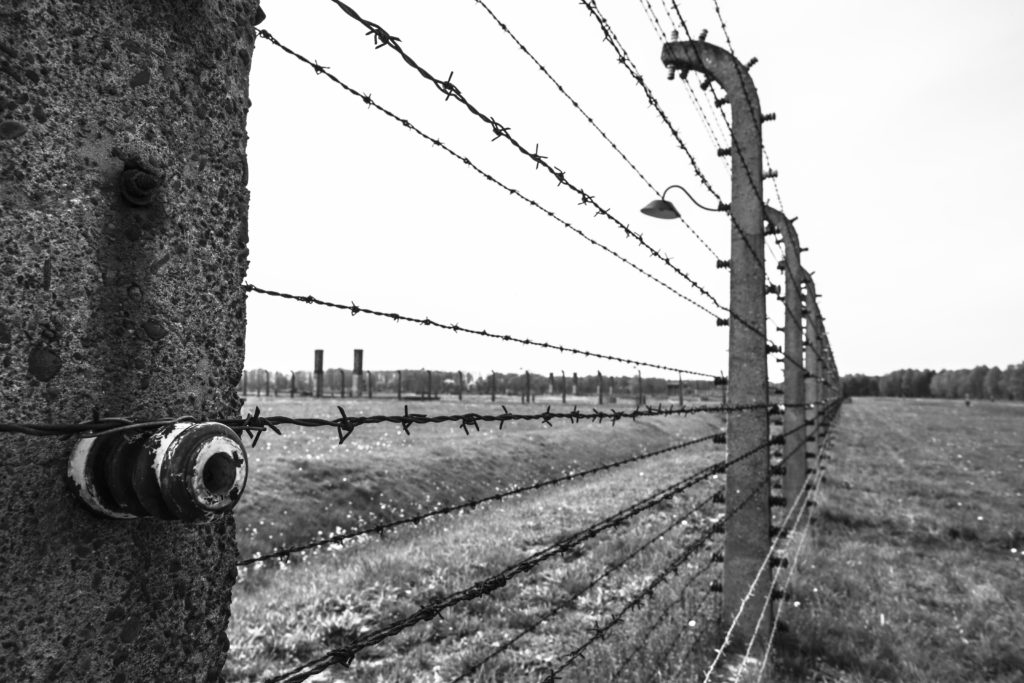 About an hour and half outside of Krakow by car is the Auschwitz Concentration camp, one of the more notorious in a network of Nazi prison camps across central Europe that murdered six million people during the holocaust, most of them Jewish. A day trip is highly recommended. You can visit by public transit but hiring a car/driver is more efficient and not very expensive.
We used Andrew Durman; who is from Poland, spent some time in Chicago, speaks great English, knows a lot about both Poland and Auschwitz, and is quite enjoyable to spend a day with. Don't take an organized tour from Krakow. The only guides allowed in are those working at Auschwitz. You can book an English tour as well as your entry time in advance at the easy to use website. Pre-booking is mandatory. Be at the camp entrance on time or they won't let you in. Security is intense, shoes and belts go on the tray, and you're not allowed to bring in large bags (including purses).
The pre-booked ticket is just for Auschwitz. The much larger Birkenau camp down the road is free to enter. Auschwitz was originally an old military barracks. If you didn't know what happened here you might describe the actual camp as charming, that is until you see the chimney of the crematorium. The Nazis' desire to kill eventually outgrew the confined space of Auschwitz so they built the much larger Birkenau only a couple miles away. Birkenau could never be mistaken for anything other than a prison complex.  Standing in front of the ruins of the crematorium, next to pictures showing Nazi guards piling bodies into a fire, the sick reality of what happened here is inescapable .
The salt mines outside of Krakow are another popular day trip. After reading reviews and looking at pictures we decided it wasn't worth it. So no comment on those.
Warsaw connects to Krakow via a high speed train that takes just over 2 hours. Buy your tickets online and print them out before you leave home to save time.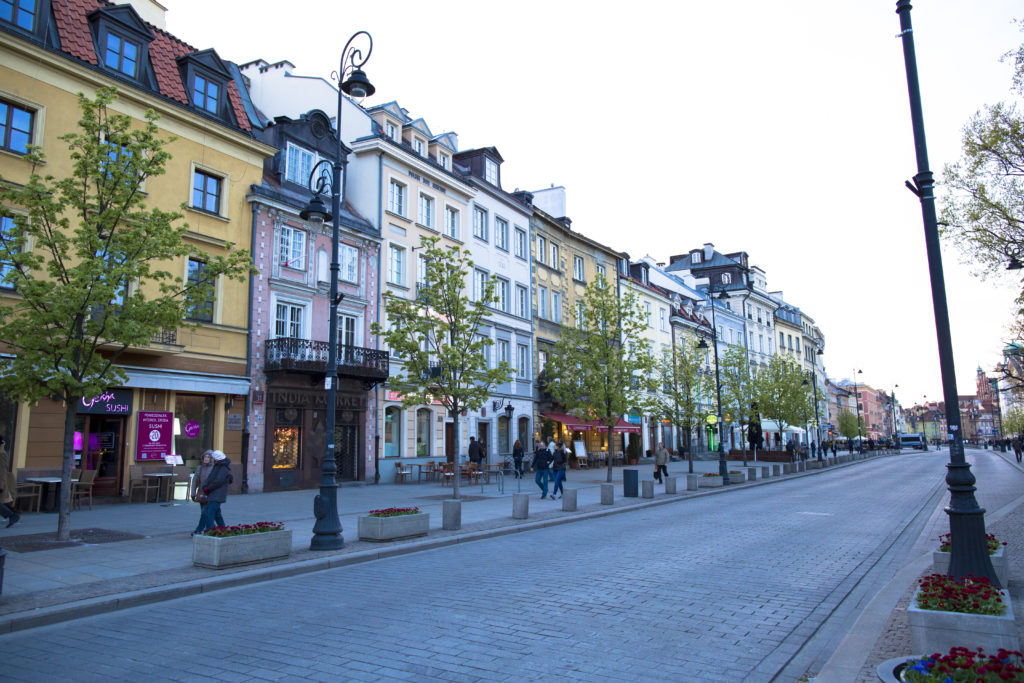 Warsaw can easily be seen in one day. The old town is certainly charming and quite impressive when you consider it had to be rebuilt after near total destruction by the Nazis. But its charm has nothing on Krakow. Warsaw is modern Poland. The most enjoyable things we did in Warsaw were taking a (Rick Steves) self-guided walking tour down the Royal Way between the old and new town and have dinner in the up and coming neighborhoods south of the old town. We didn't make it to any museums but we did visit the uprising monuments and explored the massive park.
DINING
As a general note the eating scene wasn't too varied. Most restaurants had similar menus of meat and game dishes as well as a wide variety of soup and fish. Ethnic restaurants were mostly Asian. We actually did not have a single disappointing meal. Just remember to start each meal with a shot of vodka…well, at least one of them. For dinner it's recommended you make a reservation. Here are a few suggestions…
In Krakow:
Pod Baranem (św. Gertrudy 21, Kraków). Classic Polish cuisine in an elegant old dining room. This was actually one of the better meals we had. The beef stroganoff was outstanding.
Pod Wawelem ( św. Gertrudy 26-29, Kraków). A beer hall throwback. They serve typical beer hall food but we came here late night for for some Polish beer: Zywiec, Okocim, or Tyskie. Mostly pale lagers, all three were delicious. This is also the place that, perhaps regrettably so, introduced us to cherry vodka.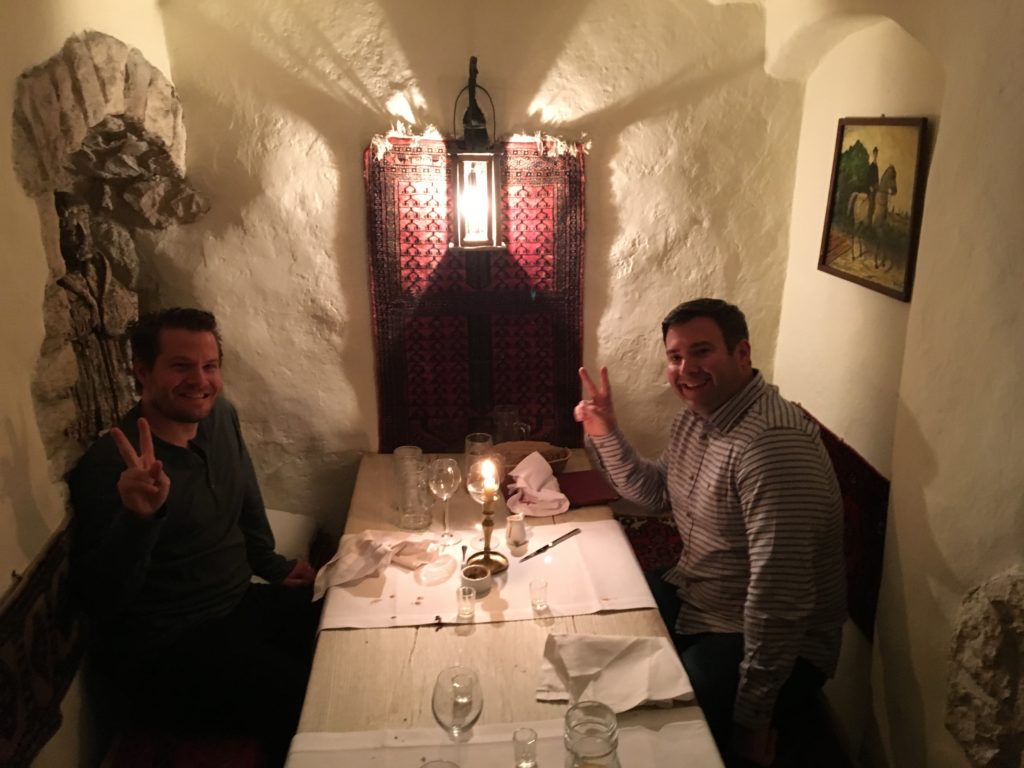 Pod Aniolami (Grodzka 35, Kraków). Modern Polish in a medieval cellar in the old town. It's hard to imagine a better setting than this one. Our group of four had their own little cellar nook complete with stone arch way two flights down. The pierogies were, unquestionably, the best we sampled.
Dym (Świętego Tomasza 13, 31-014 Kraków). Great place for evening drinks just north of the main square. It has a tasty selection of beers and a cool local crowd.
The Main Square. Come here for drinks, just pick a place with a view you like. You can eat here too but probably don't expect anything amazing. Have a pre-dinner drink on the square then head to one of the other restaurants.
Pozegnanie z Afryka (Świętego Tomasza 21, Kraków). Very cool traditional coffee shop north of the main square. They have an exotic menu and serve a strong cup of coffee. Sit inside and feel like you're at a meeting for the East India Company.
Restauracja Kawiarnia Jama Michalika (Floriańska 45, Kraków). If you had a grandmother in Poland her living room would look like this restaurant. We stopped here for a breakfast on our walking tour of Krakow. Service, like everywhere else, is slow but the price is right.
Stary Kleparz (ynek Kleparski, 30-962 Kraków). This is a farmers market just one block north of the Barbican at the north end of the old town. If you're staying in an Airbnb it is highly recommended you stock up on cheeses, salted meats, and pastries from one of the many babushka's selling their goods here.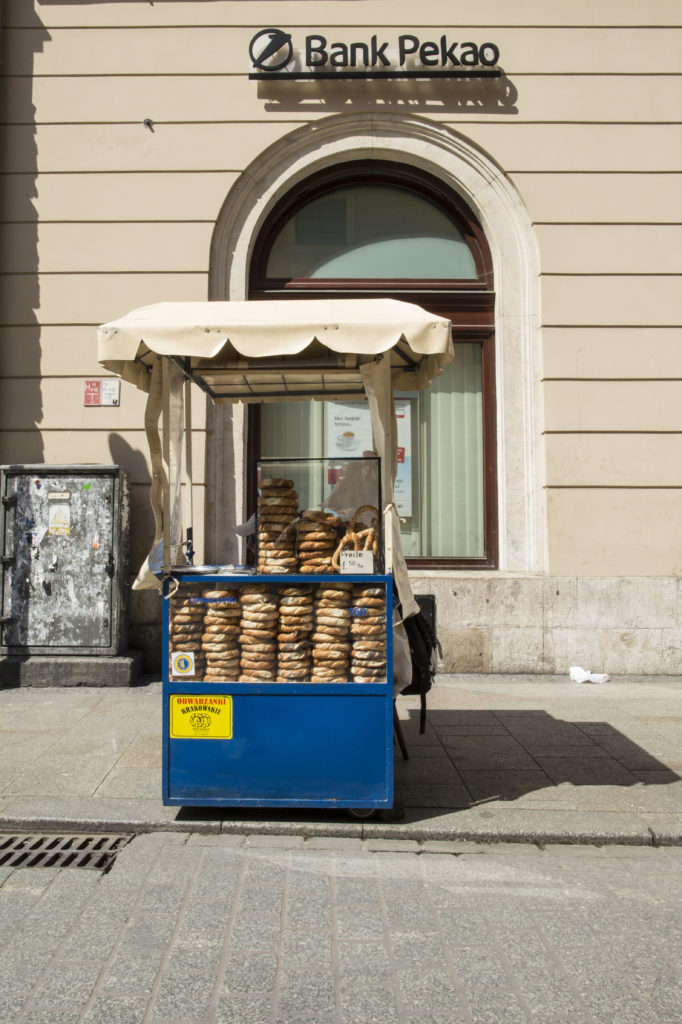 Bagelmama (Dajwór 10, 31-052 Kraków). Bagels in Kazimierz. Maybe it's because Kazimierz is the Jewish district…but they felt authentic.
Starka (Józefa 14, 31-056 Kraków). Also in Kazimierz on Jozef street, where there are a number of cute restaurants. Starka is supposed to look like an early 20th century Berlin bistro. Still not sure what that is but somehow Starka really does look exactly like that. They also had some great soup and a wide variety of homemade vodkas. Try the horseradish! It was amazing.
Singer s.c. Kawiarnia (Estery 20, 31-056 Kraków). Kazimierz. It's a bar in an old singer sewing factory on street in the recently revitalized section of an Eastern European city. What else do you need to know?
Alchemia (33 332, Estery 5, 33-332 Kraków). Just up the street from Singer is an awesome little square. Once a medieval kosher meat market it's now home to a grungy flea market during the day and overflowing with bars at night. Alchemia is on the corner. It has multiple levels and rooms. Feels kind of like a haunted warehouse.  In some rooms they have live music. It's a popular place.  Don't be shy to grab a table and make some friends.
Bar Mieczny Pod Temida (Grodzka 43, 30-962 Kraków). During the cold war restaurants called "milk bars" were government subsidized cafeterias where the proletariat came for a cheap hearty meal and not much else.  Today Milk Bars are still subsidized and still serve cheap hearty meals. Unless you're really on a budget a visit here is more about the cultural experience than anything else. The soup options are good, and for just a dollar they make a great snack. If you're still hungry the plate of pierogies will certainly hold you over until dinner.
In Warsaw: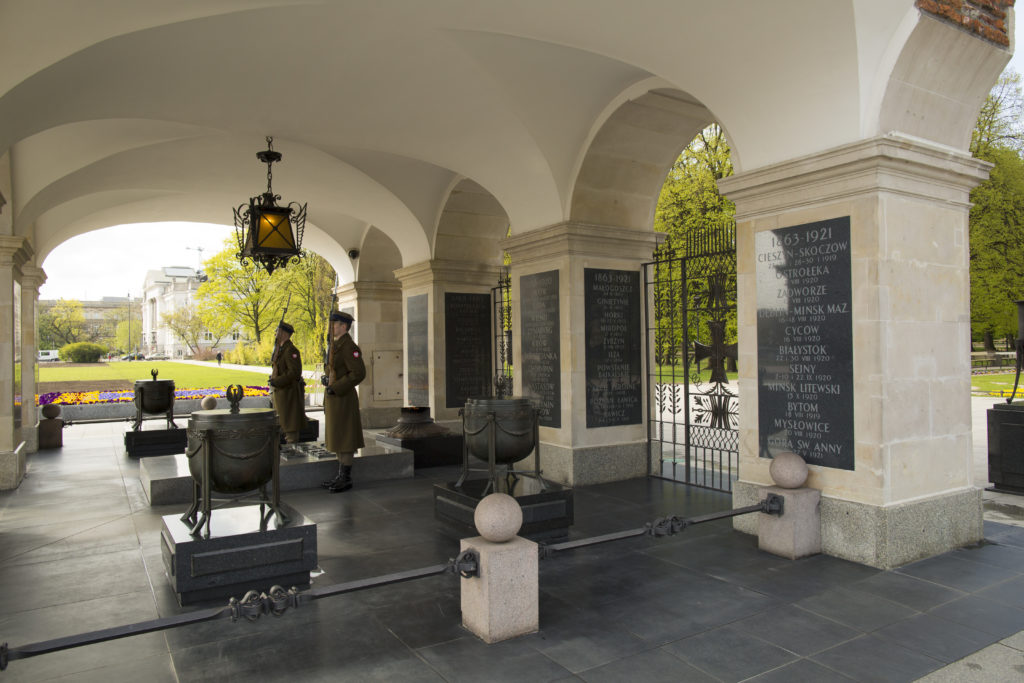 Tandoor (Marszałkowska 21/25, Warszawa). After several days of borscht soup and roasted meat the group wanted something different in Warsaw. We were exploring the up and coming neighborhoods just south of Warsaw's main drag and stumbled on this. For some reason whenever we eat ethnic overseas its almost always Indian and Tandoor was actually quite good.
Charlotte ( aleja Wyzwolenia 18, 00-001 Warszawa). Good upscale coffee joint. We didn't eat here, just grabbed coffee to go, but it looked pretty tasty.
Restauracja Belvedere (Agrykola 1, Warszawa). If you go to only one restaurant in Warsaw make it Belvedere. It's located in a mansion in Warsaw's largest park and the Belvedere name is of the vodka fame. Prices are much steeper in this Michelin starred restaurant than other eateries in Poland but it was worth it. Come here for a super classy lunch or dinner.   Be sure to take a stroll through the nearby Lazienki Park built to look like the Peterhof Gardens near St. Petersburg (Russia not Florida).
Sleeping
We stayed in an Airbnb in Krakow. Something we would highly recommend. There are an abundance of cool old apartments around the old town. We staying across the street from the castle because it was a little harder to find something with two bedrooms and two bathrooms closer to the main square. But the walk, even from the south end of the castle, was quick and easy.
In Warsaw we stayed in the beautiful old Hotel Bristol. It is one of the classier places in town. It's right on the main square, and costs less than the tax on an equivalent room in a city like London. As you take the glass elevator to your room keep in mind that the Nazis used this place as a hotel for special guests and as a brothel. History aside, it's really a lovely hotel.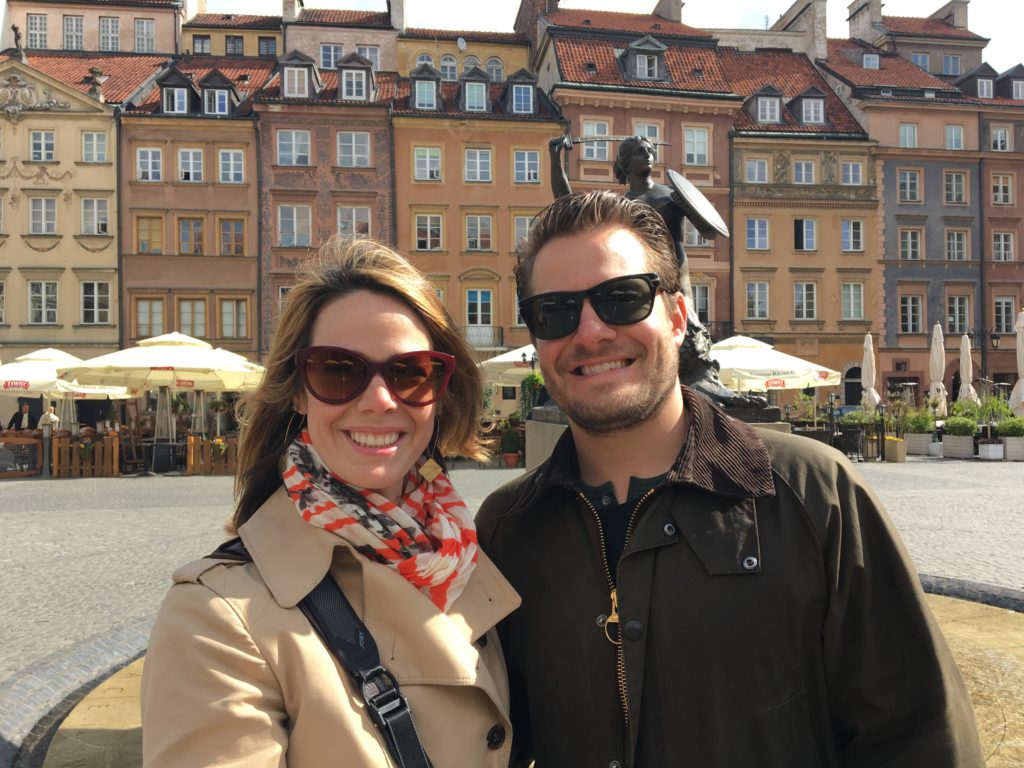 Additional photos can be found on my Phanfare site – Poland album.