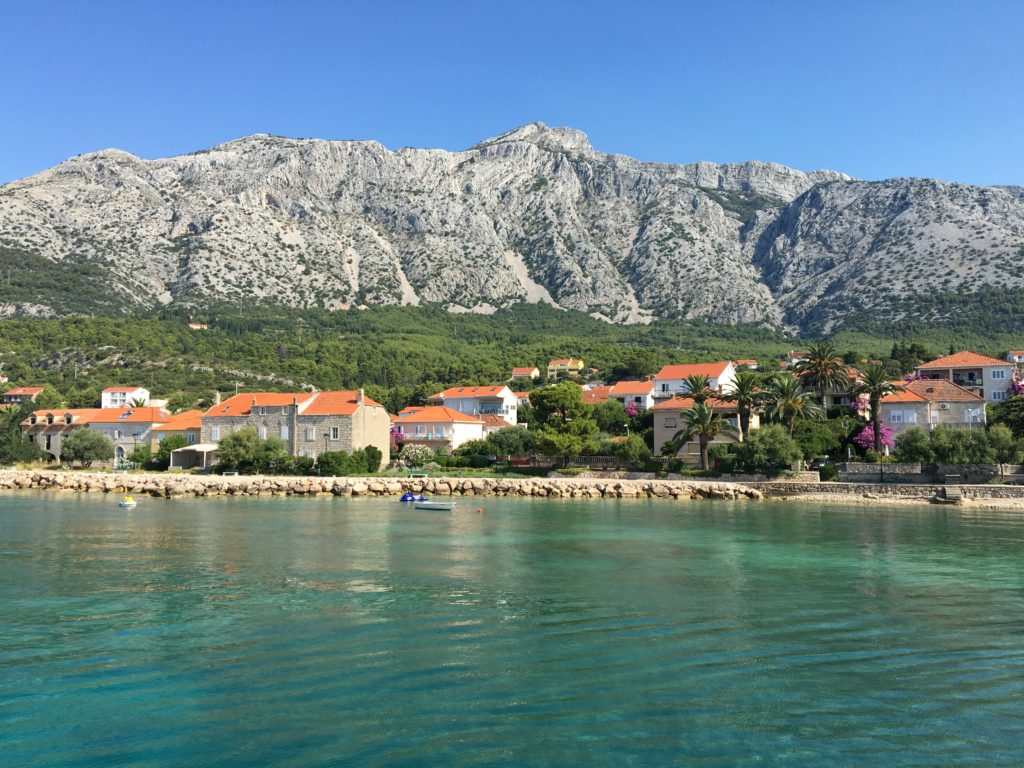 Words by Michael Deermount — Photos by Nikki Jebson
Croatia is the primary tourist draw in the Balkans. In addition to getting most of the ex Yugoslavian coastline it was admitted to the European Union in 2013 (although they still don't use the Euro). Far from the up and coming destination it was only a few years ago, today the country's coast is packed with adventurers and sun seekers. And with good reason. Dubrovnik, also known as the 'Pearl of the Adriatic', is not just intriguing because it was a city that once rivaled Venice but also because it is the real life setting for Kings Landing, the center of power in HBO's Game of Thrones series. A short hop from Dubrovnik are the Dalmatian Islands of Hvar, Korcula, and Mljet, which are some of the most beautiful in the Adriatic where seemingly every piece of rocky beach is being put to good use.
While exploring Croatia it can be hard to believe there was a war here only a little more than twenty years ago. While no war is less horrific than any other the Balkans War was notable because the people fighting it had often been close neighbors.
The country of Yugoslavia was founded in the mid-nineteenth century, it means "Land of the South Slavic People", and it was supposed to unite all the people of that ethnic background. It stretched from Slovenia in the north down to Macedonia and included Croatia, Bosnia and Hertzengovia, Serbia, and Montenegro. The problem was that over the previous thousand years various parts of the Balkan region had been dominated by or part of the Austria Hungarian Empire, the Ottoman Empire, the Venetian Empire, and the Russians. This meant the country of Yugoslavia contained Catholics (Croats mostly associated with Croatia), Orthodox Christians (Serbs mostly associated with Serbia), and Muslim (mostly referred to a Bosniaks from Bosnia).  
During the Cold War, Yugoslavia played both the east and west, managing to get economic aid from both sides in order to not let the other gain influence.
The union of Yugoslavia held strong and that country even hosted the winter olympics in 1984 in Sarajevo. But in the early 90s, it all fell apart. Slovenia and Croatia declared their freedom. Serbia (much of the ex-Yugoslav army) attacked Croatia, even laying siege to Dubrovnik. Slovenia slipped away thanks to its close ties (geography and culturally) to Austria and Germany. As Croatia and Serbia fought it out all three groups in Bosnia (Serbs, Croats, and Bosniaks) turned against each other and "ethnic cleansing" became a commonly heard term.
The war ended a long time ago but the physical scars are still there, particularly in Bosnia, where the concrete buildings are still pock-marked. It seems unlikely a war will break out anytime soon but the tension between groups is still noticeable. Religious differences and economic disparity mean it's unlikely to go away anytime soon.
But those deep cultural differences are what make the Balkans such an intriguing place to travel. Within just a few hours (ferry or car) you can see the walled-in near movie set like city of Dubrovnik, explore an emperor's palace turned medieval city in Split, see the simply stunning fjords of the Bay of Kotor in Montenegro, and even listen to the call to prayer in an Ottoman era bazaar in Mostar, Bosnia.
When we went
We were there in late July, which is just before the height of their summer season. It was hot. ~90 degrees in Dubrovnik and in the islands. Sarajevo and Montenegro were almost as hot.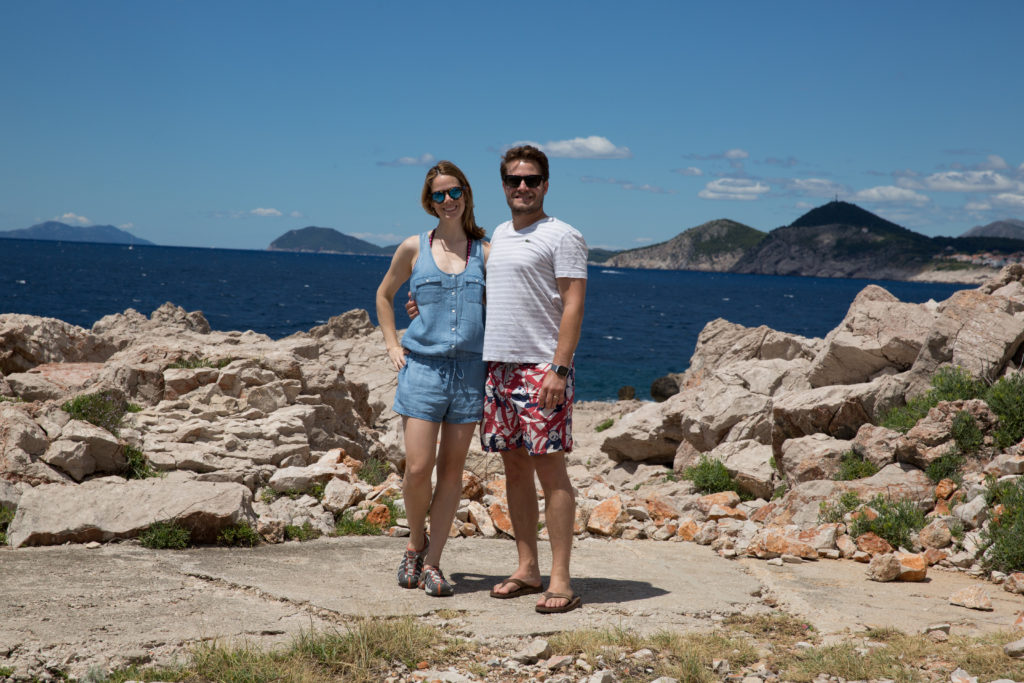 Accessibility
Croatia (and Dubrovnik in particular) isn't as well connected as you might think. To get to Dubrovnik we had to fly through London. To get home from Sarajevo we flew through Istanbul. There were other options through Munich, Vienna, and Belgrade.
There may be direct flights from the U.S. (JFK) coming soon.
our travel video
What we did

With ten days we decided the majority of time was best spent in Croatia, which we divided evenly between Dubrovnik and the islands. We took a day trip to Kotor in Montenegro from Dubrovnik which seemed like a reasonable amount of time. We got to drive around the bay, explore the city of Kotor, and stop in Perast. Bosnia got an entire weekend because we had a Saturday night wedding in Sarajevo. We drove to Sarajevo from Croatia and got to stop in Mostar for lunch. Two nights in Sarajevo seemed reasonable. With more we probably would have spent at least one night in Mostar. Ending in Sarajevo also worked well because we were able to fly into Dubrovnik and out of Sarajevo.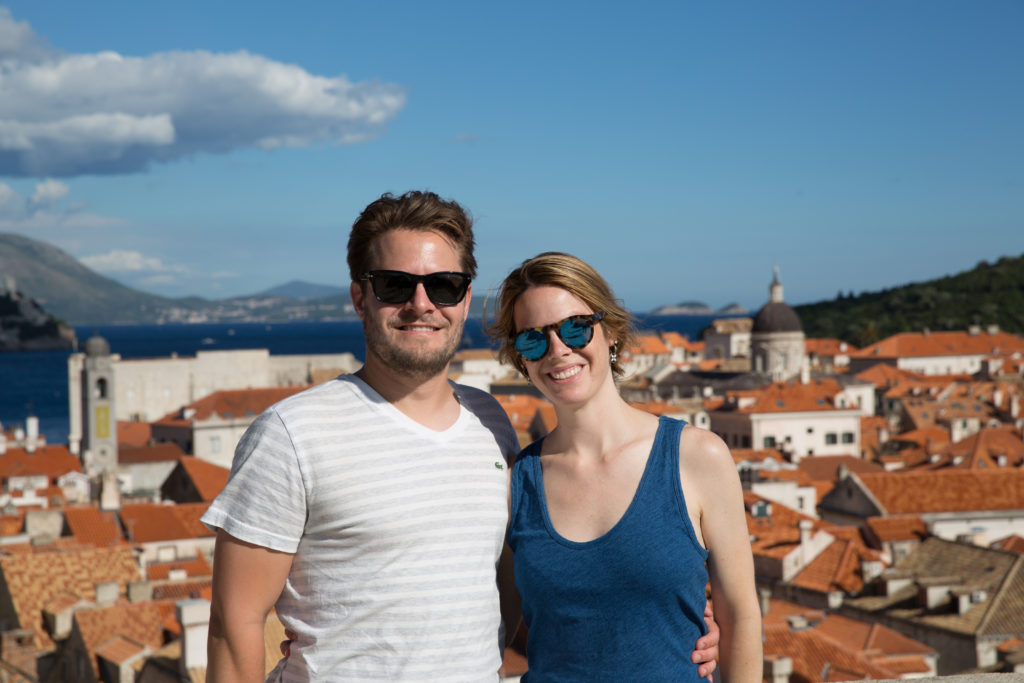 Choosing where to go in Croatia. If you are here in the summer you should do at least one city and one island. We chose Dubrovnik as our city destination because it is well connected to the islands and because it appears (at least from every picture we saw) to be the most beautiful city in that part of the world that isn't named Venice. We have heard a lot of good things about Split as well and with a few more days probably would have gone there.
As far as islands go most likely your decision will either be Korcula or Hvar. Both are known for their history and natural beauty. Hvar has more of a party reputation. Korcula, specifically Korcula Town, where we stayed, was the walled-in southern outpost of Venice. In addition to an abundance of winged lions within the old town walls there's a mini St. Marks square and this little medieval town claims that Marco Polo was born within its walls. Being suckers for history and atmosphere rather than beach clubs and swanky bars, we picked Korcula. No regrets on the decision but there is no shortage of people who will tell you to go to Hvar. The two are connected by a 45 minute ferry if you must see them both. Other islands we've heard good things about include the much smaller island of Vis and Mljet, which doubles as a national park.
Itinerary
Day 1:
As mentioned earlier Croatia isn't as well connected as one might think. After a bit of research we found that the most fun route (and one of the cheaper options) was to fly to London, enjoy a pint and brunch during a six hour layover, then take a cheap EasyJet flight to Dubrovnik in the late afternoon. We arrived in Dubrovnik in time for dinner.
Like many old European cities Dubrovnik has an old section, within the walls, and a more modern city around it. The confined space within means there isn't much room for hotels. Most of those, many of them larger modern resorts, are a short cab ride or walk away. Our advice would be to splurge on one of the few boutique hotels in the old town or find yourself a nice Airbnb. You're here for the atmosphere so you might as well put yourself as close to it as possible. We stayed at the Pucic Palace, a fourteenth century merchant mansion on one of the delightful squares. Not cheap by any means but the view out your window will make you forget about the price tag. [For more on Pucic and lodging see the Where We Stayed section below.]
Croatian cuisine is a bit underwhelming, and expensive. See more on eating below. But what the food lacks in taste the restaurants make up for in atmosphere. Restaurants serving up local cuttlefish risotto and fish spill out into many of the city's little limestone alleys. Some of them are so picturesque they look fake, like something you would find in Vegas or Disney World.
Ending your meal with an evening stroll to get gelato is a travel memory not to be missed.
Day 2:
By the time we finished breakfast it was already quite hot and we decided to head for the beach.
A word on Croatian beaches. The word "beach" is loosely applied in this part of the world. While there are numerous strips of sand and pebbles that fit the more traditional idea of what a beach is, around here any jagged outcrop of limestone plunging into the sea is good enough. Water shoes are a good idea if you're planning to swim in Croatia. While there is a little pebble beach just outside the walls that we did eventually visit, on our first full day we decided to go to the small island of Lokrum just off shore. Getting there involves a quick ferry ride from the charming old harbor. Look for the boat that says "Lokrum". They leave about every 30 minutes.
When the crowds and all of Dubrovnik get a little overwhelming, Lokrum is supposedly where the locals come for a little piece and quiet. Any serene spot along the water makes for a perfect place to layout and relax in the sun or dive into the clear water of the Adriatic. There are also numerous walking paths along the island. Get far enough from the ferry dock and you'll be treated to a fantastic view of Dubrovnik. Along the way you'll enjoy the constant buzz of cicadas that fill surrounding trees. For Game of Thrones fans the island has a small exhibit about the show and filming around Dubrovnik. There's also an iron thrown replica. Lokrum also has a number of small eateries, perfect for a drink, a snack, or lunch.
Back in Dubrovnik there is really only one site you have to visit; the city walls. The entire walk along the top of the wall should take ~1hr – 2hr depending on how often you stop. There are several places that sell juice, water and snacks along the way and the view just keeps getting better and better. Be warned that it can be very hot on the wall, there is no shade and the limestone heats up real fast under the intense summer sun. It can also be very crowded with cruise shippers who only have a few hours in the city. Go early in the morning or later in the afternoon to avoid the crowds.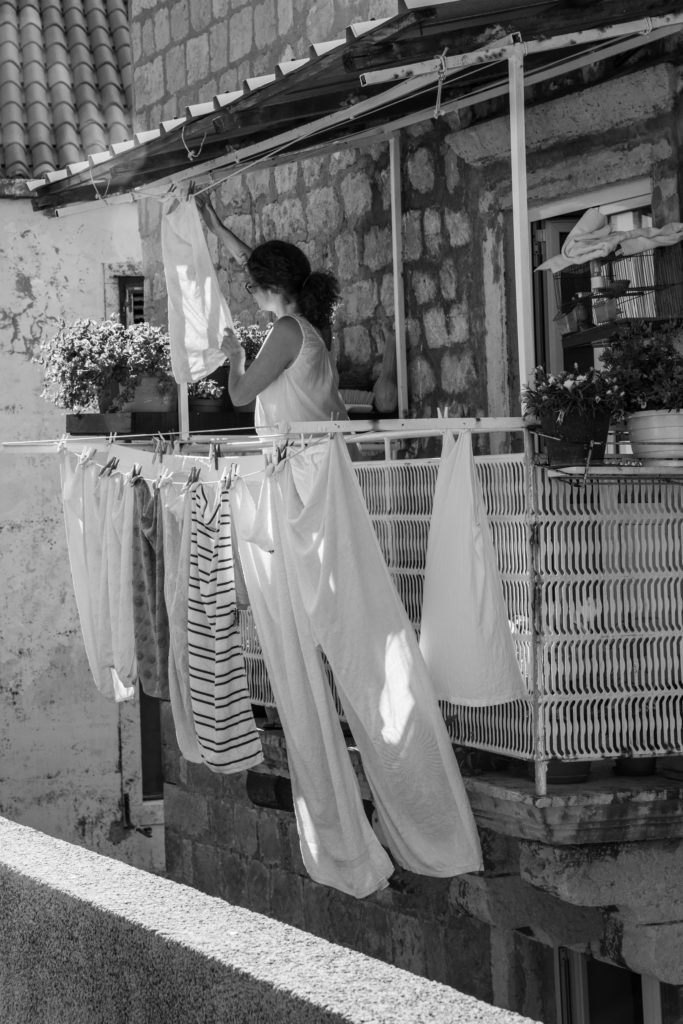 There are three entrances to the wall and two are at the main entrance gates of the city; the Pile and Place gates. You pay once to enter and can not re-enter. Walking along the walls you truly appreciate the frontier existence of this once independent city. With Venice to the north and the Ottoman Empire to the south Dubrovnik took no chances in building this massive defensive wall to help ward off an attack. Inside the city but not evident to most travelers there were numerous underground silos whose purpose was to provide food during long periods of siege. The walls are so massive that they even provided shelter for Dubrovnik's citizens against modern artillery when Serbia laid siege to the city in the 90s.
At two different spots along the wall on the water side you'll notice bars that cling to the side of cliffs, hanging over the sea. One is called Buza and the other is Buza II. Although most likely crowded, finishing the walk along the wall is a good enough reason to treat yourself to a sunset cocktail before dinner.
Day 3:
Day trip to Montenegro.
At just over two hours away, Montenegro makes for a great day trip from Dubrovnik. The primary destination is the stunning Bay of Kotor and a little walled-in city of the same name nestled deep within the bay. This mighty little place was once a southern outpost of Venice, boldly representing the winged lion within striking distance of the Ottoman empire.
Montenegro is one of the youngest countries in the world, having been an independent state only since 2006. While the country uses the Euro they are not part of the European Union. Croatia is an EU member, which means that border crossings between the two countries are far more serious that one might think. While you can rent a car for the day and get yourself here a driver takes away some of the stress of navigation and driving while also potentially saving you an hour or more just getting over the border. We hired Petar Vlasic from Dubrovnik Riveria Tours who took us up the back side of a mountain instead of crossing at one of the major highways.
Montenegro, unlike Croatia, was quick to offer its land for sale to foreigners after the wars of the 1990s. Its ties to Serbia (it was Serbia-Montenegro before becoming independent) and Russia meant that many of the buyers came with rubbles. The coastline of Montenegro might as well be the Russian riviera. Immediately upon entering Montenegro from Croatia you'll notice signs in Russian and even radio stations in Russian. Russian architecture from the 20th century is not known for its charm. The drive from the Croatian border to the Bay of Kotor goes through some fairly depressing looking areas. Thankfully the Montenegrins did take steps to protect the Bay of Kotor and it is mostly void of the monolithic and sterile looking concrete blocks that fill much of the rest of the country.  
The Bay of Kotor might as well be the fjord of Kotor. Imagine a Norwegian fjord with more palm trees and Italian Renaissance towns dotting the shoreline. That's the Bay of Kotor. It's also huge. There are a couple ferry crossings to cut the journey but it takes a couple hours to drive around the whole thing. Don't worry though, the scenery is stunning.
The little town of Perast is an understandably popular place to stop for a coffee break on your way around the bay. The little town was once renowned for its ship yards, aristocratic mansions, skilled sailors, and the Our Lady of the Rocks Church which is built on the only man made island in the Adriatic. According to local legend, after seaman found an icon of Mary and Jesus on a rock in the bay just off Perast they began throwing rocks at the same spot each time they returned home safely. That began a tradition and after hundreds of years and who knows how many rocks as well as sunken ships, a church was built on the man-made island in the mid-17th century. For a couple euros locals will take you out to the island in their boat where you can explore the church and a little museum.
The highlight of the Bay of Kotor is the city of Kotor. It's at the deepest point in the bay and it's surrounded by a thick stout brick wall, which even goes up the near 90 degree vertical mountain behind the town and makes you wonder what they thought was going to scale that mountain. Perhaps an army of billy goats?
Kotor is popular with cruise boats. Chances are there will be at least one around when you're there. This is another good reason to hire a driver. They know approximately when the boats will be arriving and departing so they will time your arrival accordingly.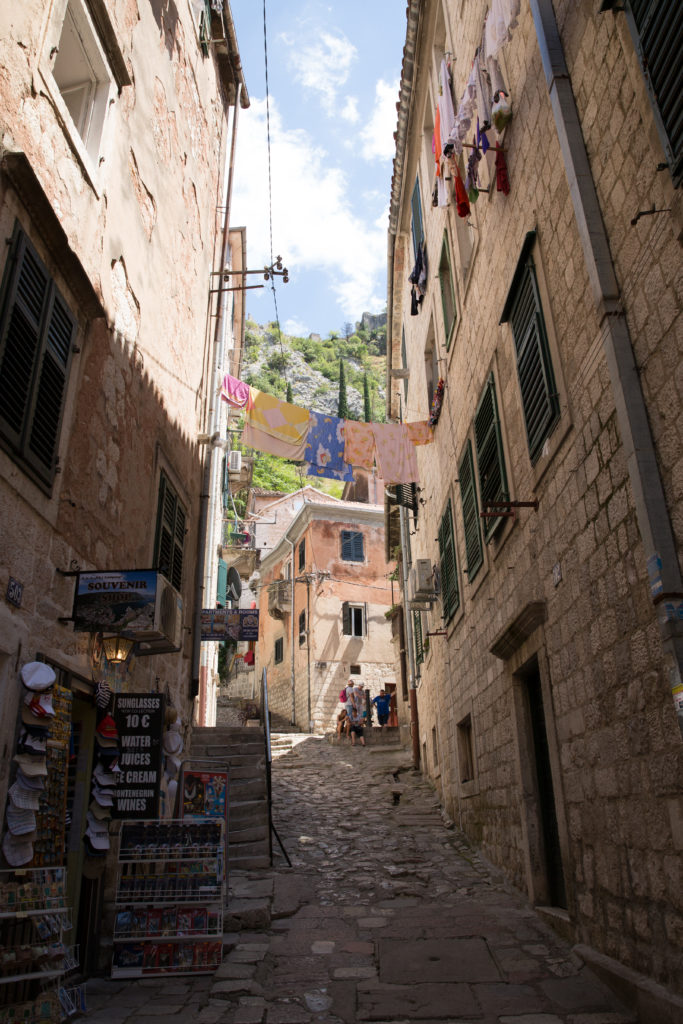 Kotor is a little place. You can walk across it in just a few minutes and if a cruise boat just pulled up the restaurants and little medieval squares will be mobbed. After a good lunch in one of Kotor's cute little squares we climbed the walls for an awesome view into the bay. It was hot. Like Dubrovnik, if you're doing this make sure you have good shoes (seriously, no flip-flops) and water. In 30 minutes you'll get about half way up where there is a little church and a good spot to sit and take it all in. You can go higher but we didn't.
Day 4:
Our last day in Dubrovnik. In the morning we went to Banje Beach for a couple hours. The beach is located just outside the walls of the old harbor. Although a little crowded the beach is clean, the water is warm, and there are chairs to rent from a beach club that also sells drinks and snacks.
After lunch we took a cable car to Fort Imperial at the top of Mount Srd behind the city. Built during the Napoleonic Wars this little mountain stronghold saw a significant amount of fierce fighting during the 1990s. Young men from Dubrovnik with no prior military experience came up here with old hunting rifles and guns left over from WWII and gallantly defended their city from attacking Serbian forces. The views up here are incredible and there is a good little museum about the siege of Dubrovnik.
Most ferries heading north into the Dalmatian islands leave early in the morning or in the afternoon. Buying tickets ahead of time is highly encouraged (as in, days beforehand not morning of). The Croatian Ferries website (http://www.croatiaferries.com/) is a good resource for timetables of the different companies but you'll have to go to the individual companies' pages to buy tickets.
The ferries heading north leave from a more modern harbor just north of the old city of Dubrovnik. A cab from one of the main gates will only run you the equivalent of a few dollars. There are no assigned seats in the ferries and they can be quite full in the summer. To ensure a seat get to your boat at least 30 minutes ahead of time.
Our ride to the island of Korcula was about two hours. The ferry we took, and most of the others, are high speed catamarans so there isn't much outdoor seating and its mostly too windy to want to sit outside the whole time anyway.
The tiny walled town of Korcula sits at the north eastern end of a long skinny island (30 miles long but just 5 miles wide) also named Korcula.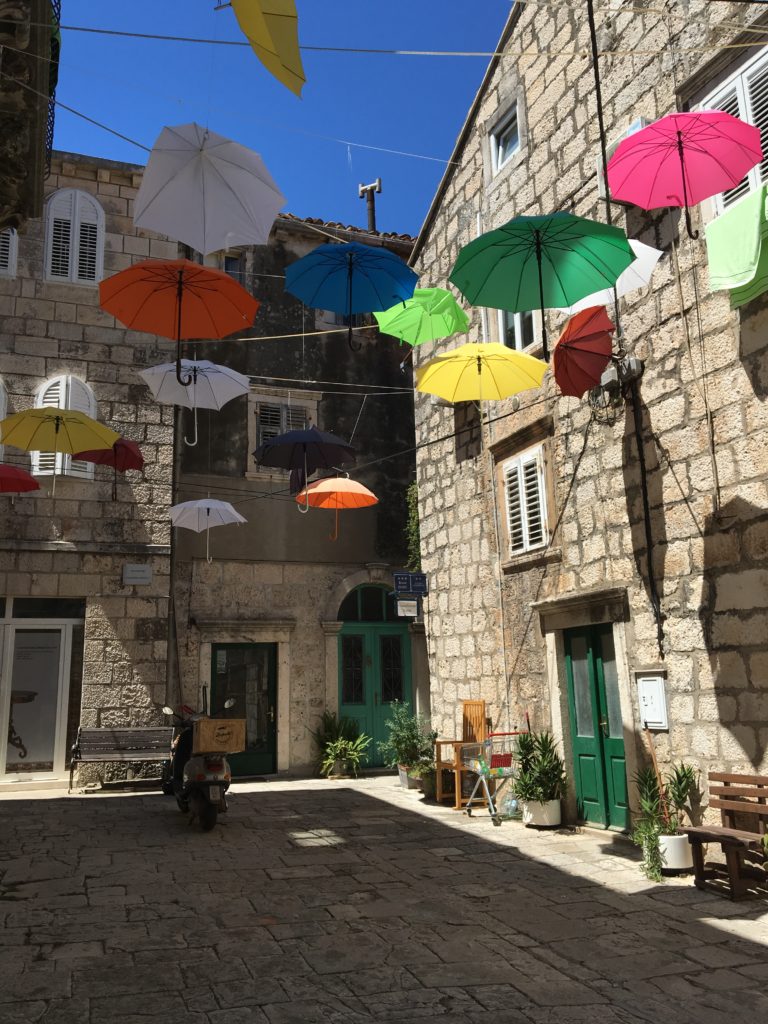 As mentioned most people will choose between Korcula and Hvar for an island home base. We picked Korcula for its more laid back vibe, old world atmosphere, and historical importance. This little city was once part of Venice. It even has a little St. Marks Square. There are no canals here but you're never far from the water as the city was built on a tiny peninsula. Korcula old town, as it's called, is pedestrian only. There is a main gate from the only side that's connected to the land and only one main street across the city. It's impossible to get lost here and you can walk end to end in about three minutes. Like other old cities most of the infrastructure is outside the walled-in old part. If you're staying in the old town find yourself a good Airbnb. Ours had a view of the sunset and was supposedly down the street from the birthplace of Marco Polo. It certainly could be true that the great explorer was born here as it was both a part of Venice and a great sea power in the 1200s. And Marco Polo was captured during a naval battle just offshore, which lead to him retelling the stories of his travels in a Genoese prison. There are a couple other places around this part of the world that claim to be his birthplace and the true answer may never be known but that hasn't stopped Korcula from proudly declaring him as one of their own. You'll find posters, museums, statues, knick knacks, and even ice cream with his name on them. Even the local tubular pasta is said to have been created after a similar style he encountered in the far east.
Along the western side of Korcula town you'll find the harbor, the only hotel that's on the old town's peninsula, and a parking lot. The wall between the old town and the sea along the eastern side is lined with restaurants. All of them have tables on the promenade under the trees with views that will make you never want to leave. For as charming as the alleys of the old town are it can be nearly impossible to make yourself not want to eat here every single night. Luckily, there are more restaurants then you'll have time to visit. For a list of the ones we visited see the eating section below. We recommend making a reservation a day in advance (or at least swing by lunchtime day-of).
Day 5/6:
Korcula is the kind of place where you're going to want to play in the ocean or just relax or find some combination of the two. The old town, like Dubrovnik, is surrounded by a jagged rocky shoreline. In Croatia those rocks are called a beach. At multiple places along the city's wall you'll find steps that go down to the beach. Bring a towel and your water shoes (we brought cheap water shoes with us) if you plan on going in. There are a couple tiny sandy beaches along the old town walls but one is mostly for small children and the other sits next to the parking lot.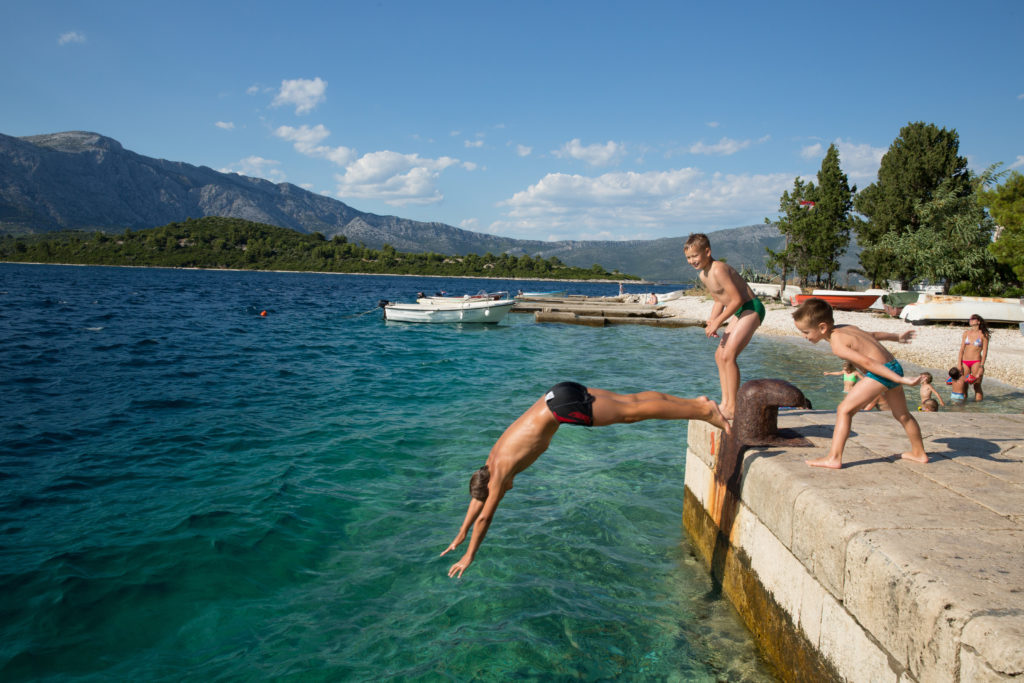 While we did go for a pre-dinner swim off the rocks of the old town one evening, during the day we ventured out of the old town to explore the rest of the island.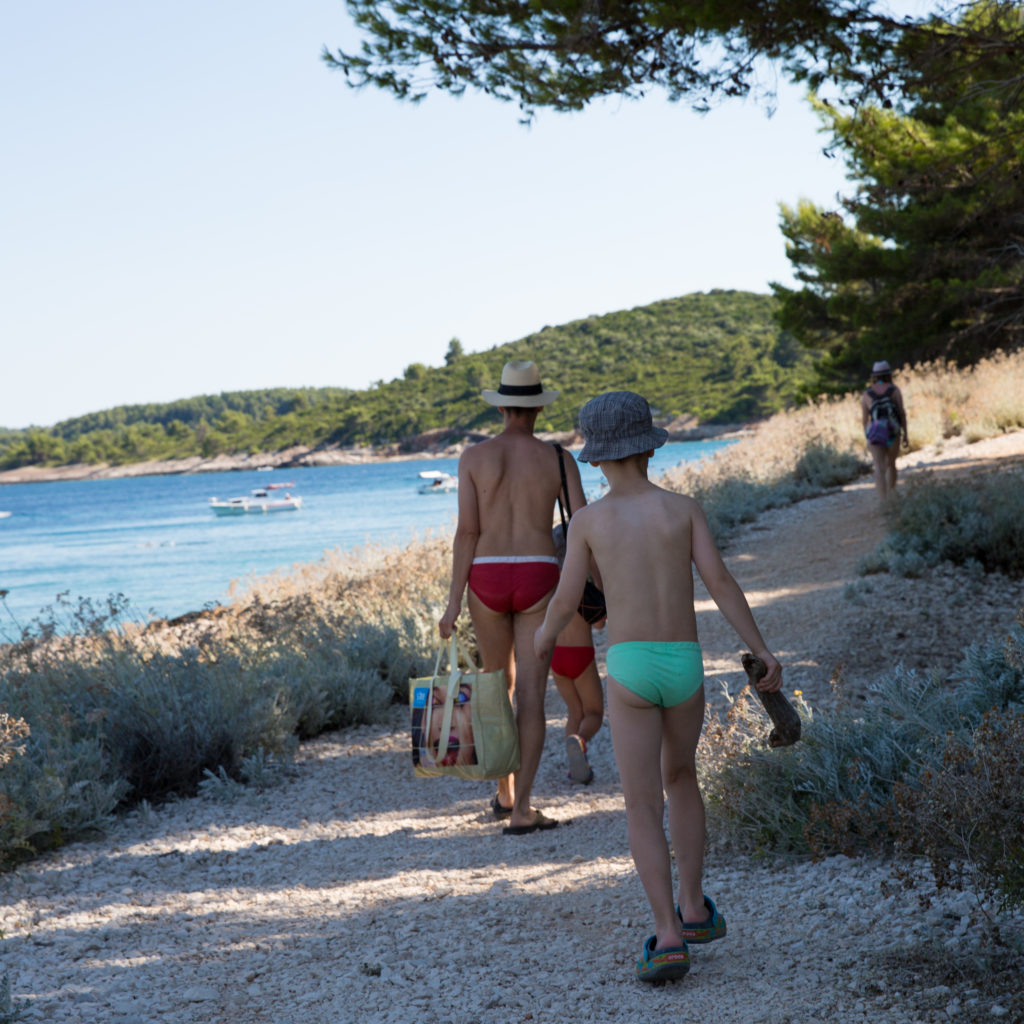 On the first day we did a snorkeling trip through Korkyra Info. They have a couple offices including one just outside the city's gate. There isn't exactly an abundance of aquatic life around here but the water is crystal clear and exploring the nearby islands and beaches, particularly by boat, is really fun. We lucked out because no one else showed up for our afternoon tour so basically we got a four hour private cruise with a captain named Drago. The most popular little nearby island is Otok Badija, which is fun to explore and has both a nude beach and a Franciscan Monastery. One of the nicest beaches we went to was Bili Beach outside of Lumbarda, which is just a couple miles from Korcula and also accessible by public bus, taxi, rental car, or water taxi. Bili Beach is a narrow sandy beach pushed up against the sea by a centuries old vineyard. The best views of the beach are from the water.
Korcula island has a lot of wineries. Most are best explored by car or with an organized tour to avoid drinking and driving. We rented a car, mostly for the beach, but we did stop at the Bire Winery in Lumbarda to buy a few bottles of their amazing Grk wine. In many of Korcula's restaurants you'll see Grk on the menu. But outside of a few very upscale places in Dubrovnik and maybe Hvar you won't see this wine anywhere outside of Korcula Island. Grk is a dry mineral-driven, but well rounded white wine. There's a touch of oak, similar to chardonnay. It's quite delicious. The Grk grape only grows in Korcula and production is very limited, thus there is almost no export. Consider this the one wine you have to try while you're here.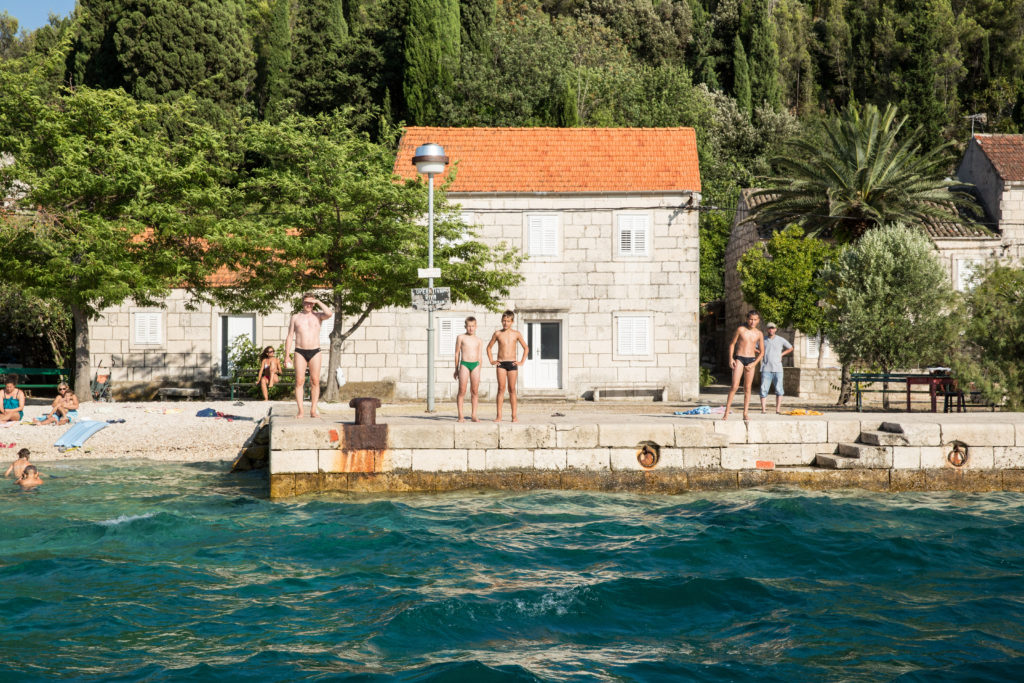 On our second full day in Korcula we rented a car. After a brief stop at Bire winery we drove about 20 minutes to one of Croatia's most beautiful beaches, Pupnatska Luka. Korcula is far more mountainous and rugged than one might think given how narrow the island is. There is one main road that cuts across the island, from Korcula old town to the Vera Luka on the western side of the island. From the main road, Pupnatska Luka is a 10 minute drive down a death defyingly narrow one lane patchy road. The white pebble beach is at the end of a secluded and narrow little cove. The water is calm, clear, and warm. The beach is quiet and tranquil. They say the beach is rarely crowded as the vacationing families tend to visit the beaches closer to Korcula town. If you're hungry there's a little bar/restaurant just off the beach. You could also stop for food in the town of Pupnat. There's a little restaurant called Mate. I think it's one of two in the entire town. We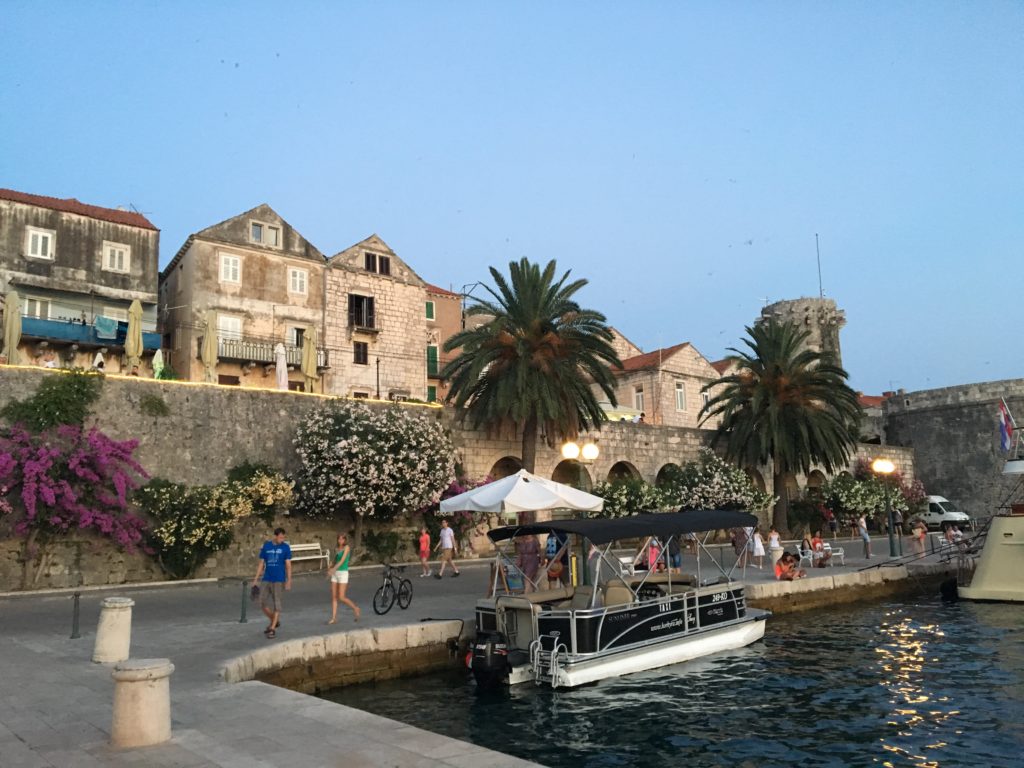 accidentally stumbled on it and later found out it was one of, if not the, highest regarded eatery on the entire island. I guess thats why they asked if we had reservations at 2pm on a Thursday. It's the true definition of a farm to table restaurant; dad is the actual farmer, the mom runs the front of the restaurant, their daughter is waiting on the 10 outdoor tables, and grandma is the chef. Nearly everything served was either grown or raised on their farm. From the prosciutto to the tomatoes to the homemade pasta. This was unquestionably the best meal we had on our trip. If you are planning on going, call ahead for reservations!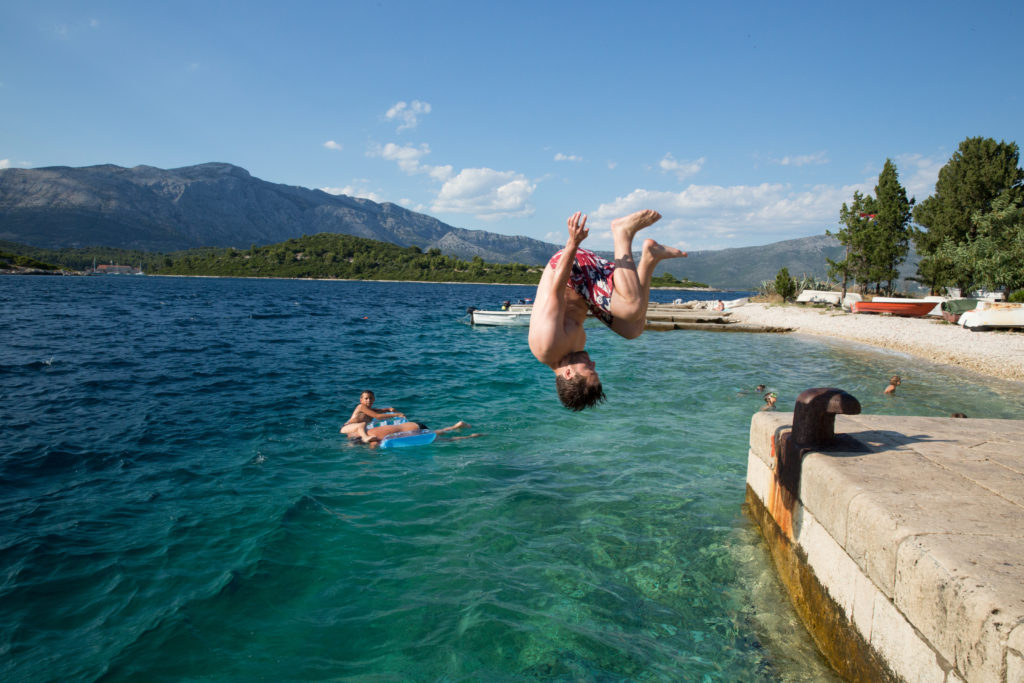 Day 7:
Off to Bosnia. Certainly not a place we ever thought we'd go to but became super excited about after getting an invite to a friend's wedding. The biggest problem we had was how to get from Korcula to Sarajevo for the wedding. Flying was basically out of the question as it would have involved taking a ferry to either Dubrovnik or Split then flying to Zagreb then connecting to Sarajevo. There was no train option. Taking a bus was an option but the ride was something like 8 hours and it had a sketchy reputation. No thanks. Driving seemed to be the best option. We figured we'd take an early morning ferry to Split, rent a car, and drive across Bosnia. The problem was that one-way car rentals aren't cheap. They're even more expensive when you're returning in a different country, especially out of the E.U. I soon discovered that it was nearly the same price to pay a Bosnian driver to pick us up at Korcula and drive us across Bosnia to Sarajevo with a lunch and sightseeing stop in Mostar. This was the smartest decision we made on the entire trip.
I found Ermin Elezovic through Rick Steves. We met him just after 9am on the Croatian mainland, a very short 10 minute ferry ride away from Korcula Town's old port. Joining us in the car was Ermin's wife, Alma, who is a tour guide in Mostar and a general delight to talk to about all things Bosnia.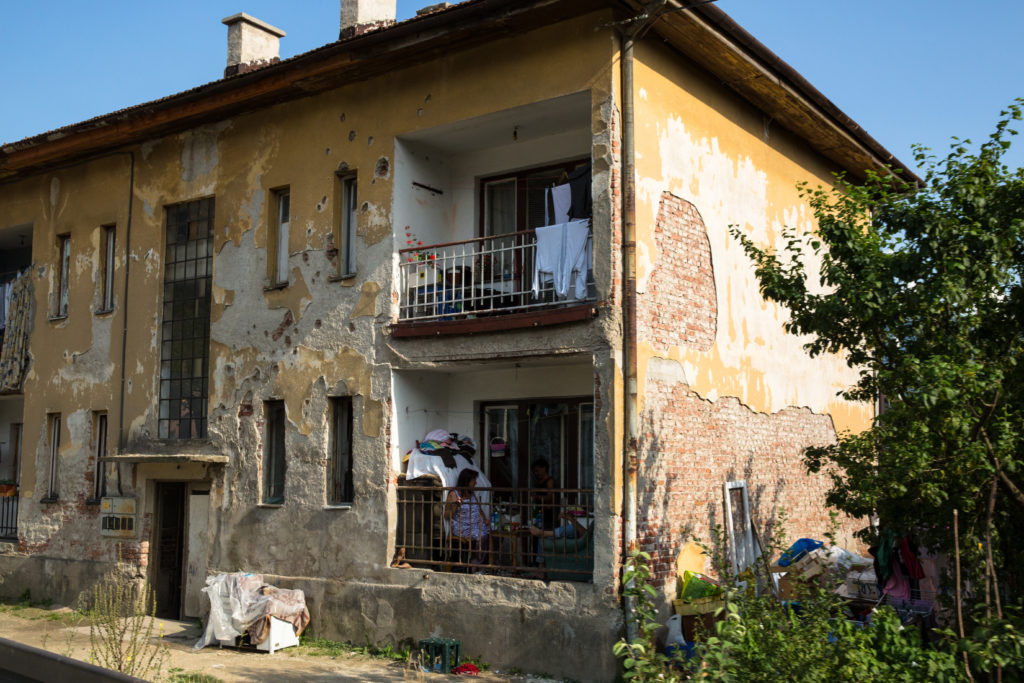 It's about a 2.5hr drive from Korcula to Mostar, one of the most popular city's in Bosnia. The drive between the two is still quite mountainous and somewhat arid. There are a lot more vineyards than you might think, on both sides of the border. Like the Montenegro-Croatia crossing, having a driver helps here too. Instead of going through the crowded highway checkpoint we weaved our way up the mountain and across an otherwise empty border outpost.
Crossing into Bosnia you're entering a country that is much poorer than Croatia. Bosnia is not in the E.U. and to a large extent it's still getting over the Balkan wars of the 1990s. Unlike Croatia or Montenegro or Serbia or Slovenia, there is no dominant ethic group here. Bosniak's (muslims) make up a majority but there are plenty of Orthodox and Catholic citizens. When each of the ethnicities turned against one another, fighting here was particularly brutal and often pinned neighbor against neighbor. Some of the towns we drove through are still quite literally split in half. You'll see flags of one group on every street poll, then suddenly, usually over a main street or body of water, they'll switch to another. There's no reason to feel unsafe but the tension is evident.
One of the cities most affected during the war was Mostar, which is in the Herzegovina part of Bosnia-Herzegovina. Mostar is some odd combination of European and Islamic. It looks like a smaller alpine city crossed with Istanbul. There are both mosques and churches. The city's old bridge is its understandable focal point. The bridge, along with much of the old town, was built by the Ottomans. Even if you don't find yourself driving across Bosnia, Mostar makes for a great day trip from Dubrovnik too. If you've never been to an Islamic country then its an absolute must! We didn't get to spend the night but I imagine a stroll through the old lanes along the flood lit bridge is totally worth it.
If you've been getting tired of the Italian and seafood in Croatia than Bosnia is sure to reawaken your taste buds. Bosnian food has a much bolder flavor profile with lots of peppers and spice. Sausages and lamb are very popular and almost always served with a red pepper and eggplant dip called Ajvar. And then there is Bosnian coffee. It's similar to Turkish coffee (strong with a muddy bottom), which was brought here by the Ottomans. This isn't your average to-go latte. Bosnian coffee is supposed to be an experience to be enjoyed slowly. No matter where you're trying it your server will be happy to explain the process. Another plus is that it's usually served with a piece of Turkish delight.  We had the pleasure of meeting and chatting with the owner of Cafe de Alma, a small coffee shop in Mostar, run by Jaz, son of Ermin and Alma.
Driving on towards Sarajevo we were surprised at the natural beauty of the country. I'm not sure what we thought the country side looked like but I know it wasn't this. There are steep snow covered mountains, deep blue rivers, and little towns dotting the green hillsides. The only difference between this and say Austria is that instead of church towers there are minarets.
And so after several hours on the road and a couple hours sightseeing in Mostar we made it to Sarajevo by 4pm, in time for the rehearsal dinner.  
Day 8/9:
At first glance Sarajevo could be just another Eastern European city with a medieval core and a newer 19th century city surrounding it. The only difference here is that the old part of the city is Islamic and the 19th century part is still pock-marked from a 20th century war. Sarajevo made history multiple times last century, mostly for all the wrong reasons. In 1914 Archduke Franz Ferdinand, heir to the Austro-Hungarian throne, was assassinated in Sarajevo, an event that triggered the start of World War I. In 1992 during the Balkan War the Yugoslavian Army (Serbia) lay siege to the city for nearly four years. It's the longest siege of a capital city in the history of modern warfare. Tens of thousands died. Many of them are buried in the numerous dotted white cemeteries in the hills that surround the city. Walking through one, it's hard not to be moved as nearly ever single headstone dates from those four years. And most of the victims were young men in their 20s and 30s.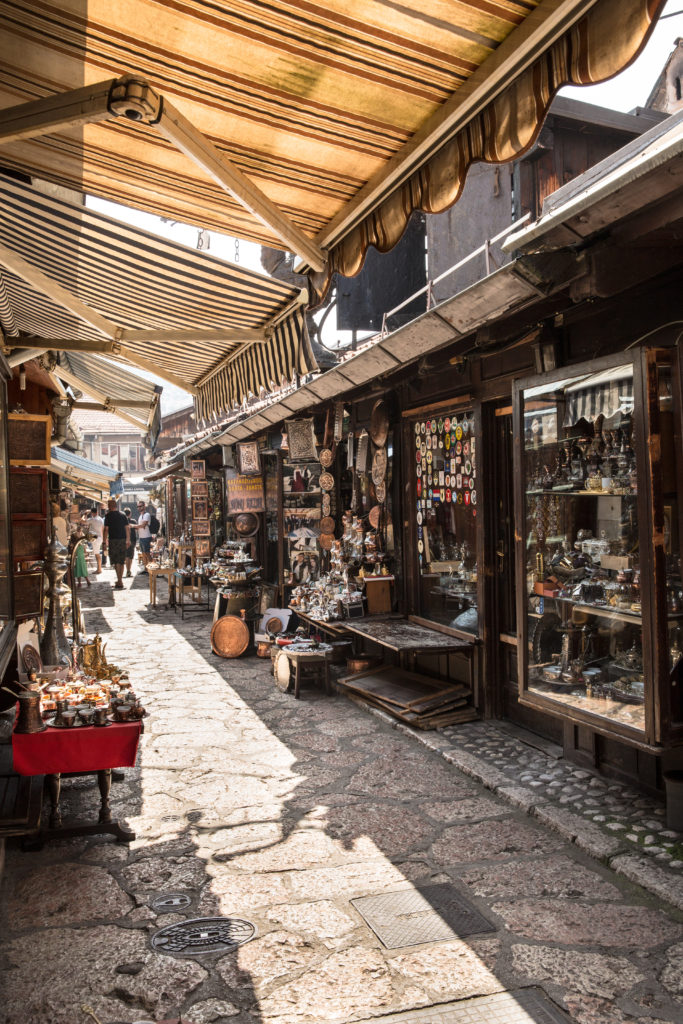 If you find yourself here concentrate on the historic center with its ancient alley ways, blacksmith shops, mosques, and lots and lots of hookah bars. Several of the old squares hidden in the old town transform into giant hookah lounges when the sun goes down.  
A stroll along Sarači Street is a great way to see the Ottoman style "little Istanbul" like old city with its various eateries and small shops.  The street eventually turns into Ferhadija Street which has a very different feel — influence from the Austro-Hungarian Empire era can be seen here.  Be sure to pop into the indoor and outdoor markets, and take notice of the various religious buildings along the way — Islamic mosques, catholic cathedrals, and Serbian Orthodox churches.
Both mornings, we found ourselves sipping Bosnian coffee at Morica Han.  This Ottoman style cafe located in a tree covered courtyard surrounded by a bazaar gets an A+ for ambiance.
If the prices in Croatia seemed high you're in for a different kind of sticker shock here. Sarajevo, and Bosnia, are really cheap. You'll probably want at least one full day in Sarajevo so you'll get a chance to explore the old part of the city, dip into the 19th century part, and puff on a hookah. With more time you can explore many of the "sites" from the war including a tunnel that acted as the city's only lifeline to the outside world during the siege or the eerily abandoned Olympic site from the 1984 winter games.
Where we stayed
Dubrovnik:
Pucić Palace (Ul. od Puča 1, 20000, Dubrovnik) – Dubrovnik's old town. This is one of the very few hotels in the old town. Most of the city's hotels are outside the walls. This boutique hotel is located in the mansion of a wealthy 17th century merchant. It's also located on, what we would consider, the most charming square in the entire city. A couple rooms have a little (narrow but actually quite wide) balcony. Rooms are not cheap but even the ones with the balcony are worth the splurge.
Other Dubrovnik sleeping thoughts: There are few hotels in the old town but lots of Airbnbs. The local joke is that no one actually lives in the old town of Dubrovnik anymore, they all live in nicer more modern apartments in the newer town and rent their old town apartments to tourists.
Both rooms and apartments fill up fast so book in advance.
Korcula: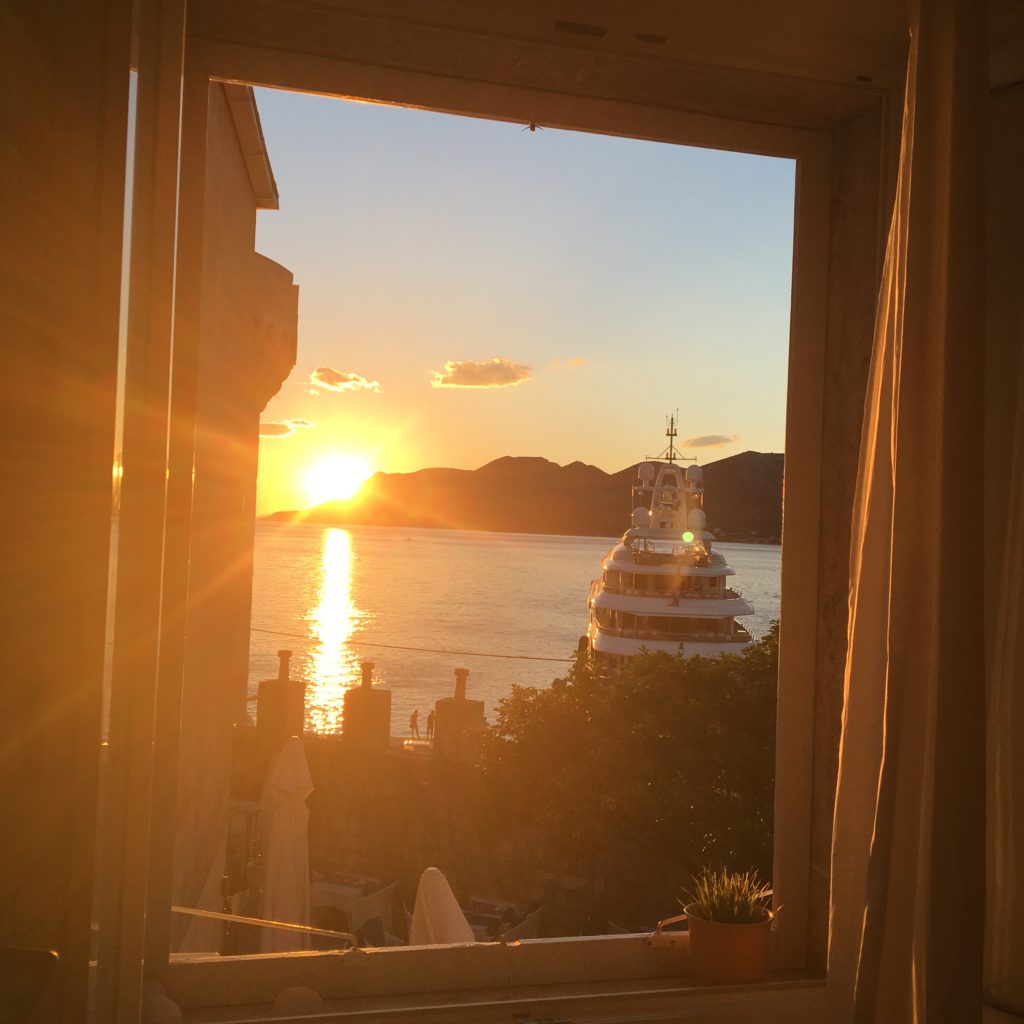 Similar to Dubrovnik you won't find hotels in the old town. There are a lot of very cheap Airbnbs. They're nothing special but super cheap (remember that splurge in Dubrovnik) and as long as you're in the old town there's plenty of ambiance. We stayed here.  We had a great view of the harbor and a cute little garden area to enjoy a glass or two of Croatian wine.  Our hosts, who lived in the connecting apartment next door, were super nice and hospitable. 
Bosnia: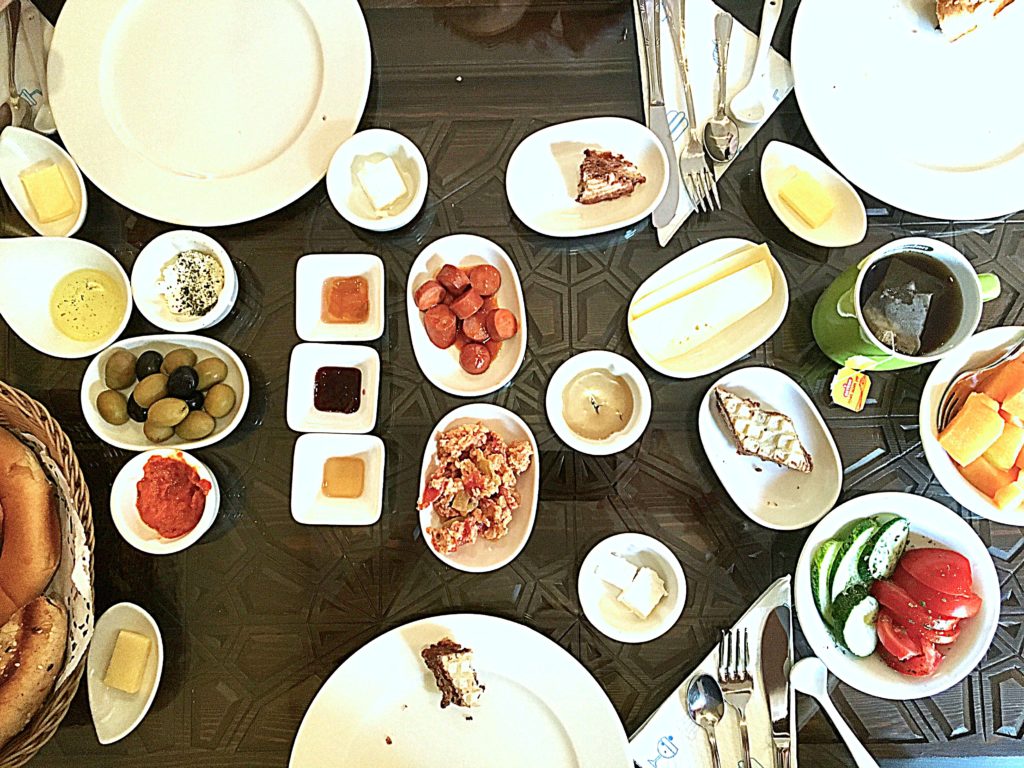 Hotel Isa-begov Hamam; (Bistrik 1, Sarajevo).  It's located just on the other side of the shallow river from the Islamic quarter, less than a 2 minute walk. We stayed here because of the location and the look of the place, it's located in a restored hamam. The outside is really nice but the rooms are kind of tiny and ours looked directly onto the sidewalk so we had to keep the blackout curtains closed the entire time. Perhaps since hamams didn't have windows they didn't think the hotel should either? Not sure. But the location was pretty great and I could also go on about the breakfast, which was delicious, and huge.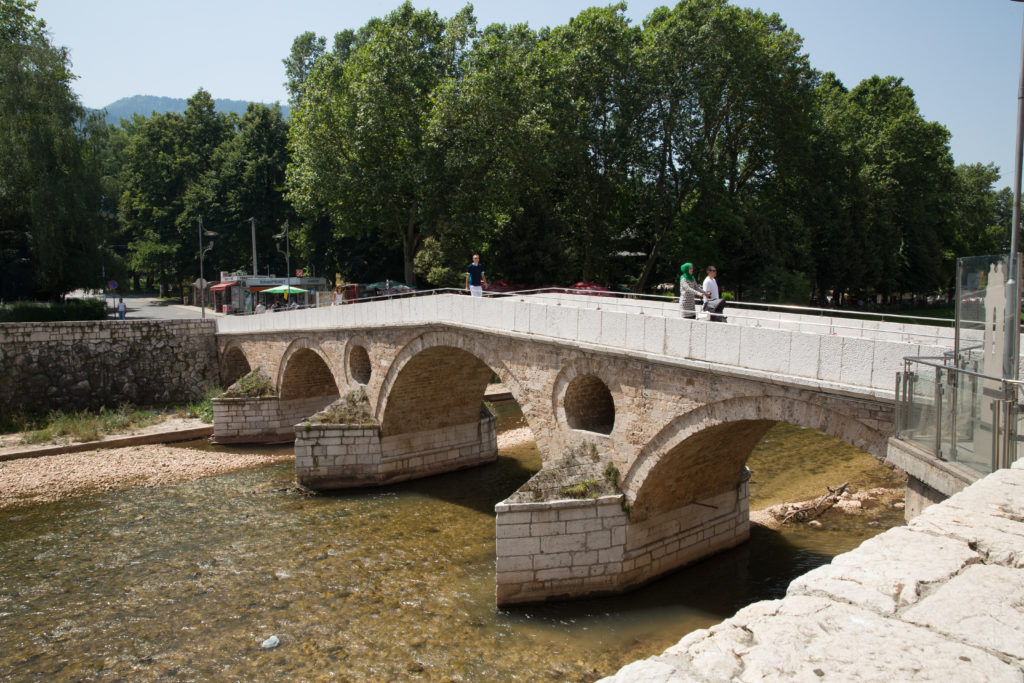 Where we ate
A quick note on Croatian food. It's underwhelming, particularly when you consider how much people talk about it and how expensive it is. When was the last time you ate at your local Croatian restaurant? Exactly. The cuisine is some combination of Italian and Mediterranean. Don't get me wrong, there are lots of great options and there's nothing wrong with Italian or Mediterranean. But you'll get much much better food in Italy or Greece…or most other Mediterranean countries. Don't feel the urge to splurge night after night on food (save it for the hotel). The best meals we had were all pasta or risotto while the fish dishes were usually much more expensive and not great.
Dubrovnik: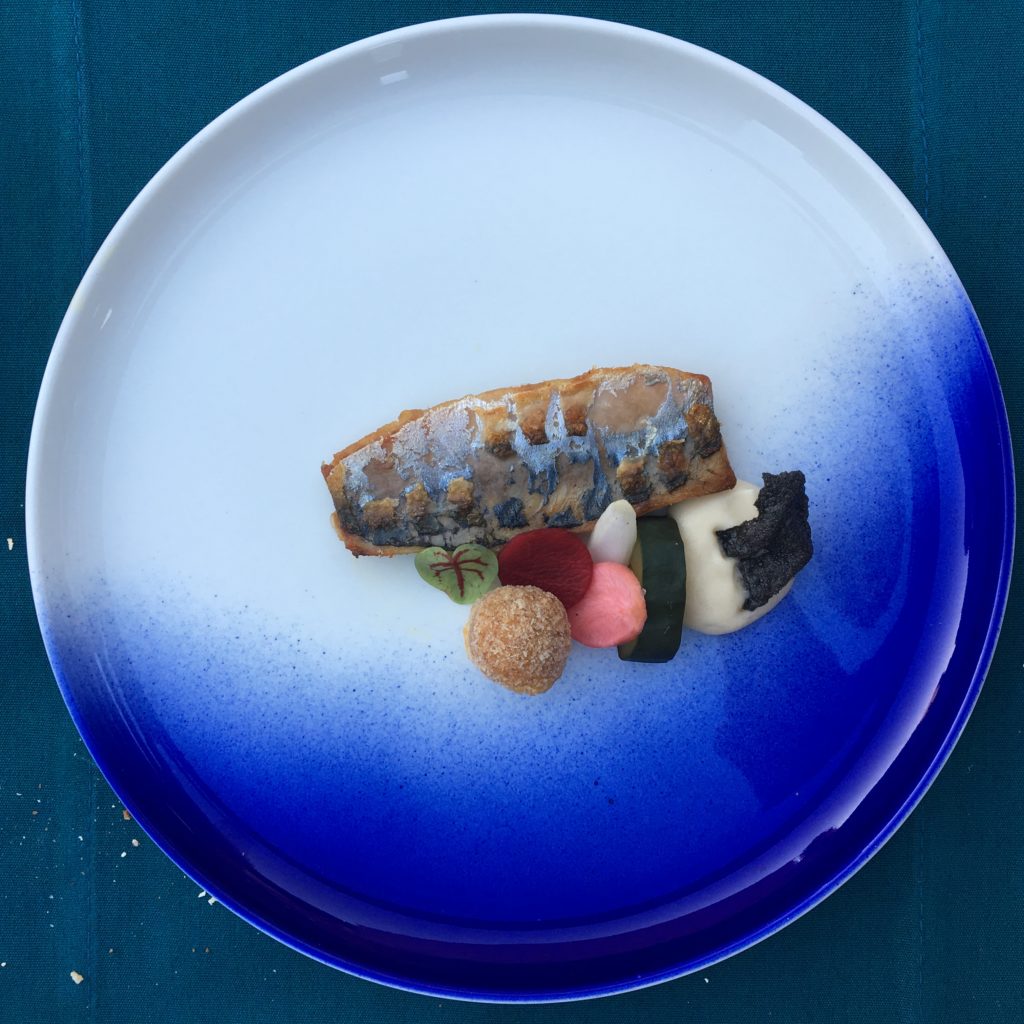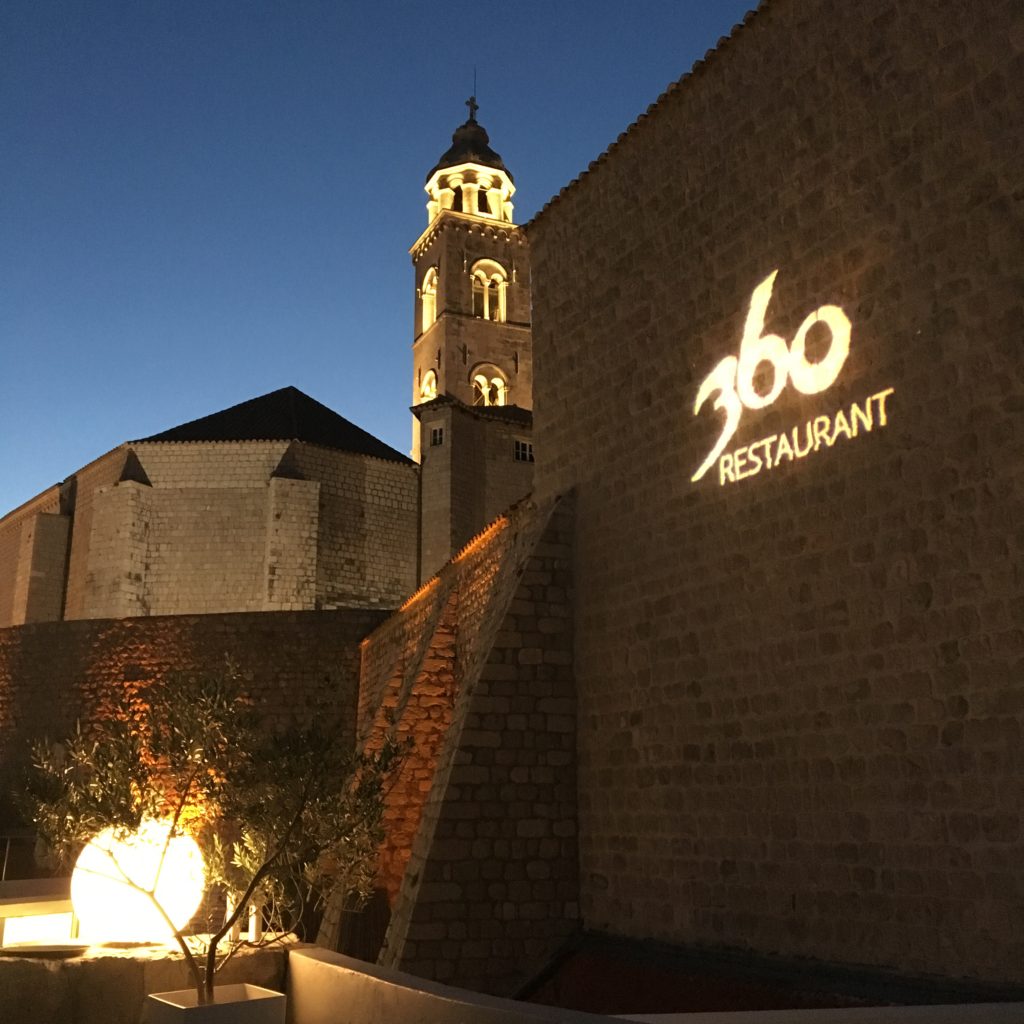 Restaurant 360 (Sv. Dominika bb, 20000, Dubrovnik) – the fanciest restaurant in town with prices to match. This will be the most expensive meal of your trip. The name invokes the view diners have while they are eating and it's not an exaggeration. The food is modern, the wine list extensive, and the service impeccable.  You may feel guilty about spending this much but you will leave satisfied.
Konoba Dalmatino (Ul. Miha Pracata 6, Dubrovnik).  Some of Dubrovnik's restaurants spill out into narrow little alleys so romantic they actually look fake, like something from Vegas. Dalmatino is one of them. I'm not sure how different it is from the other ten nearby but this one did take reservations on Opentable and since we were arriving later on a Saturday night we wanted to make sure we had a place to eat. Our hotel concierge tried to talk us into cancelling our reservation, he said they use frozen fish. Judging by the lack of fish I saw snorkeling I think they all do. Our meal was actually pretty good; truffled pasta, cuttlefish ink risotto with grilled shrimp, and fried calamari.
Azur Dubrovnik (Pobijana ul. 10, Dubrovnik).  Asian fusion is not the type of food we would generally seek out on a Mediterranean vacation but the menu looked tasty and we heard good things. Also, it's located on a romantic alley in the old town but it's in a less central and quieter section than Dalmatino. We had fish tacos (Asian is apparently a broadly used definition) and a really good coconut curry seafood stew.
Pizzeria Oliva (Lučarica ul. 5, Dubrovnik).  There is pizza everywhere and it usually looks and smells delicious. I found myself ogling a slice less than an hour after dinner one night. We ate at this place because it was down the street from our hotel. The pizzas were good.
Buza Bar (I and II; Crijevićeva ul. 9, Dubrovnik).  These are the bars that live on the rocks clinging to the side of the city. You'll need to walk through a literal hole in the wall to get here. Everyone that visits Dubrovnik comes to one of these and you will too. Night or day views are great. During the day people swim here too.
Gelato – We were in Croatia for six nights and I can tell you with a high degree of confidence that we ate gelato every night.
Korcula:
Being on an island you'll be tempted by the fish but my advise is to stick with the pasta and risotto. Every fish dish we had was underwhelming. That being said you're not paying for the food in Korcula, as you will quickly discover. The vast majority of restaurants are along one of the seaside promenades. The views may lead to you ordering another drink. During the summer make dinner reservations or you will be waiting.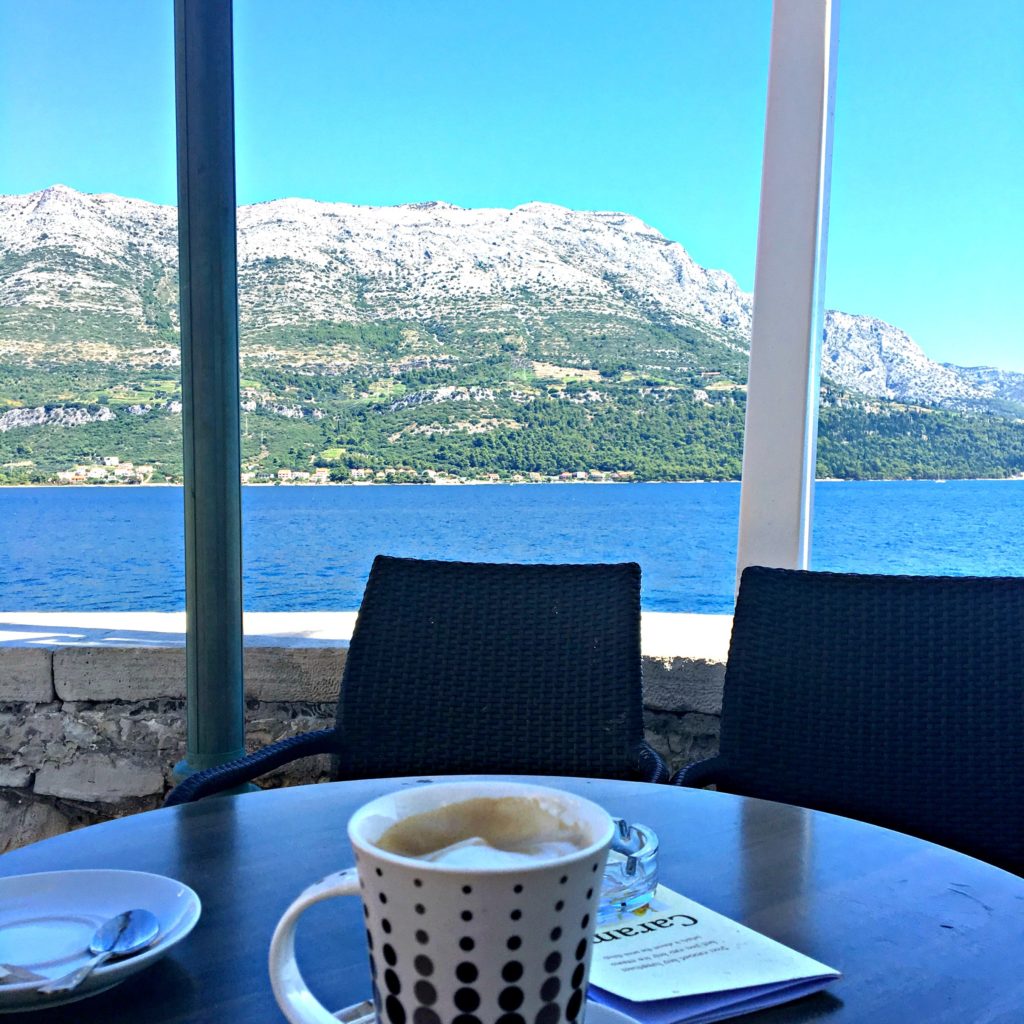 Konoba Komin (Sv. Roka 2, Korcula).  Cute place and well regarded but food was kind of meh. It was our first meal on the island and we wanted fish. It has a great view but so do the other 25 restaurants on the street.
Nonno (Ul. Giunio, Korcula).  It has a great logo and even better pasta. Also along the seaside promenade. It has a hipster'ish type of vibe.
Restaurant Filippi (Setaliste Petra Kanavelica, Korcula).  It looks like one of the the fancier places on the promenade. It was the first decent octopus salad we had and the truffle pasta was quite tasty.
Adio Mare (Ul. Svetog Roka, Korcula).  This is the best regarded fish restaurant in town. It's not on the promenade but next to the little St. Marks Square. They have an upstairs roof that is literally under the bell tower.  We'll file the food back in the "meh" category.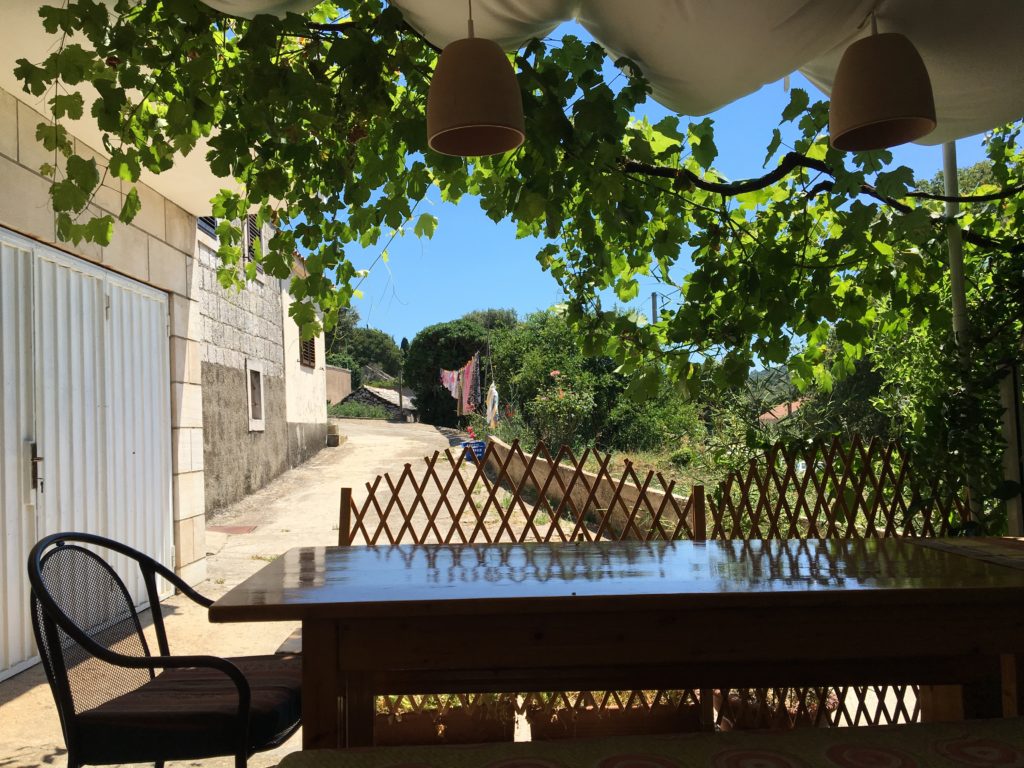 Konoba Mate (Village island town of Pupnat, Korcula).  In the town of Pupnat about 20 minutes away from Korcula old town. We stopped here for lunch on our way to Pupnatska Luka beach. This meal was the best we had on the trip. Read  in the above itinerary for more detail. Both food and atmosphere get an A+. We had ravioli with fresh goat cheese, pasta with slow-cooked lamb, and the freshest tomato salad a 100 kroner can buy.
Bosnia: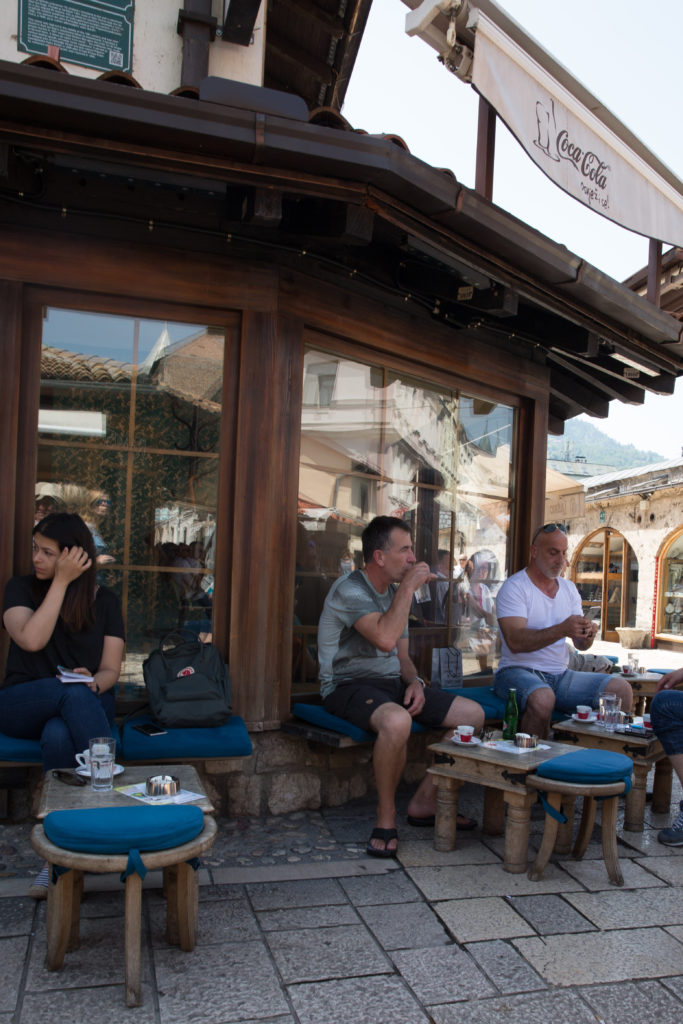 As mentioned above Bosnian food had a significantly bolder profile than Croatian. There is a lot more spice and flavor. It's mostly simple grilled food, similar to Turkish. We didn't really eat at many restaurants.
Šadrvan (Jusovina 11, Mostar).  Since we were passing through Mostar our driver set this one up for us. It's one of several traditional looking places near the bridge. We had the "national platter" which was a gigantic plate of sausages, grilled meat patties, grilled lamb, grilled veggies, grilled grape leaves, grilled…you get the point. It was delicious, just simple grilled meat. And we had our first taste of ajvar, the red pepper eggplant dip, and Bosnian wine. The meal was also super cheap. Serious post-Croatia sticker shock, in a good way.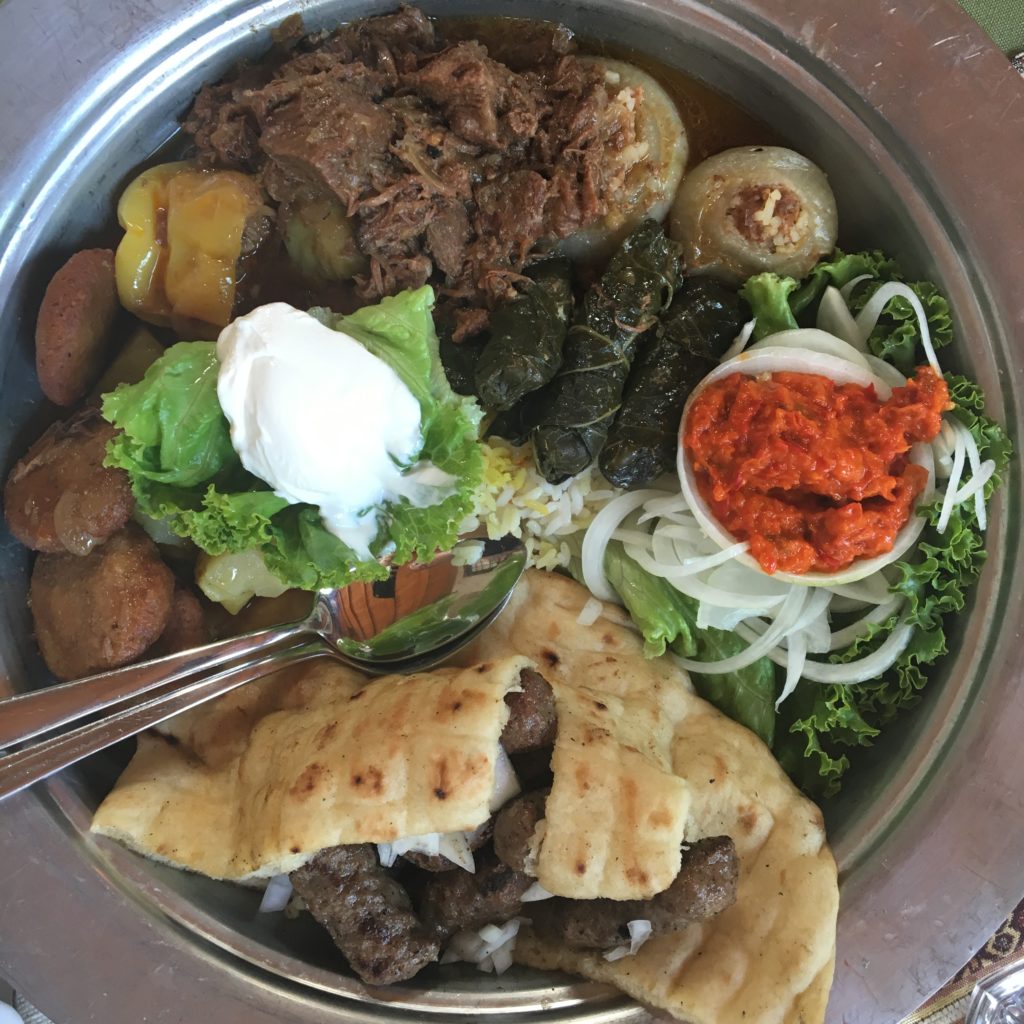 Baščaršija (main square of the old town in Sarajevo). If late night hookah isn't your thing then grab a late night doner kebob. This little place is ideally located for people watching right in the main square of the old town. It might be super cheap fast food here but we thought it was one of the best doner kebobs we'd ever eaten.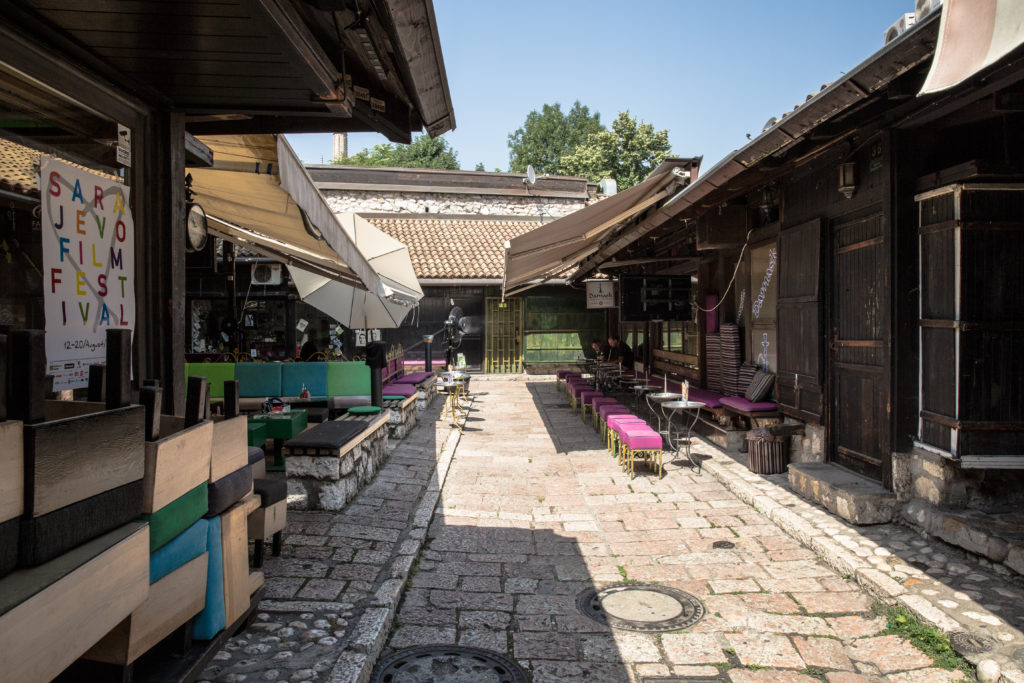 Pivnica HS (Franjevačka 15, Sarajevo).  Historic beer hall in Sarajevo. This is where the wedding reception was held. Food and beer were very good.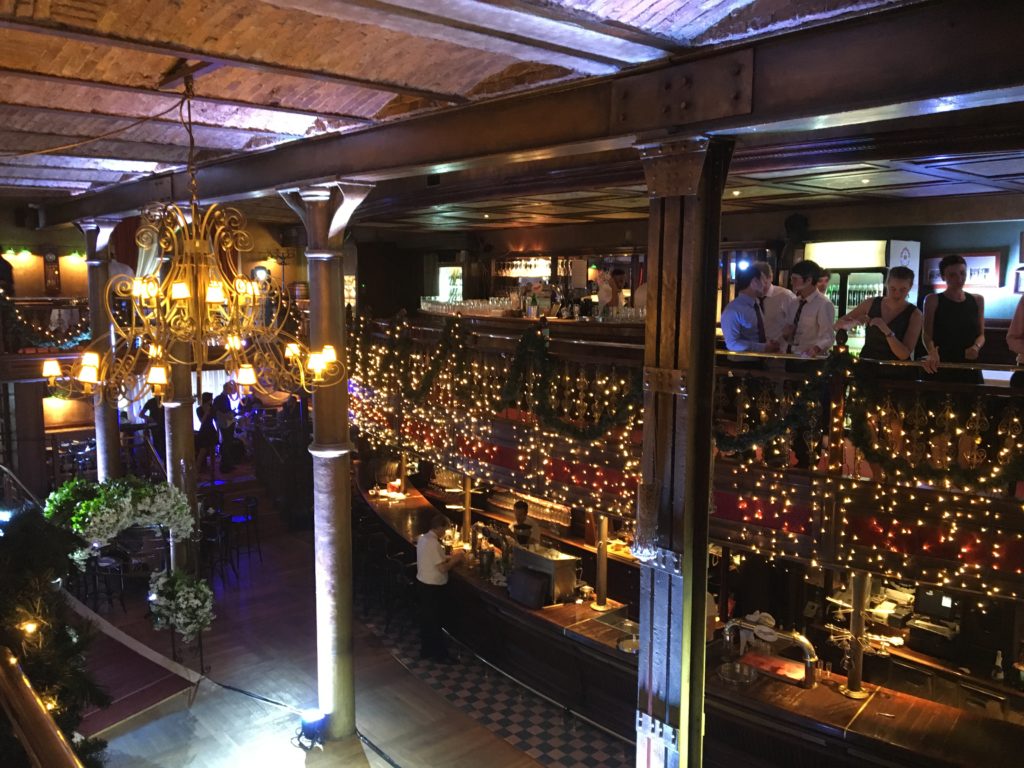 The 4 Rooms of Mrs. Safija (4 Sobe Gospođe Safije, Sarajevo). I imagine this is one of the fancier restaurants in Sarajevo.  This is where the wedding rehearsal dinner was held. We only had hors d'oeuvres and drinks but we sat in a beautiful outdoor courtyard.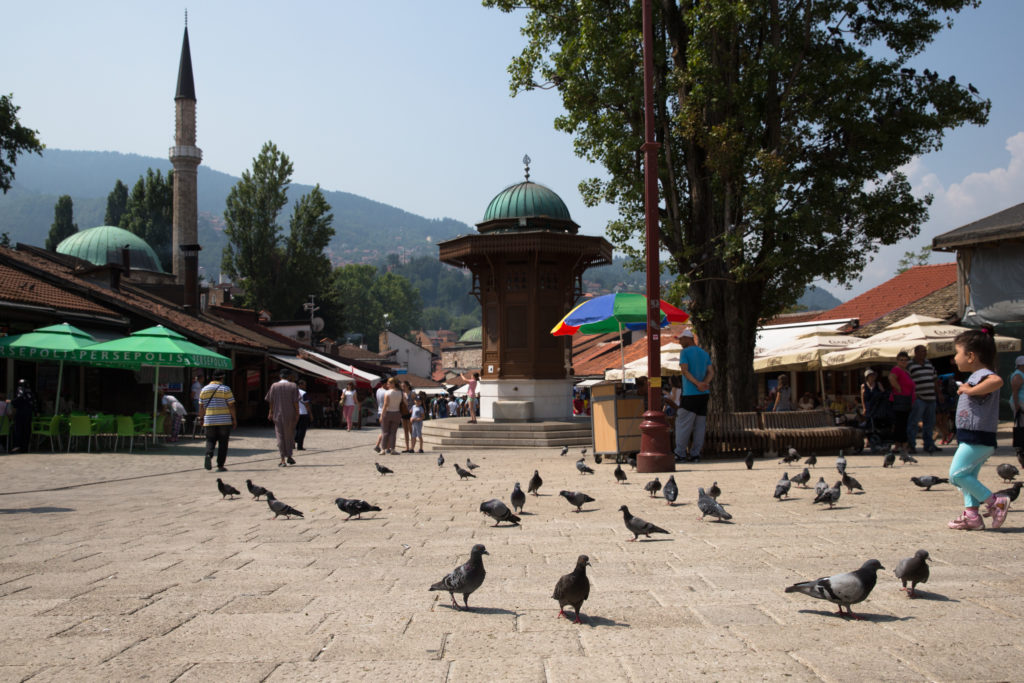 We recommend that you also grab a late night doner kabab served from one of the many eateries in the old town.  The smell of delicious spinning grilled meat will lure you there.
Additional photos from our adventure can be found on my smugmug site.