Intro TO nORWAY
Norway is located on the Scandinavian peninsula in the far north of Europe. While it is part of Scandinavia it is not part of the European Union like its western neighbors Finland and Sweden. Part of the reason has to do with oil wealth. Norway's long eastern border, as well as its southern and northern borders, are coastline. This includes a vast amount of territory which is part of the oil rich North Sea. As a result Norway is one of the biggest exporters of oil and one of the richest per capita GDP countries in the world. It's a land of very generous social welfare (universal health care, social security, year long paternity leave) and subsidies (mostly farming) that would not be allowed under EU rules. Despite maintaining close ties with the EU, voters have, on multiple occasions, rejected becoming a member.
Norway's history isn't all that complicated. In the early twentieth century, after hundreds of years of rule by other Scandinavian kings, they gained full independence in the early twentieth century. While it does still has a king who lives in Oslo, he yields no real power. Parliament and the Prime Minister call all the shots. During World War II the country was occupied by the Nazis for five years, despite trying to remain neutral. Prior to the independence, thousands of Norwegians emigrated to America in the 19th century. Most of those who left were from the rural countryside where life was cold and difficult. Norway's most notable contribution to history is probably the Viking Age. For about 200 years between the late 8th century and the mid 11th century Viking hordes terrorized much of Europe.
The Vikings were pagans who lived along coastal Scandinavia and had incredible boat building skills. They also lived in a part of the world notoriously difficult to farm, adding a dimension of necessity to their bloodlust. When they discovered rich Christian kingdoms to the south and west the pillaging began. Over time the Vikings settled new lands, cohabited with those they once pillaged, discovered new cities, and even converted to Christianity. Tales of Viking heroes and villains were, for years, the most famous stories of Norway…and then came Princess Elsa and Frozen. Norway's tourism industry has actually had a boost from the insanely popular Disney movie. You will see Frozen character memorabilia everywhere, particularly in the fjords. There are even fjord cruises whose sole purpose is to take you as close as possible to the fictional kingdom of Arendelle.
Vikings and Princess Elsa aside there are plenty of reasons to visit Norway. The first and foremost is its incredible beauty, which is easily accessible in the fjords between Bergen and Oslo, the two main cities. In the summer you can hike under the midnight sun (it doesn't set until 11pm even in May) and in the winter you might catch a glimpse of the northern lights.
When we went
The middle of May 2015.  It's sunny but still a little bit chilly. I ended up buying a thick Norwegian wool sweater not because that's something you should do but because I was actually quite cold at times.  Expect snow to be on the ground in the high altitudes of fjord country.
After careful consideration and planning we decided to fly into Bergen on the west coast (sleep 2 nights), take a high speed boat into Sognefjord where we would stop in Balestrand (3 nights), ferry to Flam (1 night), then take a train to Oslo (2 nights). This took nine days and as an itinerary it gets an easy 'A'.
ACCESSIBILITY
Flights to Oslo are readily available from many major international airports on the East Coast. There are more in the summer than the winter. But before you run off to Expedia, check Norwegian Air, the new international budget airline that operates out of Norway. We managed to score nonstop tickets from JFK to Bergen and from Oslo to JFK, both direct for half the price of the major airlines. Norwegian Air is set up like Spirit Airways, but (from our experience) with fewer delays and way better planes (brand new 767's). The trick is buying your ticket early and adding only extras you need. The lowest ticket level is a non refundable economy seat with no checked bags, no meals, and no assigned seats. You can add those for a fee. If you know your travel dates and know whether or not you'll be checking bags far in advance, this can be a great deal. The planes are very nice, very spacious, and the entertainment selection was quite good, and surprisingly free. Our flights were literally half that of any other major airline we found online, and most of those had at least one stop in one of the legs.
our travel video
what we did
We wanted to see Oslo and we wanted to see the fjords. After a little research we made the decision that flying into Bergen and out of Oslo made for the best itinerary. As much as we wanted to see a northern village we didn't think it fit into our time frame (Friday to the following Sunday). It would have been doable with a couple more days or if you shaved a couple days off your time in the fjords.
Oslo is Norway's capital and nearly every visitor starts, ends, or does both here. The city is located in the southern part of the country, near the eastern border with Sweden. Bergen, the country's second city, is 300 miles west, along the North Sea. To the north of Bergen, and stretching nearly half way back across the country, is Sognefjord, the biggest and one of the most accessible fjords. It's filled with cute villages, dramatic waterfalls, and Viking history.
There is an actual pre-planned route involving trains, buses, and boats that you can book online that connects all of these. It's called 'Norway in a Nutshell'. On the webpage you can book trains, boats, buses, and even make hotel reservations if you'd like to spend a night or two in the fjord. It's like an independent pre-planned tour. No guide with a flag, but the whole time you're on a set itinerary. Get off a train and there's a sign showing you where to get your next boat connection. Convenient yes, but kind of impersonal for our taste. We crossed paths with the Nutshell crowd in one city in the Fjords, Flam, and while it might work for some people we were both glad we chose our own itinerary. The Nutshell towns are cute but overrun with groups of tourists who come in, wander for an hour, then leave. The towns off the Nutshell route felt much more authentic….even if there was an occasional tour bus.
our itinerary
Day 1: Arrived in Bergen, took the Flybuss from the airport to the harbor.
Tip – book as much as possible in advance. Many of the ferries and buses have discounts for those who book early and online.
Bergen was once part of the Hanseatic Trading League. Bryggen, Bergen's biggest sight, and best photo-op, is a small section of that old wooden trading city that still stands today. There are actual restaurants, shops, and bars in this little Disney'esque  village (with Disney'esque prices). There are some museums about how people lived back during the Hanseatic time period but we found that they weren't tremendously interesting.
When you're done exploring Bryggen go check out the fish market in the harbor, you might be tempted to try one of the many open face sandwiches on display, but only if the price doesn't cause your wallet to lock shut.
Bergen is famous for its rain. If you're here more than twelve hours you're probably going to get rained on. The city gets a shocking 90 inches of rain a year!
Day 2: Constitution Day
Our visit to Norway happened to correspond with Constitution Day, a huge national holiday celebrating the nation's constitution on May 17. Supposedly every city in the country celebrates differently but in Bergen we were awoken by canon fire at 7am.  The morning wake-up call was followed by parades of children with drums marching through every little neighborhood in the city, a bigger city wide parade along the harbor at noon, a huge concert on the water in the evening, and finally some impressive fireworks after the sun went down at 11pm (note that the sunset was at 10:45pm).
And most people dressed in traditional folk costumes.
As the festivities wound down in the afternoon (I think they were all taking a power nap) we took advantage of the nice weather and rode a funicular to the top of Mount Floyen, a peak above the city. The funicular entrance is just a couple blocks off the end of the harbor. At the top you'll find great views of the city, a little restaurant with decent sandwiches, and some hiking trails. One of the easiest and shortest loops around a quaint little lake called Skomakerdikit.
For dinner we managed to get a couple seats at the bar in Pingvinen Cafe (Penguin), which was one of the best traditional meals of the trip. More on that in the dining section below.
Day 3: To the fjords
A day and a half was more than enough in Bergen. It's cute but it's mostly a jumping off point to see the rest of the country. We were far more interested in maximizing our time in the fjords. Originally we were scheduled to take an afternoon ferry but when we found out we could switch to the morning one, we took it.
Tip – High speed ferries connect Bergen with Sognefjord. Check out the Norled website for tickets and times. Try to book early.
The 8am ferry from Bergen arrives at the entrance to the mighty Sognefjord at ~11am. After careful review we picked the town of Balestrand as our first (and longest) home base. Balestrand consists of a couple thousand people, some amazing views, and a grand old 19th century hotel that once counted the German Kaiser as a frequent guest.
The town is off the Nutshell route but the Kviknes Hotel makes it susceptible to frequent tour buses. Most of these people are simply going to arrive, spend the night, then leave in the morning. You probably won't see them hiking the fjords behind the town, which is highly recommended.
On or just steps off Balestrand's little harbor you'll find a few restaurants, a cute aquarium about sea life in the fjord, a couple of hotels including the Kviknes, a handful of stores, and a helpful tourist information (TI) office. Upon arrival, we checked-in, ate curry wurst at the Viking Ship Wiener Stand, then rented bikes from the TI and took off for a three fjord bike ride. The TI provided good maps but you don't need them. There is one road that winds its way along the water. Occasionally, you'll come across a wave of snow that seems trapped in its decent from the mountain, nearly spilling onto the road.
The Kviknes Hotel is famous for its location, its 19th century grandeur, its small but impressive landscape art collection, and its huge buffet dinner.  If you're staying try it at least once. It's not cheap, it's not light, and much of the food seems like it's from the set of a Mad Men episode (so many things in jello molds!) but it's still worth it. For some reason we didn't take photos. I think we were so full we forgot.
Day 4: A day trip to Vik
Just across the fjord, only 20 minutes by ferry, is the little town of Vik. Check the Norled website for the ferry schedule, there are probably only two departures a day. We took a morning ferry. Vik is in a small hamlet, just off the main fjord. It looks like the kind of place Ragnar Lodbrok might have sailed from. The town isn't much, but about a 20 minute walk into its scenic little valley is the Hopperstad Stave church [see picture at top of this post]. Stave churches can be found all around Norway. They were built by medieval Christians, descendants of earlier Vikings. The construction techniques they used to build stave churches closely resembles the same techniques the vikings used to build their ships.
Before taking a noon ferry home we stopped in a local cafe by the water for a cappuccino.
Back in Balestrand, we had enough time for an afternoon bike ride, this time going through Balestrand and along the water on the main part of Sognefjord.
Day 5: Hiking and snowshoeing.
Nearly 1000 meters above Balestrand is a peak called Raudmelen, a perfect destination for a day of hiking in the fjords. The path behind Balestrand is well marked and easy to follow. The first part of the trail is steep and wooded. About 400 meters up it begins to level off a bit and the trees become more sparse. Expect ~4hrs up and a bit less coming back. We attempted this in the middle of May. At about 450 meters we started seeing snow. At 500 meters it was 6+ feet deep. Luckily, just before it was too deep to go on, we met a local woman who clearly knew the trails well. She told us that she and her husband left snow shoes at the next trail marker for fellow hikers to borrow. Had we not run into her and started talking we would have turned back. In the end we didn't make it to the top, but we did make it to Burasi, which was an impressive 600 meters above sea level.
 Day 6: Continuing our journey across the Songefjord.
In the morning we visited the tiny aquarium in Balestrand's harbor, which was actually more interesting then we had anticipated. The fjord doesn't have as much sea life as you might think. It's seawater but there is also a lot of run off. The saltwater is heavier and sinks to the bottom of the fjord. The freshwater on top cuts off a lot of the oxygen and that makes it hard for fish to thrive. Depending on the time of year the fishing may be decent. But other than that the only fish you should expect to see are the ones on your plate.
After lunch we took another Norled ferry to the little town of Flam, about 1.5hrs away. As you move inland Sognefjord gets more narrow and more dramatic. Unlike the area near Balestrand there are few fjord-side towns and even less roads. Instead, the cliffs shoot up, straight up, out of the water. Every person of the ferry seemed to scurry from side to side, trying to capture the perfect shot.
Flam is on the Nutshell tour, mostly because it's one of the few towns along the Sognefjord with both a train station and a harbor. As a result, most people in Flam are just passing through. You'll even see the signs directing people from the train to the ferry. Most of the buildings along the harbor are overpriced restaurants or souvenir shops. In addition to the Nutshell crowd, Flam also hosts many cruise ships, which themselves are even bigger than the town. Despite the commercialism Flam is in a great location and makes for a good overnight spot. And no matter how many tourists, there aren't enough to diminish the scenic beauty of the town. There are only a hand full of little hotels in Flam. We decided to rent a delightful little cabin at the Flam Campground. And once the tour groups left, and the cruise ship departed, it felt like we had the place to ourselves.
We had originally planned to take a train up to Myrdal in the afternoon, then hike back down through the scenic Flam valley. Myrdal is the mountain top station, some 900 meters above Flam, where the Oslo/Bergen train meets the little Flamsbana train that descends into Flam (more on that later). Sadly, there was still too much snow  in Myrdal. Luckily we checked with the Tourist Office in the harbor and found this out before taking the train up. So instead of hiking we took a Fjord Safari.
The fjord around the corner from the one Flam sits in is called, Naeroyfjord, and it is said to be the most beautiful of all the fjords. We don't disagree. The Fjord Safari is a high speed 2 hour tour of Naeroyfjord in a little zodiac boat. Don't worry about the weather as they provide you with some all-weather gear including body suits, mittens, hats, and goggles. These little boats are a great way to get up close and personal with the waterfalls, towns, and farms in the fjord. The little boat also gives you a great perspective of just how big the fjords are and the captain stops to explain some history along the way.
Day 6: On to Oslo.
The route between Flam and Oslo is long and well worn. While there are lots of variations on the Nutshell route nearly all travelers complete this leg. There are numerous departures from Flam during the day, we chose the earliest (8am) train to maximize our time in Oslo.  The entire journey is done by two different trains. The first is the Flamsbana railroad which connects Flam with Myrdal. The total distance between the two stations is only 12 miles but it takes an hour and the mighty little train has to climb over 900 meters into the fjords and cut through numerous tunnels.
Tip – Tickets for the Flamsbana railroad can be bought on the National Railway website. You can also book a ticket all the way from Flam to Oslo or vice versa.
In Myrdal we realized that what they had told us at the TI the day before was true. There was a lot of snow. It was hard to believe this was May. Our train, which was coming from Bergen, was delayed because of mudslides so we had to wait in the little mountain station for nearly two hours. Oh well.
Oslo's main station, Oslo S, is right in downtown Oslo and it is very well connected to the city's trams. Most of the hotels are located near the harbor or along Karl Johans Gate, the city's main tourist drag. After hearing many good things we had considered going upscale and staying at The Thief in Aker Brygge. Then we realized that for less than one night at the Thief we could stay at a whole apartment via Airbnb.
Instead of staying by the harbor we picked the area of Grunerlokka. Originally this was a working class neighborhood. Today it's one of the hippest parts of the city and still less than a 10 minute tram ride from the harbor.
Due to the earlier mudslides our train got in a little too late for museum hopping on the first day. So we got acquainted with our new neighborhood and then took a self-guided walking tour through Oslo.
Tip – like many European cities Oslo has a sightseeing pass, the Oslo Pass. Available in 24, 48, and 72 hour increments, the pass gives you free access to all the major museums and unlimited tram rides. In 48 hours we did only about 5 museums and rode a lot of trams. Our verdict. It was worth it!
Day 7: A full day in Oslo.
Oslo was more impressive than we had been expecting. The modern area of the harbor in Aker Brygge, with its striking architecture, was a nice contrast to the old street cars and grittier areas of Grunerlokka. Being there on a warm Saturday in May really felt as though the whole population was outside celebrating spring. There are not a lot of "must see sights" in Oslo. But one area that is worth at least a half day is the museum district on the peninsula of Bygdoy. The best way to get there is by boat from the harbor; you'll see the ferry dock that says "Bygdoy". The ferry accepts the Oslo Pass. Boats leave rather frequently and make two stops in Bygdoy. The first is closest to what was our favorite museum, The Norwegian Folk Museum. You'll find folk museums all over Europe, even some in the US. This one was one of our favorites. For those of you unfamiliar a folk museum is a collection of old traditional houses and structures that have been moved from various parts of the country and reassembled. They allow locals to get a sense of their roots and tourists to get up close and personal with history. Oslo's folk museum dates back to the early 20th century. There are lots of grass roof houses, farms with actual animals, stave churches, and even more modern buildings like a 1990s Oslo apartment belonging to a Pakistani immigrant family.
A short walk away from the Folk Museum you'll find the Viking Ship Museum, with two well- preserved ships on display. Slightly further (a few minutes walk at the next ferry stop) you'll find a small Maritime Museum as well as two different museums built to house ships. The first, The Fram Museum, houses a ship by the same name that led one of the earliest exhibitions to the arctic. It's said to be the strongest wooden ship in the world.
The other nearby museum is the Kon-Tiki, which also houses a ship of the same name. Unlike the Fram which spent years trapped in arctic ice the Kon-Tiki is a barge constructed of balsa wood that a 20th century Norwegian explorer used to sail from South America to Polynesia.  Explorer Thor Heyerdahl was trying to prove that ancient people from South America could have made long sea voyages and settled the South Pacific. While he succeeded in his journey it's unlikely his theory is true. Later Thor would try to sail across the Atlantic from North Africa in a ship made of reeds. That journey was not successful but you can see a replica of his boat, the Ra, in the Kon-Tiki museum.
Day 8: A half day in Oslo before a 6pm flight.
Another good thing about Norwegian Air, late afternoon departures. Our 6pm flight gave us most of the day to enjoy Oslo and we still got back to NYC in time for a late dinner.
Just outside of downtown Oslo, via tram 11 or 12, is Frogner Park, one of the more interesting sculpture parks you'll ever see. Sculptor Gustav Vigeland turned this green space into his own personal studio. He was supposedly quite a troubled man and we're pretty sure that was quite evident in his pieces of work.
Alongside Oslo's harbor is Akershus Fortress, a medieval castle that once protected the city. Technically it's still controlled by the military but visitors are free to wander the grounds. There are a couple museums but the only one we went to was the Resistance Museum. This castle was also the headquarters of the Nazis during their occupation of Norway during World War II. This fascinating little museum, which moves in chronological order, highlights that brutal occupation and is certainly worth a stop. Make sure to enjoy the castle views when you're done.
Just up the road from the harbor is the National Gallery. It's a small but fine collection, with a lot of landscapes from the fjords. Expect big crowds around the country's most famous painting by its most famous artist, The Scream by Edvard Munch.
Finally, after a late lunch we took one of the many trains going to the airport from Oslo's central station, bringing our week long Norwegian adventure to an end.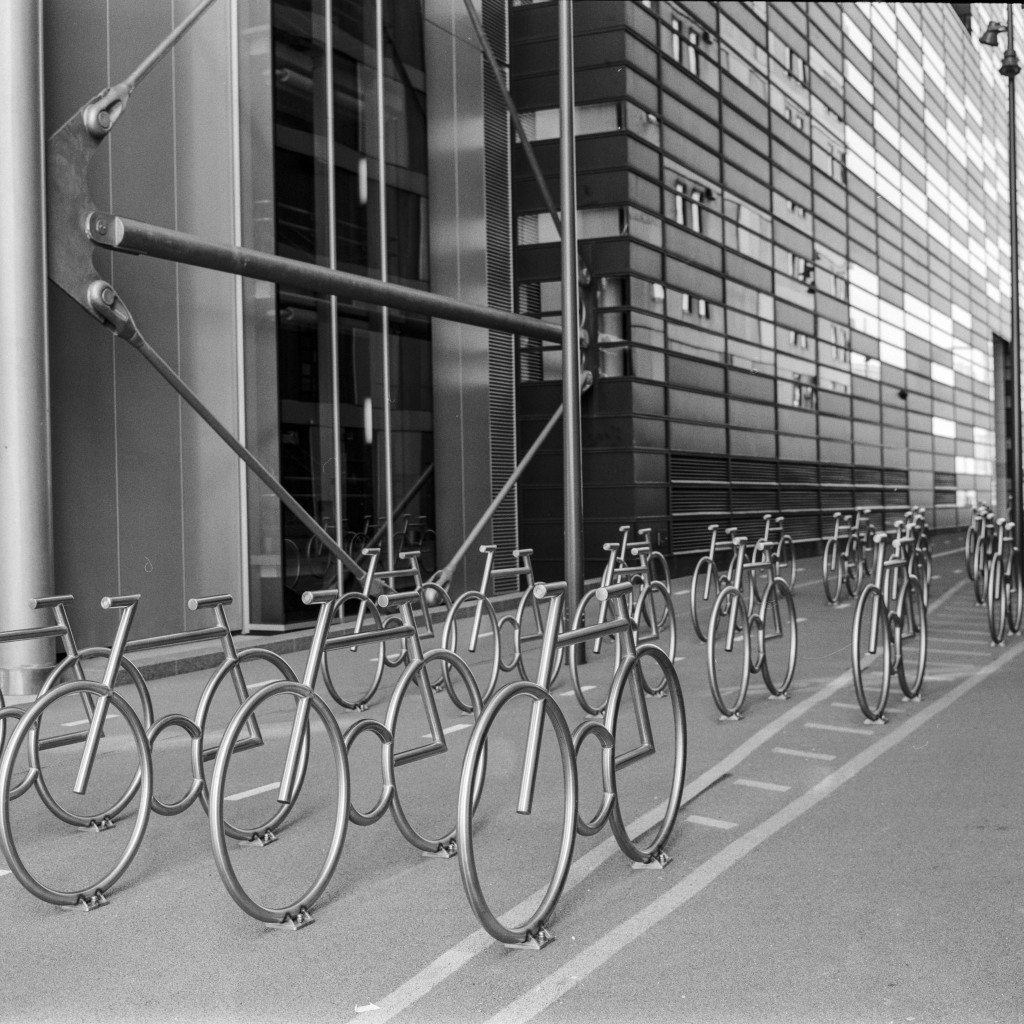 Dining
Det lille Kaffekompaniet; Bergen (Nedre Fjellsmauet 2, 5018 Bergen). Cute neighborhood coffee cafe serving delicious pulled espressos and homemade pastries.
Godt Brød; Bergen (Vestre Torggaten 2, 5015 Bergen). A chain coffee shop that makes fresh bread and cinnamon rolls each morning.  The one we went to was located near the funicular to Mt. Floyen.
Trekroneren; Bergen (Kong Oscars gate 1, 5017 Bergen). Popular hotdog shop serving locals and tourists near Bryggen and the harbor. They serve a variety of dogs — reindeer, pork, and beef were our favorites.
Bellevue Restauranter; Bergen (Bryggestredet, 5003 Bergen). A great place to grab a beer in Bryggen. The picnic benches outside were perfect for people watching. Expect two beers to cost about $25. Welcome to Norway.
Lille Taste of India; Bergen (Marken 12, 5017 Bergen). We always love to try Indian restaurants from different cities around the world. They tend to adjust their menu to accommodate local tastes. This restaurant used cod in their fish curry which is something you typically wouldn't see in UK or American Indian restaurants (it was delicious).
Cafe at Mt. Floyen; Bergen. Restaurant at the top of the funicular on Mt. Floyen.
Penguin; Bergen (Vaskerelven 14, 5014 Bergen). Traditional pub/cafe serving Norwegian fare   like surpringly delicious fish and macaroni cakes, homemade sausages and local brews. We ate at the bar and felt like locals.
The Viking Ship shack; Balestrand. Cute German wurst stand run by friendly Carola in the center of town shaped like a viking ship — it's a perfect stop for lunch.  We ate currywurst and drank Fanta while taking in the spectacular views of the fjords around us.
Kviknes Hotel; Balestrand.  Eating the buffet dinner at the Kviknes is a must if you're staying in Balestrand.
Pilgrim Cafe; Balestrand. Friendly service and local cuisine; it's a nice option for dinner.  They serve "Troll Soup" which is surprisingly quite tasty and "Grandma's [reindeer] meat balls."
Gekken's; Balestrand.  No frills meal with friendly service.  I believe they also rent a few rooms upstairs.
Joker (grocery store); Balestrand.  Located in the middle of town, it's a great place to pick up supplies for any hiking or biking adventure.  We also bought beer here to enjoy on our balcony at the Kviknes.
AEgir Bryggeri & Pub; Flam.  Viking themed brewery complete with fire pit serving Norwegian cuisine in medieval sized portions.  The beer was delicious as was the dinner.
Coop (grocery store); Flam.  Located next to the brew pub, it proved to be the best place to grab breakfast before our early morning train to Myrdal.
Flam Camping provision store; Flam.  If you're staying at the Flam Campground, pick up necessitates like ice cream and beer to enjoy in the comfort of your cabin.
Solsiden; Oslo (Akershusstranda 13, 0150 Oslo).  Classy modern seafood dining near the Akershus Fortress that sits along the harbor front in a repurposed warehouse.  With its high ceiling and large windows, it was a perfect spot to enjoy a fine meal and great views.
Manefisken Cafe; Oslo (Sagveien 23 A, 0459 Oslo).  Hip cafe in an old textile factory with a beer garden under a bridge on the Akerselva river in Grünerløkka.
Kaffebreneriet; Oslo (Grünerløkka).  Chain coffee shop with locations all over Oslo that's open early and has decent espresso drinks.
Peppe's Pizza; Oslo (Aker Brygge).  Chain pizza shop with locations all over Norway.  Very popular with locals; we felt that we had to at least try it.  While I know there are probably better restaurants to try in Norway, there must be a reason why there a bajillion of these restaurants scattered through Norway…so act Norwegian and order an orange soda and pizza of choice..it's not so bad.
Ostebutikken Bistro; Oslo (Thorvald Meyers gate 27, 0555 Oslo).  Uber cute bistro serving Belgian/French cuisine in a tiny shop in Grünerløkka.  Menu changes daily and is written on a chalkboard.  We had bouillabaisse which was the best we had ever had as well as a pot of roquefort cheese mussels.
Tim Wendelboe; Oslo (Grüners gate 1, 0552 Oslo).  This is the Graceland of espresso bars.  Home to barista champion extraordinaire, Tim Wendelboe  (did you know one existed?). This popular modern coffee roastery in Grünerløkka only serves espresso drinks to coffee lovers and uber cool hipsters.  If it's on the menu be sure to try the iced Annisika.
Munchies; Oslo (Thorvald Meyers gate 36A, 0555 Oslo in Grünerløkka).  Great little fast casual shop serving beer, tasty burgers and hand cut fries.
sleeping recommendations
We stayed at an Airbnb apartment up the hill from Bryggen.   It was a great place to call home for a couple of nights; it even had a small balcony with views of the harbor below.
Kviknes Hotel; Balestrand.
Flam Campground and Cabins; Flam.  While they offer space to pitch your tent, they also have cute little cabins.
We stayed at an Airbnb apartment conveniently next to a tram stop in the Grünerløkka neighborhood of Oslo. Grünerløkka is a hip neighborhood that has recently experienced some gentrification.  Expect lively streets, cute cafes, lots of coffee shops, parks, vintage clothing stores and street art.