Why you should go
Okay, maybe you shouldn't go now. But when we went in spring 2014 the Ruble was strong, oil prices were high, and Russia was still basking in the glory of the winter Olympics. Shortly after they annexed a spit of land that didn't belong to them, invaded Ukraine, may have assisted in shooting down a civilian airliner, and then denied that they anything to do with any of it.
Accessibility
You'll need a visa, it's a long and expensive process. There are direct flights to Moscow, figure 9 hours from NYC but there are no direct flights to St. Petersburg. In a short about of time you could give both cities 2 nights but I'd opt for more in St. Petersburg. If you're going through the visa process you want to make sure you got the most out of it. On our tour of the Baltic we arrived by boat in St. Petersburg and flew out of Moscow. The two cities are connected by a high speed train. Both cities have metro systems which are sometimes handy but mostly used by commuters.
When we went
May 2014. This was part of a longer Baltic Sea Itinerary; flew into Tallinn (via Helsinki) and slept in the old town for 2 nights, took a fast morning ferry to Helsinki (1 night), took a late departure overnight boat to St. Petersburg Russia (3 nights), took a high speed train to Moscow, flew home via a short stop in Helsinki.
You'll need a visa, it's a long and expensive process.
What we did
We arrived in St. Petersburg via overnight ferry from Helsinki. Highly recommended. Most Americans who come to Russia also arrive on a ship but do not have a visa. This allows them a couple days of sightseeing with a mandatory guide and each night they return to the ship. We went through the long expensive visa process so we could stay in St. Petersburg and travel to Moscow. Russia's image has taken a clear hit recently, all is completely their fault, but as with most other places with similarly questionable reputations what you'll often find is the people living their day-to-day lives there are not too different from you. Generally, we found people in Russia "cold" but helpful, no different from other Nordic countries like Iceland. Those working in tourism, however, were exceptionally friendly and helpful. Same went for restaurants, even those off the regular tourist path.
St. Petersburg was supposed to be Russia's grand port city, built in a grand baroque European style back in the 18th century, by Czar Alexander II. What had fallen into a dilapidated state under communism is slowly being rebuilt, or at least touched up. You'll probably notice more than once where a new coat of paint was substituted for actual repairs. And if you come in from the cruise port you'll see vast neighborhoods of the "real" Russia as you approach the city. Still, St. Petersburg has more than enough sites to leave you with a pleasant visual image. Let's start with the Hermitage, along the banks of the mighty Neva River it was once a grand palace, now home to one of the greatest collections of art on planet earth, thanks to Catherine the Great. We got our tickets ahead of time online. As it turns out this wasn't necessary in mid-May, and the process of converting the printout into actual tickets was longer than the process of buying tickets. However, it's easy to see how this strategy could backfire and I would never advise waiting to do tomorrow what you can order online today.
I only had one complaint about the Hermitage and it applied to all the big sights in Russia. They don't light up the buildings at night. I'm guessing it's a budget thing but it's still a shame, just some dingy street lights after the sun goes down.
We also greatly enjoyed the Russian Museum, which featured numerous paintings from artists mostly unknown outside of Russia. Like everything else in this country, the canvases were HUGE. Struggling peasants and military victories were a dominant theme.
There are several large canals that snake through the city. You get the feeling they aren't celebrated the way they are in Venice or even Amsterdam, but merely tolerated by locals who realize cementing them over is too expensive.
There are several well-known churches in St. Petersburg; the neo-renaissance St Issac's Cathedral, the Gothic St. Paul's Cathedral, and the beautiful Russian Orthodox Church of the Spilled Blood. All three were lucky to be spared by the communists who destroyed most religious institutions. Even so, St. Issac's is hardly worth stepping into and if it wasn't for the view from the top of St. Paul's it would hardly be worth it too. But you must go into the Spilled Blood. It was once used as a government storage depot; luckily most of its spender has been restored. The inside is floor to ceiling mosaic.
Subways in Russia are old and crowded but very fast and efficient. Despite the dire looking state of the actual trains the subway stations are beautiful. Nearly all of them were constructed using materials taken from churches that were destroyed. Expect crystal chandeliers and fine mosaics. The subways, however, aren't terribly necessary for sightseeing because the stops are very spread out. Again, Russia = HUGE. You'll also notice many of the large boulevards, often 5 or 6 lanes wide, do not have crosswalks. They are actually underground. This helps keep pedestrians safe and allows drivers to go as fast as they want. You'll see two types of cars on the roads here; tin cans that wouldn't pass inspection in America, and German/Italian supercars loaded to the gills with aftermarket extras.
An obvious day trip from St. Petersburg is Peterhof Palace. If you've seen a Russian travel brochure, you've seen this place.
It's about an hour west, along the Neva River. In the summer there is a boat that goes from behind the Hermitage direct to Peterhof. When we were there, the docks were being repaired as we had to take a subway to Avtovo train station and transfer to a mini bus. No one spoke English but everyone was helpful.
Our hotel was great about writing signs in Cyrillic for us to look for as a guide.
St. Petersburg is connected to Moscow, 430 miles away, by high speed train. There is a night train too, but we're not that daring. As with everything else the train situation in Russia is one of extremes, diesel engines and coaches that look like scrap metal next to brand new German built bullet trains. Buy your ticket in advance online, hop on the wi-fi enabled Sapsan train and arrive in Moscow 4 hours later. Where the subway stations were constructed with precious metals and works of art the above ground train stations appear to be a mix of concrete, steel, and as little lighting as possible. They function as a train station, nothing more.
Moscow needs no introduction.
It's the capital of Russia, straddling Europe to the west and Asia to the east. Until very recently the city was riding a commodities boom which made it one of the most expensive places on earth. Since late 2014 that has begun to burst. Like St. Petersburg, Moscow is big. Everything here seems huge; streets, buildings, squares…everything. Stay around Red Square, as that's where most of the sights are. We've been to a lot of "grand squares" in Europe but I'm pretty sure all of them would fit in here, with room to spare. Red Square is flanked to the north by a Russian history museum, to the east by the famous GUM department store, to the west by the Kremlin walls (also Lenin's tomb) and to the south by the famous St. Basel's Cathedral, one of the most iconic sights in Russia.
They still parade ballistic missiles through Red Square, although the day we were there it was taken over by a small flash mob of ballroom dancers.
On the other side of the big red wall is the Kremlin, the original walled in city and now the head of Russia's government. There are a number of museums and churches to explore inside.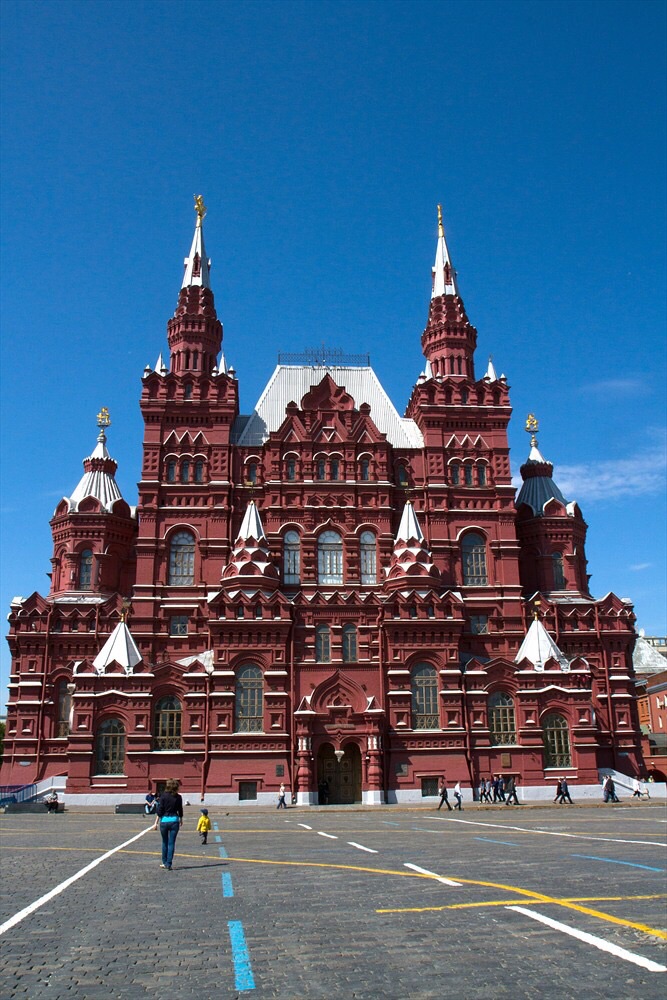 Despite the somewhat menacing reputation the Kremlin grounds were impeccably kept, with flowers and well-manicured shrubs covering every square inch.  Even the police were twirling whistles instead of AK-47s!
Most parks we found in Moscow were well kept, particularly those in residential areas. One day we walked down a street that had a park down the middle.  Next to the tulips and blooming lilac trees were ping pong tables and other games for people to play.
Near Red Square is the famous Bolshoi Ballet. Buying tickets online is easy and straightforward. Finding where to exchange them is not. Luckily for us we found a babushka in the parking lot who looked like she worked there and almost literally dragged me by the arm across the parking lot, into the building, and right up to the ticket counter. For the record, just go in the front door.
Sights
Stroll down Nevsky Prospect (starting at the Hermitage). This is the main drag in St. Petersburg that's 8 lanes wide with QUICK crosswalk lights.
Church of the Spilled Blood; St. Petersburg. Spikey onion domed cathedral that's filled inside with floor to ceiling brightly colored mosaics.
Church of Kazan; St. Petersburg.  Impressive on the outside, dark and dingy on the outside.
Gostiny Dvor; St. Petesburg. A department store for the 99%.  A hidden gem is a really pretty long balcony on the second floor.
St. Isaac's Cathedral; St. Petersburg. A grand, massive church with a gold dome that looked like the Capitol building in Washington DC on the outside and the St. Peter's basilica on the inside.  Take the 240+ steps to the top to take photos of the St. Petersburg skyline.
Hermitage; St. Petersburg. Former royal winter palace for the Romanavs turned into a world class art collection (thanks to Catherine II). Ornate rooms and decor.
Russian Museum; St. Petersburg. Home to Russian artists largely unknown outside of Russia.  Mostly huge canvases depicting past wars, hard times, social realism and wooden folk art.
Peterhof; outside of St. Petersburg. The high speed river ferry that typically runs from the Hermitage to Peterhof was closed for dock renovations.  We had to take a metro then caught a mini-bus (#404), which is a type of shared taxi with a fixed route that can be flagged down anywhere.  Peterhof is the over-the-top summer palace of the Romanovs. It's dripping in gold, gardens, fountains and smaller palaces.  We spent our time exploring the gardens and didn't go into the main palace.
Atvova station; metro station in St. Petersburg. Built with pieces of old churches — marble, chandeliers, detailed pillars.
Peter & Paul Fortress; St. Petersburg.
Red Square; Moscow.
GUM department store; Moscow.  Located opposite the Kremlin in Red Square, GUM once catered to the lower class citizens of Moscow, now it serves the upper middle and 1%.  Beautifully decorated with fresh flowers and plants with domed art nouveau ceilings running down the middle over three levels of high end shops of both western and Russian origin.
Bolshoi ballet; Moscow.  If you have a fine arts bucket list, this should be on it.  A beautifully gilded and over-the-top interior, the Bolshoi, is home to one of the most renowned ballet companies in the world.  Go for the ballet…and the superb people watching. Buy tickets in advance and pick-up at the ticket office.
St. Basils Cathedral; Moscow.  A national symbol for Russia.  This colorful onion domed church is even more spectacular in person than any picture you've seen of it.
The Kremlin; Moscow.  Buy tickets from the ticket building, note that the lines may take a while and no to very little english is spoken.  Inside, see the Church of the Assention, Church of the Assumption, Ivan's Bell Tower, Tsar's Canon, and explore the history museum in the former palace.
Arbat Street; Moscow. Stroll down this pedestrian street which is filled mostly with chain restaurants and a Shake Shack!
Accommodations
Hotel Pushka Inn; St. Petersburg. Charming hotel located on a canal very near to the Hermitage with a friendly and helpful staff.  Suggestion: get a room with a canal view.
Hotel National; Moscow.  Ask for a room facing the Red Square, who knows, maybe you'll get lucky and get a room with a balcony.
Restaurants
Grocery Store No. 1; St. Petersburg (aka Yeliseevsky Delicatessen). An over the top art nouveau decorated cafe with desserts, cheese, meat, caviar, and chocolates.
L'Europa Restaurant; St. Petersburg. Classy dinner in a beautiful art nouveau room  of the Belmond Hotel with stained glass and a stage which held two men playing jazz.  We got the tasting menu with VODKA pairing.  Famous for its "egg in an egg" dish…which was amazing.
Stolle Cafe; St. Petersburg. Chain restaurant that serves Slavish pies (meat, fish, veggie, dessert). Cheap and tasty.
Ket Cafe ("Cat"); St. Petersburg. Specializing in Georgian cuisine.  We had delicious meal of tasty mutton soup, khachapuri (type of cheesy bread with raw egg), shashlik, and Georgian wine.
Zoom Cafe; St. Petersburg.  Brooklyn meets Russia meets Anthropologie.  Run by young'ish Russians in a totally cute cafe serving really great "new Russian" cuisine.  It has a playful interior, white paper tablecloths with crayons, and board games.
Xayanupu; Moscow ("Khachapuri"). A seriously delicious Georgian restaurant located near the BLANK Metro stop on a quiet side street serving super flavorful cuisines you've never heard tried before.  Try the katchepuri (cheese bread served split open with a raw egg that is mixed in with the cheese — think scrambled eggs heavy on the cheese), the doughy potato and cheese dumplings, grilled kabobs with tarragon pesto, and Georgian wine.
White Rabbit; Moscow. Voted one of the best restaurants in the world. Located on the 16th floor of an obscure mall, this restaurant served fabulous food both known and unknown to us.  Models walked around selling cigarettes.  By 10pm, it turns into more of a lounge with funky music and hookah smoke fills the room.  Great views from inside the dining room and on their outdoor cafe.
General Travel Tips
Take the easy Airport Express Train to Moscow's airport.
Try Georgian food.