words by Mike / photos by Nikki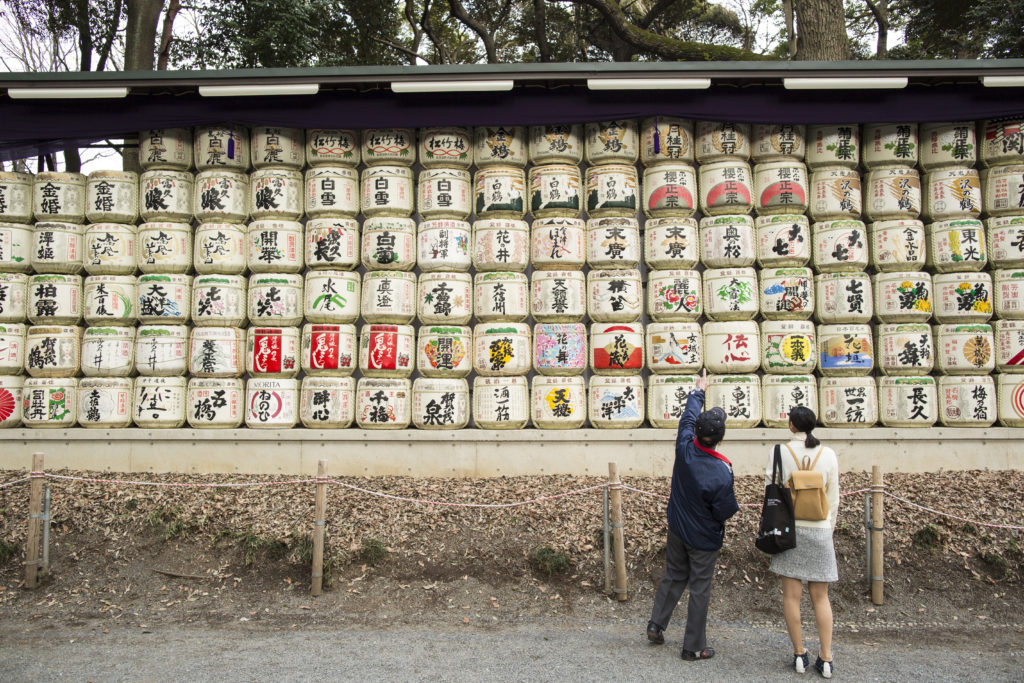 Intro to Japan
Japan is a difficult place to describe. It's part of Asia but completely different from any other Asian country. It's a land known for both fine cuisine at Michelin starred restaurants and for having a wide variety of food available from vending machines. Japan is at the same time very exotic and very safe.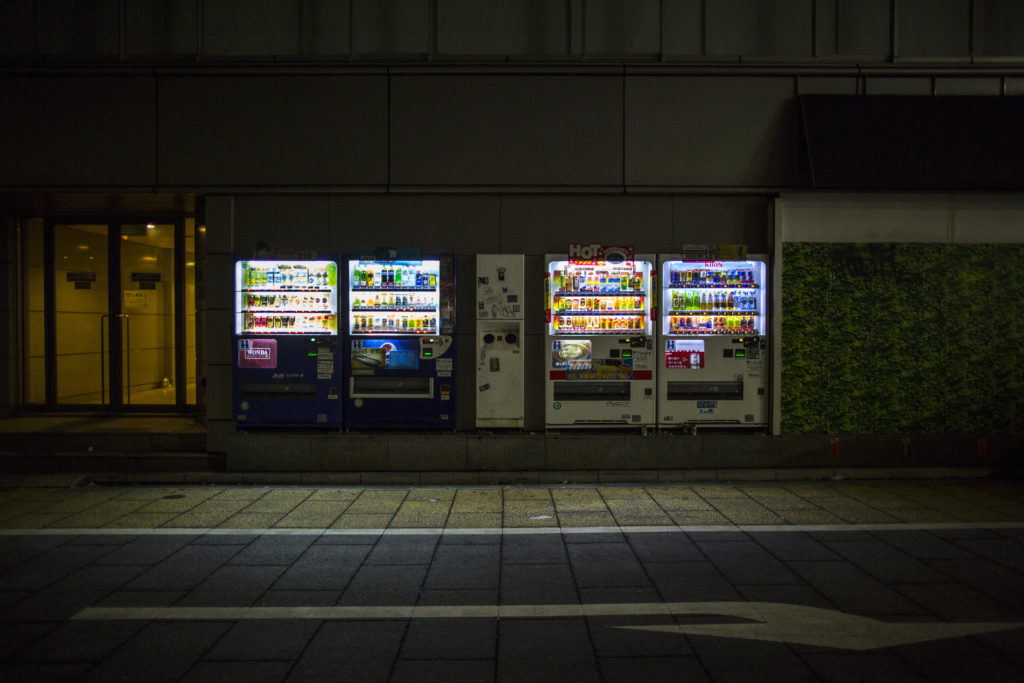 In Tokyo's Yakatori Alley, for example, you'll find an Instagram worthy eating experience with every bit of the exotic flavor of outdoor markets that you might find in Thailand or Vietnam or Cambodia. If you can find them that is. In Tokyo's main district of Shinjuku, through the maddening crowds outside its train station you could nearly lose your mind looking for a small set of alleys running along side the tracks. Get close enough and you'll see plumes of smoke billowing out of the tiny kitchens while the intoxicating smell of grilled meat draws you in closer. Enter the alleys where each little eatery is no more than a few well worn stools often occupied by a few well worn locals. There is little English but lots of character and when you leave here you will be smiling from the beer and sake and smell like barbecued meat.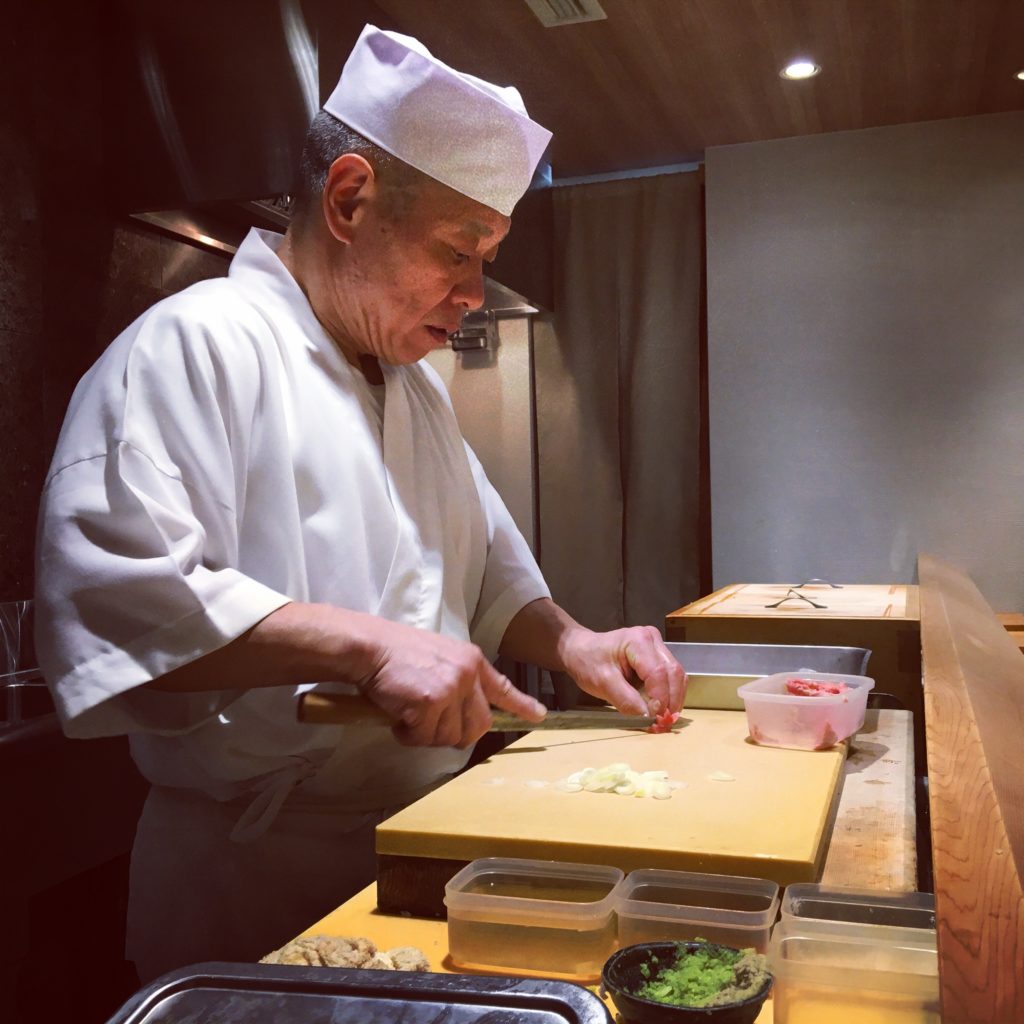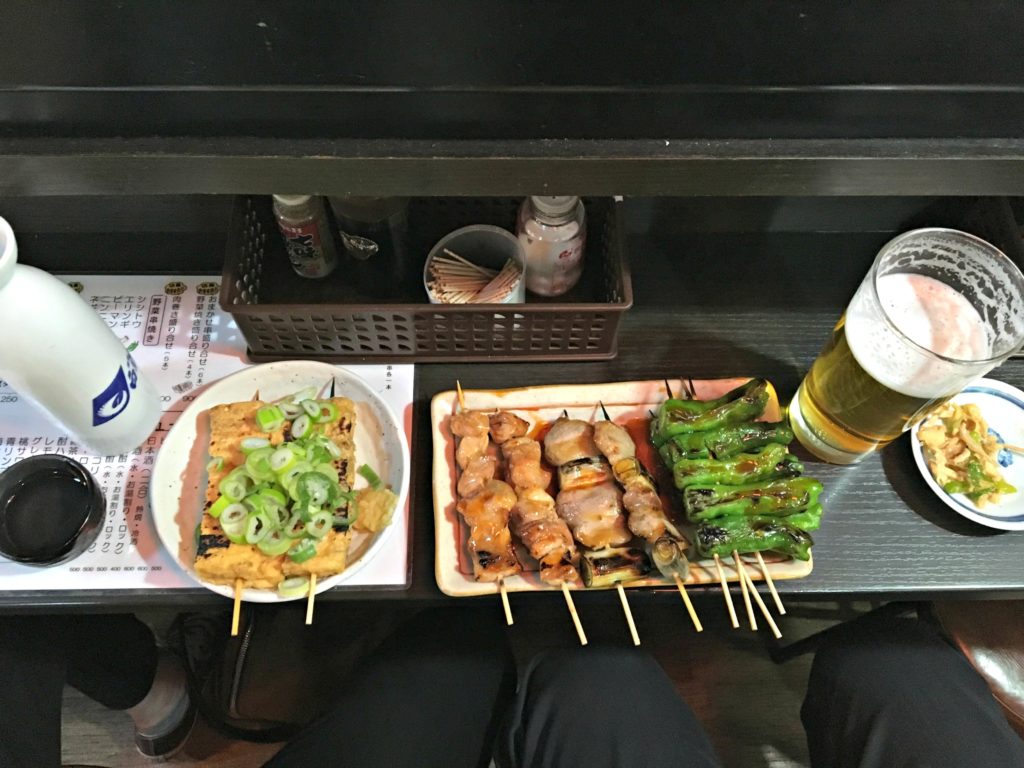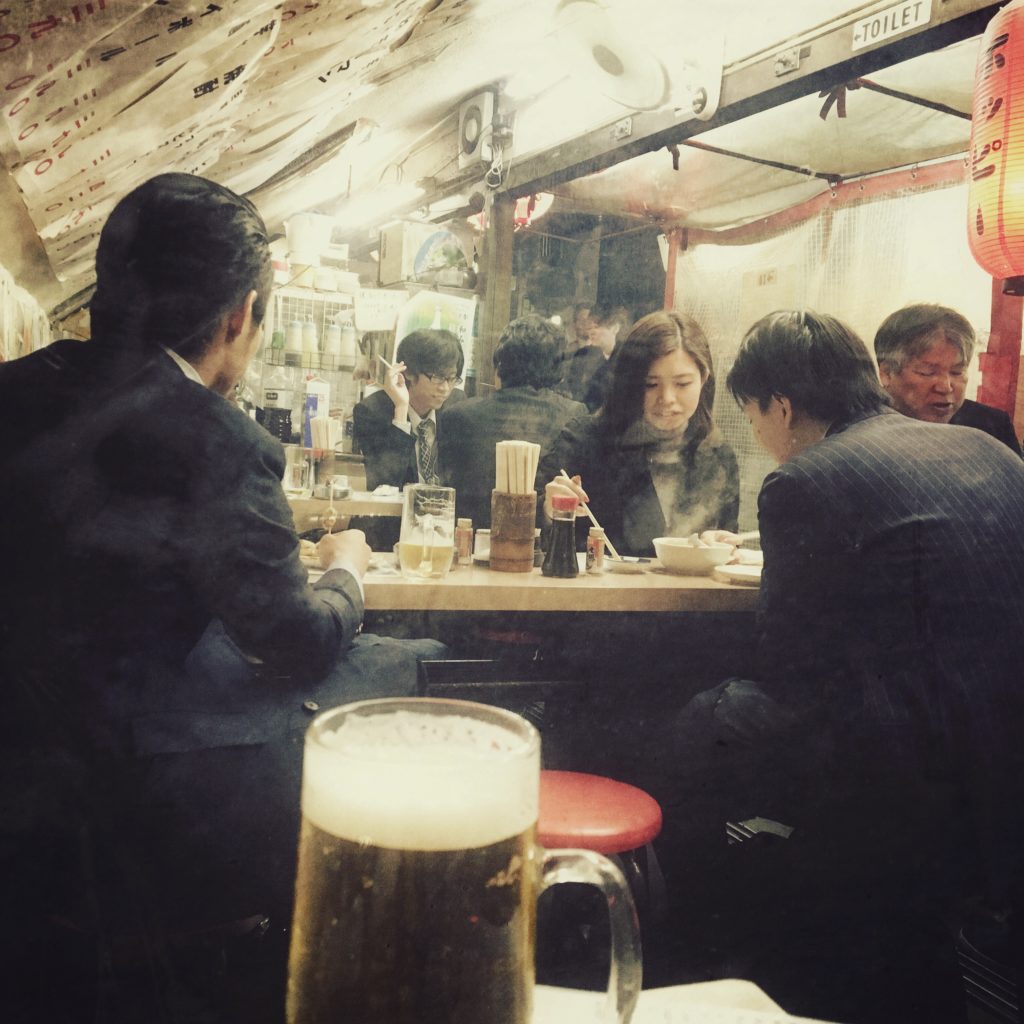 The experience brings me back to Vietnam; where we ate lunch and dinner sitting on plastic stools, I couldn't help but wonder, "where do they wash these dishes" and "did I remember to bring those anti-bacterial pills when I left the hotel?" But this is Japan, a land with toilets that clean you, then themselves after each use. And the little eateries in Yakatori Alley, upon entry you'll notice the laminated health code signs. Almost all are open kitchens and they are immaculately clean. Everything in this country is. Exotic, but very safe.
That goes for crime too. I don't care where you're from, Tokyo is probably safer than your little town. While I wouldn't walk around flashing money, street crime is nearly unheard of, although some bars have been know to target lonely single men by overcharging. So when you're done at the Elvis themed karaoke bar or you've ended your night at one of the animal cafes, go ahead and walk home confidently. Exotic, but very safe.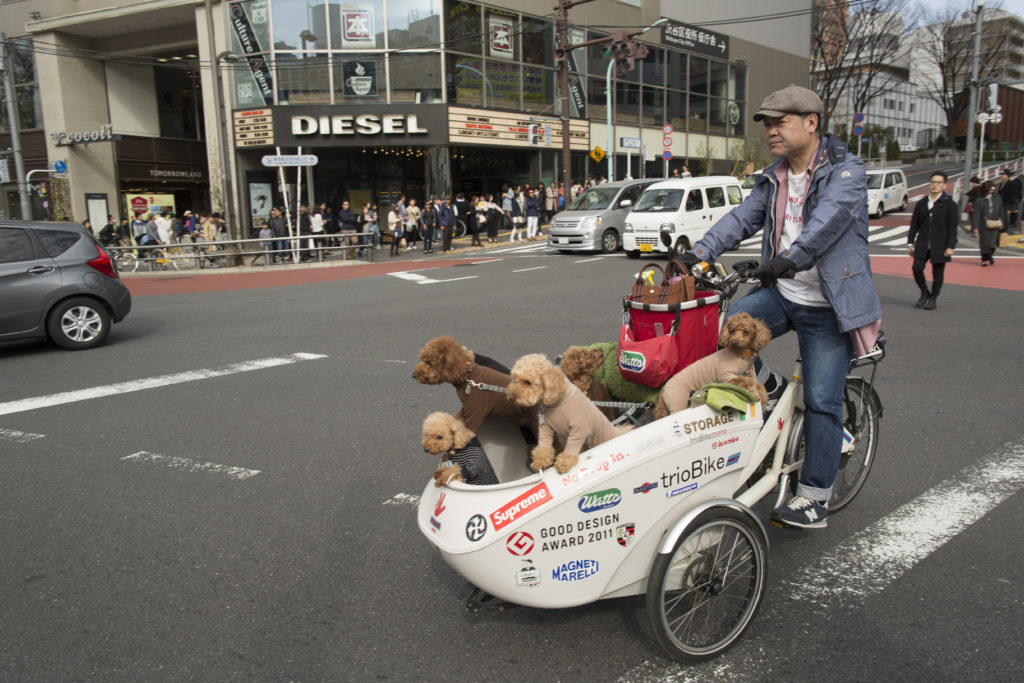 All that safety and cleanliness comes at a price. Japan is expensive. It's gotten better than it was ten years ago and a strong dollar helps but it's still a pricey location. Expect prices for everything from lodging to food and transportation to be on par with cities like New York or London. Even those little restaurants in Yakatori Alley are more than you might think. Luckily with the yen around 100 : 1, the dollar the exchange is easy. Just move the decimal over two spots. It works even after you've had more than your fair share of sakes.
when we went
Towards the end of March, just at the beginning of cherry blossom season.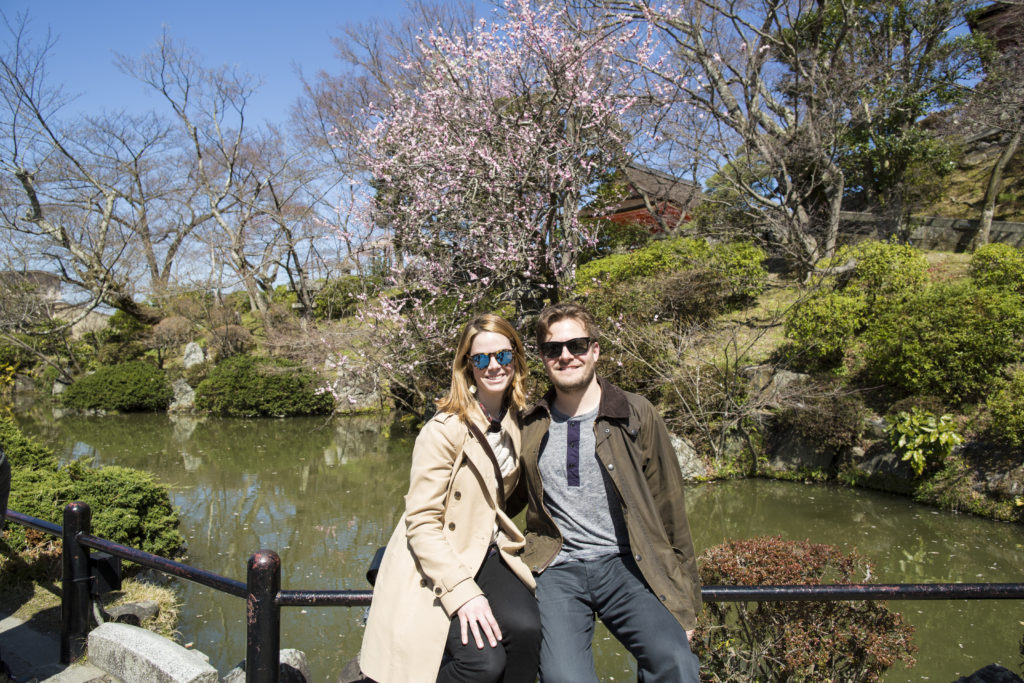 accessibility
Chances are you'll be arriving in Tokyo, which is well connected to much of the world. Many major airports have direct flights, often more than one per day. From New York to Tokyo it's almost 15 hours. That's pretty long. And the time difference can take a toll as well. Leave the east coast mid day on Thursday afternoon and you'll arrive in Tokyo early evening on Friday.  Anything less than 5 nights is too short, and that's if you're just focused on Tokyo.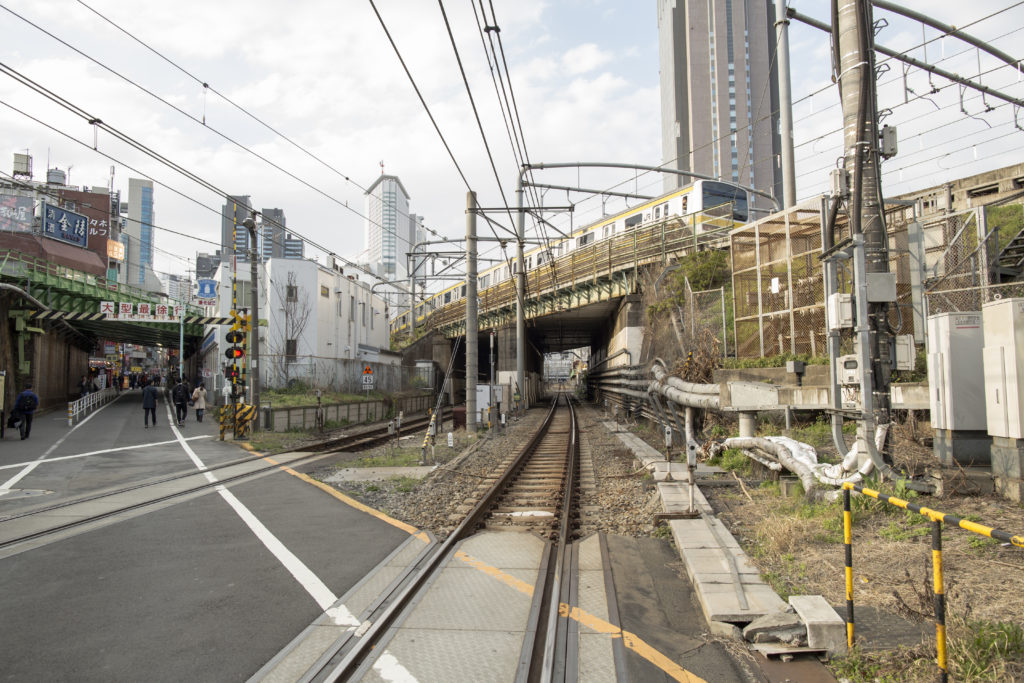 Japan's mass transit is top notch, high speed trains connect nearly every city.  It's expensive but it's very reliable and has frequent departures. In Tokyo some form of mass transit is never far away. Above ground trains and the metro can get you anywhere in the city.
In Kyoto there is a bus and metro system too but if you're there for only a day or two splurge for a taxi.
Our travel video
what we did
We did two nights in Tokyo, one night in Kyoto, and two more nights in Tokyo. Tokyo is huge and each area is very unique. Splitting our time in Tokyo gave us the chance to stay in two different areas in the city (Shinjuku and Ginza). Shinjuku could be described as downtown Tokyo. This is also the government district of the city. Ginza is the ritzy and fashionable district. Many of the city's famed department stores are in Ginza.
Here was our five night ITINERARY:
Day 1: We arrived in Tokyo ~2pm. Narita airport is far outside the city. There are several options to get into the city. Cabs can cost in the hundreds of dollars. There are several trains including the Narita Express and Keisei line.  Depending on where you are going one might be faster than the other. We were headed to Shinjuku and opted for the Keisei Skyliner, the fastest option. Buy tickets ahead of time on their website.
Cultural interaction is a big part of travel. For me that usually starts once I exit the airport, most often while waiting on a train platform to go into the city. This is usually when it starts to sink in that I have arrived in a new place. My mind slows down and I begin to notice my surroundings. In Japan you'll start to notice things about the people that you don't see in other cultures and you'll see it first in the employees around the train station. Their uniforms are clean, pressed, and fit perfectly. They do their jobs with a sense of purpose that is very rare for similar types of workers in other countries. Honor is a big deal here and it shows everywhere. The level of seriousiness and pride in even the most blue collar jobs is impressive, even inspiring. After a few minutes the sleek looking train pulls into the station and empties. Before the new passengers get on all the seats in the train automatically flip around. A team of stern looking cleaners board the train, one in each car. They quickly and efficiently move their way through each car picking up trash and tidying up. They get off, we get on. Another serious looking conductor rushes down the platform, blows a whistle and signals for those passengers approaching the train to hurry. The conductors blows one last time, the doors close, and we're off, right on time. Welcome to Japan!
A lot of Airbnb properties in Tokyo are agency run, they feel more like corporate short or long term rentals than lived in spaces. But they are abundant and cheaper than the city's tiny hotel rooms. We stayed in one in Ginza.  Our first accommodation in Tokyo was at an Airbnb run by an American expat who married a Japanese; they rent our their 2nd apartment near Shinjuku.  It had a pretty sweet rooftop garden too.
We made it to our Shinjuku dwelling around 5:30pm, showered, and went to Sushi Hattori in Roppongi. We found this place because it was one of the few on OpenTable and since we were arriving on a Saturday I wanted to be sure we could get a reservation somewhere. The key to beating jet lag is altering your routine to fit the new time zone. We had dinner at 8pm, drank a bottle of sake, had a night cap of whiskey at Zoetrope, walked home, and went to sleep.
A word on eating in Japan. Do a lot of it. As much as you can. The seriousness with which train conductors and trash collectors approach their jobs also applies to chefs of every kind. I can't prove this but I think it's impossible to have a bad meal here. And high end health standards mean you should boldly walk into any restaurant you think looks good or interesting. Don't just stick to the fancy places either, try the conveyor belt sushi joint full of old men sucking down cigarettes or the automated Ramen restaurant where college students slurp down noodles while they study. And if you have time try at least one European restaurant. Italian and French are easy to find. Many of the chefs actually spent years training in Europe. If you need a quick meal or even a snack in one of the Times Square looking intersections around Tokyo look for a McDonalds, it'll be the cleanest one you've ever step foot in.
Day 2: This morning we tackled Tokyo's most important religious sites: the Buddhist Senjo-Ji Temple and the Shinto Meji Jingu shrine. A lot of people who go to Japan, and Asia in general, feel obligated to visit all the temples. It may be because most guide books are full of them. Quite frankly they can start looking the same. If you're not Buddhist or Shinto I'd say these two are the only must sees. Use the rest of your day to go to an animal cafe or a museum or shopping. At least one day for lunch you'll have to eat in the basement of a department store. Immaculately clean and full of all sorts of weird goodies like $500 watermelons or mochi creations (gummy rice pastry);  it's again one of the great Japanese cultural experiences you can only get here.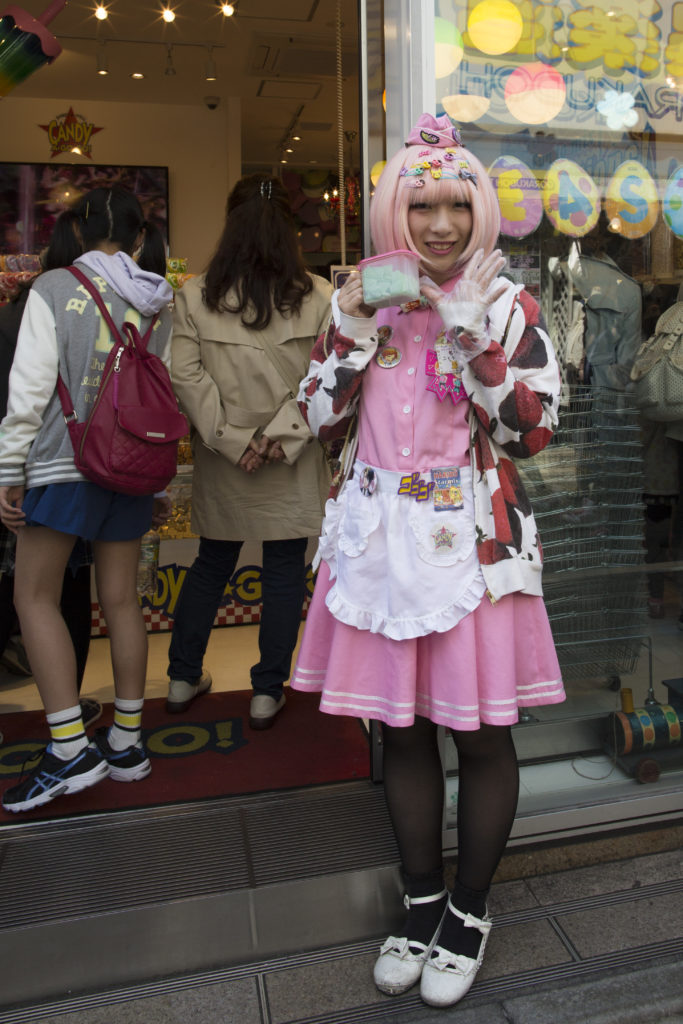 We spent time in the Harijuku district by visiting one of Tokyo's many animal cafes — a "cafe" where you spend time hanging out with a specific type of animal.  They have a variety of different cafes such as owl, dog, penguin, hamster, cat, etc.   We went to a cat cafe, Mocha Cat Cafe, where we paid by the 10-minute increment to play with kittens…and sip on a hot cocoa. They make you wear sterilized sandals and give you little cat toys and treats to give them.  I think we spent most of the time just laughing at our surroundings…and petting the really cute fluffy kittens. We also strolled down Takeshita St. which is famous for it's "Harijuku girls" attire.  This is where teeny-bopper girls (and older) come to hang out, eat cotton candy, go shopping, and most girls wear the ridiculous looking outfits.
We grabbed a to-go lunch from Maisen in the nearby Shibuya neighborhood which specializes in katsu pork — deep fried pork cutlets with a BBQ'esque dipping sauce.  Our Airbnb rooftop was the perfect place to enjoy this delicious Japanese dish.
The Robot Restaurant in Shinjuku is a thing most travelers, and websites, will tell you to do if you're in Tokyo. Here's another one. Go to Robot Restaurant. But don't eat the food. Buy your tickets online beforehand.
Robot Restaurant is not cultural. Japanese people do not come here on dates. Yet somehow Robot Restaurant feels entirely Japanese.  It feels like you're watching a live action animae theatric production complete with strobe lights and singing.
Also in Shinjuku and nearby to Robot Restaurant is Yakatori Alley, a smoky series of alleys full of tiny little eateries all specializing in delicious grilled meats and veggies. There is another, smaller version in Ginza. Each combines my two favorite qualities in food consumption: an exotic foreign setting in a distant land and first world health standards. While somewhat tricky to find you could spend half a night here hopping from one little eatery to the next, devouring every delicious little grilled skewer in sight.
Day 3: Off to Kyoto on the high speed Shinkansen Train. Japanese rail passes are popular for those taking multiple trips. In some cases it can also be cheaper to buy a rail pass for just one round trip. But the Shinkansen between Tokyo and Kyoto isn't covered on the rail pass. It's expensive but it's also faster. In just under two and a half hours you'll leave chaotic Tokyo, zip through the rougged Japanese countryside and arrive in Japan's spiritual heart of Kyoto.
Ticket buying tip. You'll have to buy tickets in Japan. The agents in bigger stations like Tokyo and and Shinjuku probably understand enough English to help you. But to be safe, utilize Google Translate. Go online before you leave to translate and print the details of your trip. You can find timetables for the Tokyo-Kyoto leg here.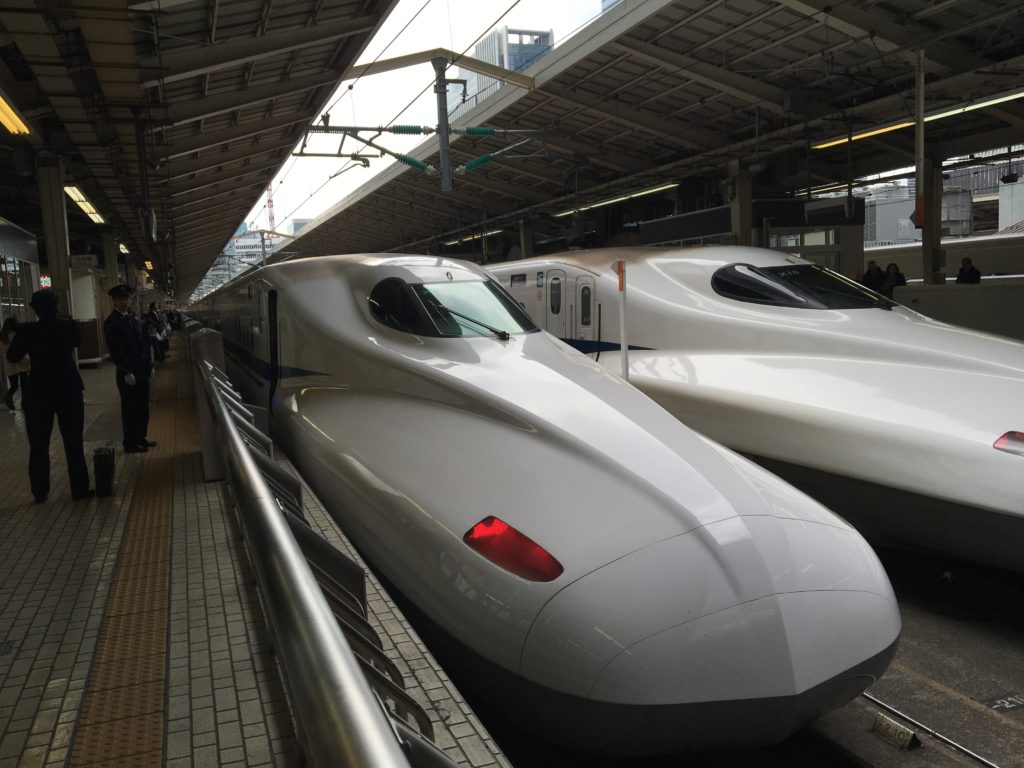 Kyoto is much smaller than Tokyo but still fairly large with a population of ~1.5 million. Some people spend  an entire week here but that seems excessive. While I do wish we had more than 24 hours, I think we managed to see everything we wanted. With another day we might have added a hike to the itinerary.
Kyoto might have more temples and shrines than people. It's like a bigger, more modern, and cleaner version of Chang Mai in Thailand. You won't have time to see all the temples but like Tokyo, that's completely okay. There are only a few biggies, which we'll get to later.
While the important temples are concentrated in the old section of Kyoto, the area to the far northeast of the city is also popular for tourists. After arriving and having a sushi lunch near the Nishiki Market we jumped in a cab and headed to Arashiyama to walk through the [overrated] bamboo forest and hiked up to the Arashiyama Monkey Park. And yes, we passed a few shrines and temples along the way.  We also passed a lot of selfie takers.
The monkey park was pretty cool and a good break from the religious-based sightseeing. It's pretty much exactly what it says, a park on a hill filled with monkeys. If you're not going to get to the north of the country to see the famous snow monkeys than this is the next best thing.
In Kyoto we stayed in a traditional Japanese inn, called a ryokan. The one we stayed in, Matsui, was located just down the block from Nishiki and walkable to the old sights across the river. Most traditional old inns had communal baths and toilets. Today many have been updated to provide those features in each room. However, as was the case with Matsui they still have a traditional bath house in the basement. It's more like a spa but it is public and you are expected to fully disrobe (note, it's separated by gender). If you get the chance…and you've already flown half way across the world…you should try it.
The best part of the Japanese inns is the breakfast. At least the experience part of it. The same  floor you slept on becomes a dining room and while freshly-made boiled tofu and steamed fish may not strike many Americans as the ideal breakfast, the experience is unforgettable. And as someone who hates tofu I will admit it wasn't half bad. The best part was feeling super healthy for the rest of the morning.
Day 4: Our train wasn't until 4pm so we had the morning and much of the afternoon to explore the temples of Kyoto. We took a cab to the impressive Kiyomizu Temple, which is high on a hill above Kyoto and has an impressive view. When you're there check out the exhibit on re-birth in Buddhism, which as far as I could tell was just a quick stroll through a very dark basement. I think I'd give this one the "best looking temple and/or shrine award". From Kiyomizu it's an easy walk through the old part of the city to the  Chion-in Temple.  Along your walk, stop in one of  Kyoto's very own coffee chains for a caffeine fix.  We went to Inoda Coffee.
Kyoto is famous for its Geishas.  I'm still not convinced they aren't high priced prostitutes but for whatever reason lots of tourists in Kyoto spend time trying to spot them. That's odd because a lot of tourists in Kyoto are actually dressed up as Gieshas! It's totally a thing here and some people take it really really seriously (there are even services that provide the costumes, make-up, and photographers). Take even a short stroll through the old city and you'll inevitably see one and perhaps think out loud, "whoa, I think that's an actual Geisha." Then you'll hear them speak in a deep Brooklyn accent.  This actually happened to us. But it was a Queens accent.
Chion-in Temple is home to the largest bell in Japan.  Impressive, right?  It's the second temple we've visited today but they are already starting to look the same to me.
We had enough time for one more temple so we grabbed a taxi and headed north to Kinkaku-ji, or Temple of the Golden Pavilion. As the name implies, it's golden, covered top to bottom in gold leaf. The property was originally home to a retirement pavilion for a local 14th century big shot. It later functioned as a temple and was burnt down by a crazy monk in 1955. The current structure is the one rebuilt after that fire.
Before heading back to Tokyo we had a delicious ramen lunch in the Nishiki market at the original Ippudo Ramen (also found in New York).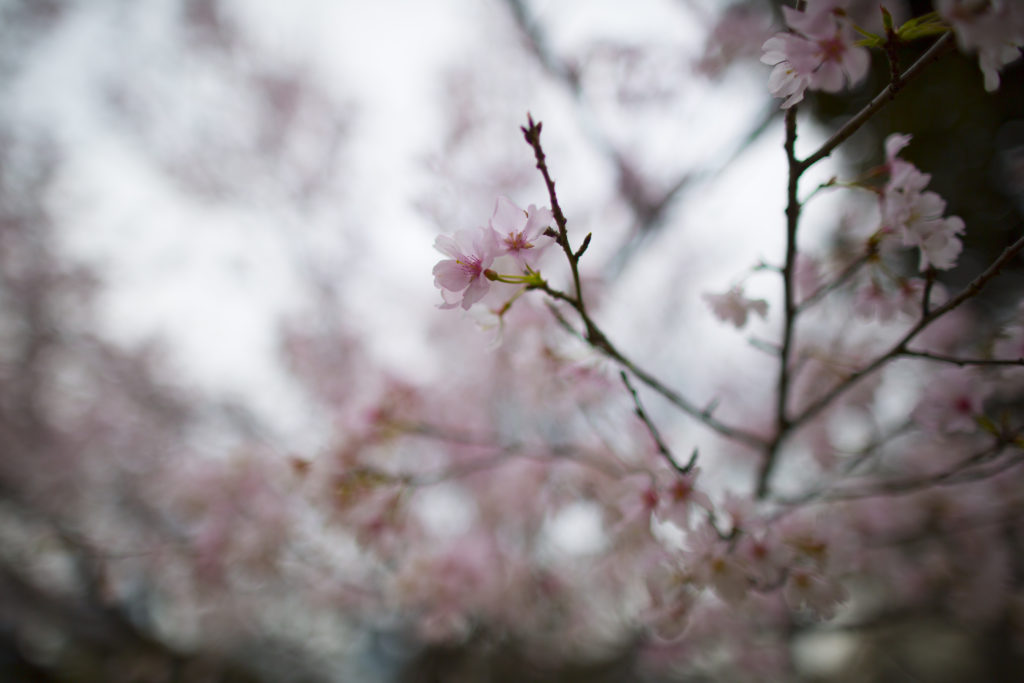 Upon returning to Tokyo, we had an entertaining and delicious dinner with endless amounts of sushi, sashimi and sake at Sushi Bar Yasuda.  Chef Yasuda ran a restaurant under the same name for 25+ years in NYC but a few years ago he had a falling out with his business partner and moved back to Tokyo.  He opened a small, 8 seat, restaurant in the Roppongi neighborhood.  The clientele seemed to consist of NYC travelers seeking out their missed sushi chef.
Day 5: Tokyo part II. This time we're staying in Ginza. In addition to wanting to explore a different part of the city we also want to be close to the Tsukiji Fish Market, Tokyo's number one attraction. We found a good Airbnb rental in a fairly sterile building that was just a couple minutes walk from the bright lights of Ginza and the fish market.  It was near a really great coffee shop called, Turret Coffee, which was just a short walk down the block.
In a country that eats fish for breakfast, lunch, and dinner it's no surprise that Tokyo's fish market is the biggest in the world. It's also terribly outdated, which is actually part of its charm and the reason it's moving to a much larger more modern facility outside of the city by the end of 2016. If you don't get here soon, you'll miss it forever.
There are several ways to enjoy the fish market: 1) get to the information center early, like 2am early, and apply for one of the limited spots in the tuna auction that begins at 5am; 2) go at 9am when the wholesale market opens and catch the whole market in action; 3) go in the afternoon when the action is winding down and it's less chaotic; or 4)  have a sushi breakfast at one of the restaurants in the market. I would suggest a combination of the 9am wholesale market and breakfast sushi.
Nearly 10 years ago I went to the tuna auction before it was a "thing",  back when you could just walk in. It's a tuna auction. A bunch of Japanese guys bidding on fish. They're big fish, and it gets intense but it's still just a fish auction. At some point between then and now, it became "the thing" to do in Tokyo. Back then there certainly wasn't a "fish information center" to buy tickets at either. You just walked in, got lost, and looked at fish.
Since the wife had not seen the tuna auction I woke her up at 4am to see if we could still get in. I thought, it's off season and it's a Wednesday, they couldn't possibly be full. We got to the fish information center around 4:30am and were promptly told by the auction security guard that they had filled up at 3am and that if we wanted to see the tuna auction we should come back tomorrow morning by 2am. So yeah, wifey will never see the tuna auction.
Somehow, the tuna auction isn't the only thing people line up for at absurd hours.  There are a handful of restaurants in the market, just outside the wholesale area. Most are sushi-only but some do curry, even pizza. Fish workers get tired of sushi too, I guess. These places were originally set up for the workers, not tourists. Again, when I was here years ago, you could just walk into one and point to what you wanted on the picture menu. Now, in the age of food blogs, two sushi bars in particular (Sushi Dai and Sushi Daiwa) have exploded in popularly.  People start waiting in line to eat here at 2am! For a 6am opening! Every food blog you read about Tokyo will tell you to eat at one of these two places. All of them except this one.
Waiting in line three plus hours for anything except an organ transplant is outrageous. In a town where sushi from the local 7-11 is probably better than the best sushi restaurant in your town,  just pick the one with the shortest line with Japanese patrons. All of these places have been around for years (decades!). They all get their fish from the exact same place… the gigantic fish market that's just outside. They all serve insanely fresh fish and you have my word that no matter which one you go in you will walk out saying "wow, that was some really good sushi."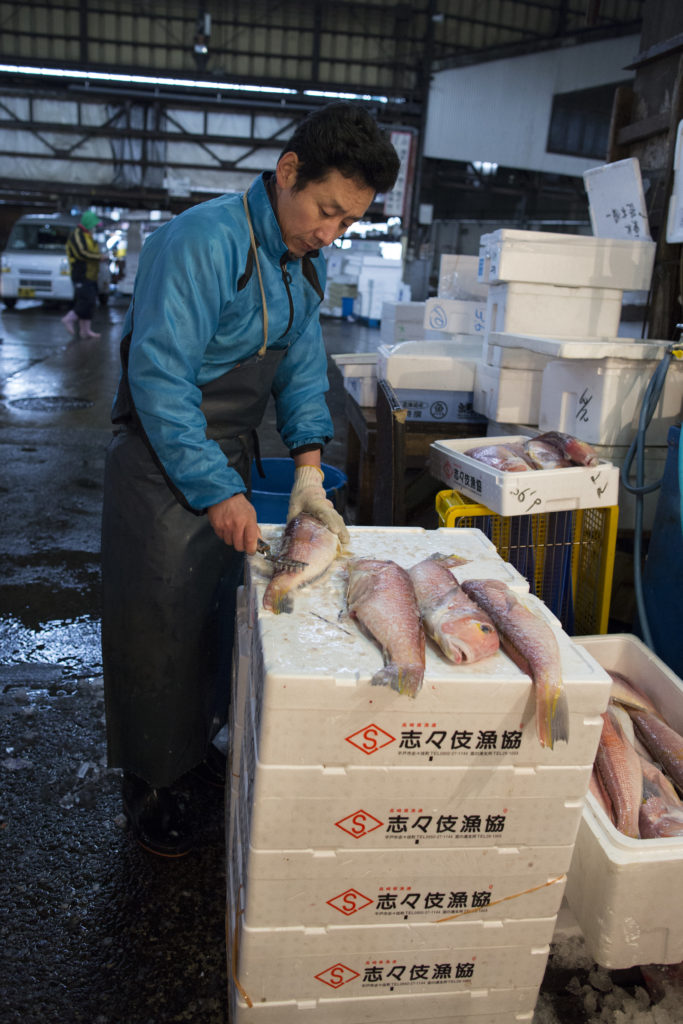 One last note on those two restaurants. I found it highly suspicious that when we went to the fish information center and were told the auction was full, the fish information person not only directed us to, but drew us a map of how to get to Sushi Dai and Sushi Daiwa. Seemed a little fishy considering we didn't ask. If I had a conspiracy, and I do, it would be that they are deliberately leading tourists to those two restaurants so that the restaurants that the fish market workers actually eat at don't get too crowded. And if you go to one of the restaurants that isn't Dai or Daiwa you'll notice that most of the patrons are….fish market workers.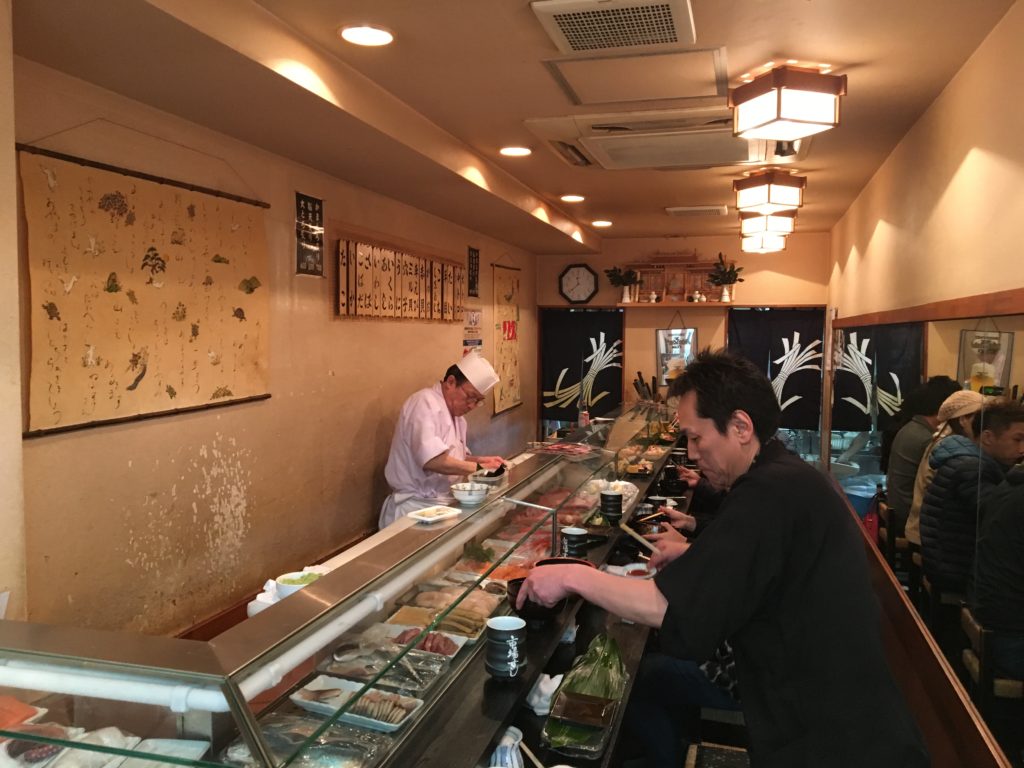 The wife at first wasn't convinced by my conspiracy argument and actually wanted to wait in the massive line. Somehow I convinced her otherwise and we ate at Ichi ba Sushi. No lines and no English either, not on the menus, not from the sushi chefs, not even on the sign. What it did have were lots of marks on the back walls. The two sushi chefs running the restaurant have probably been standing in the same spot doing the same thing every morning for the better part of a half century. So much so that you can see exactly where their elbows rub the walls in the tiny restaurant. When we walked out, wifey, who would have still been standing in line said, "that sushi was amazing."
Somehow Japan still has a royal family. And their Imperial Palace in the middle of Tokyo looks like some kind of ancient Japanese castle. Actually, it is a Japanese castle, complete with a imposing moat and equally imposing stone walls. Visiting any royal site in Japan is a long process that involves divulging a lot of personal information. However, you can walk around one of the many gardens at the imperial palace for free. We were here just as the cherry blossoms where starting to bloom. One more week would have been perfect timing.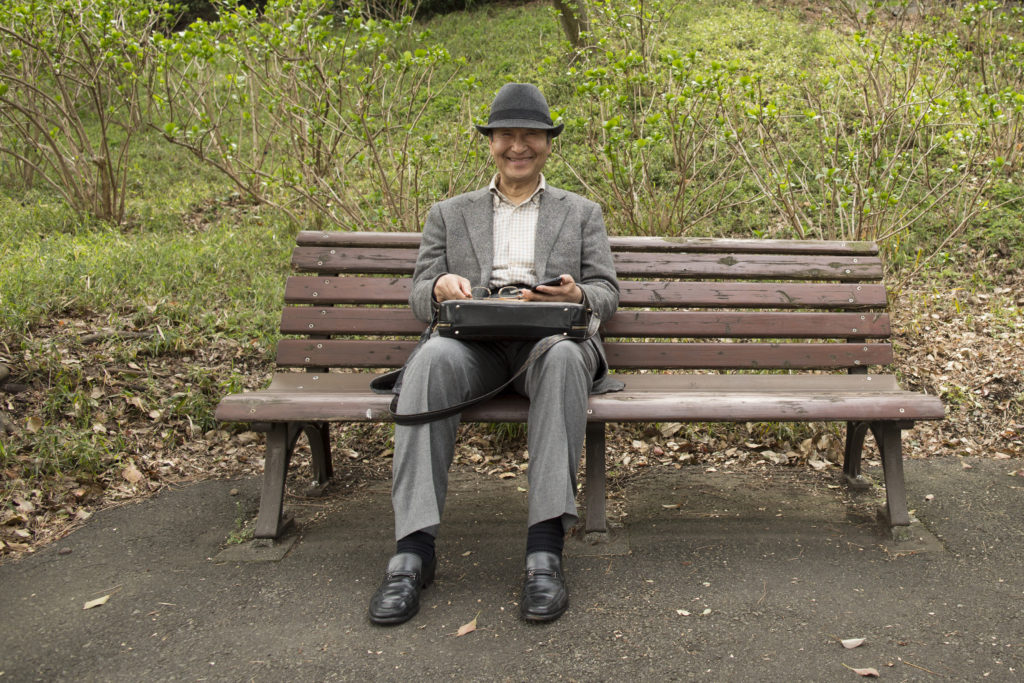 I've been to the museums in Tokyo before and wasn't totally impressed. The Tokyo National Museum is nice enough but how many Buddha statues or watercolor drawings on silk can you really look at in one day? On this trip, I convinced the wife to skip it. Instead we went to the Yasukuni Shrine and Yushukan Museum.  The museum is Japan's military museum and the shrine honors Japanese soldiers that died in battle. Sounds fine, right? Sounds like many of our monuments in Washington DC?  Well, no, not really.
Every so often the prime minister of Japan has to make an incredibly hard decision; visit the shrine and pay tribute to the ancestors of living Japanese who they believe died honorably for their country or not visit the shrine and appease the wishes of nearly every Asian country (mostly Korea and China) that still hate Japan for the unreal level of brutality inflicted on them by Japanese Imperialists during the 20th century.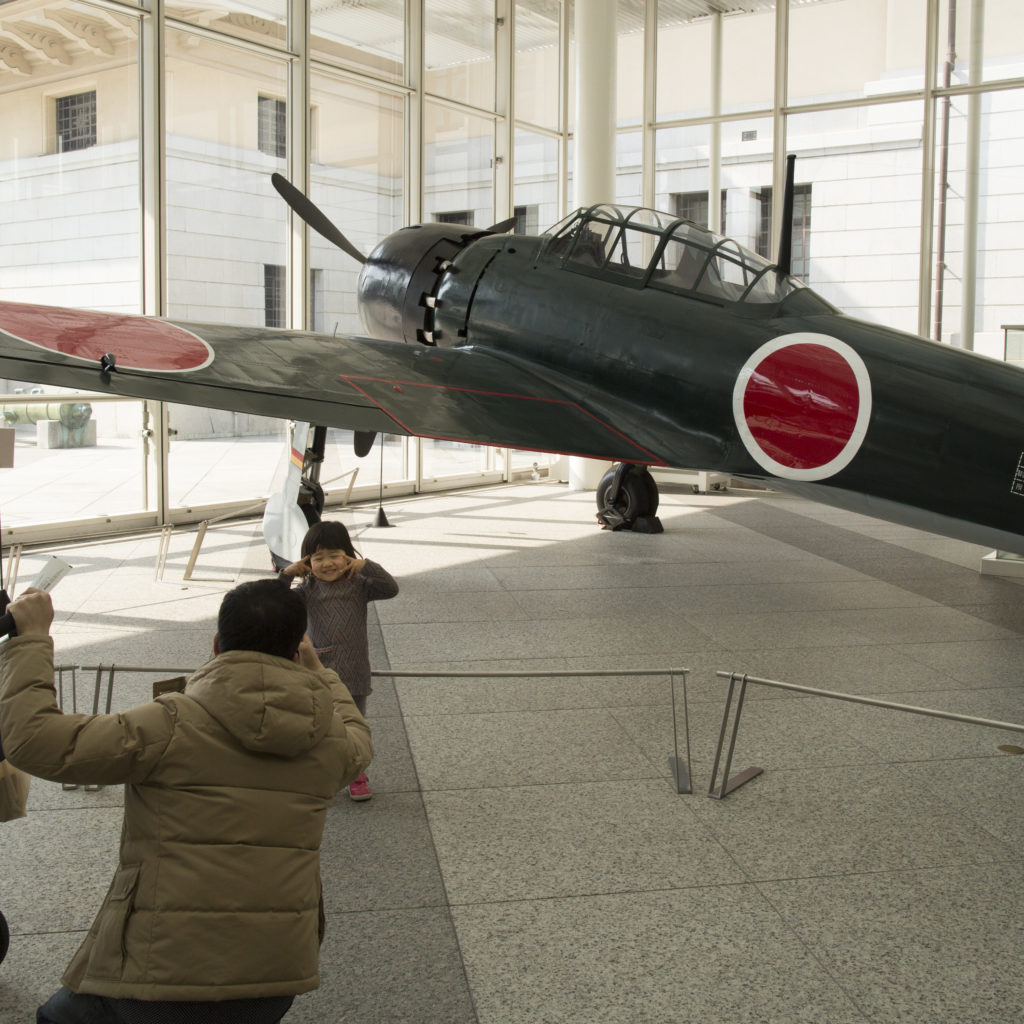 The shrine contains the names of 2.5m Japanese, over 1,000 of which are war criminals, and 14 of which are Class A war criminals. Other Class A war criminals include Serbian strongman Slobodan Milosevic (genocide), Libya's Muammar Gaddafi (killing civilians), African warlord and Liberian President Charles Taylor (war crimes), and pretty much every Nazi you've ever heard of. Inside the museum the Japanese, who are today dedicated to peace as much as any country and a very important ally to America, whitewash their imperialist history in a way that would make even our worst enemies proud. Look for the part where they blame the U.S. for their attack on Pearl Harbor.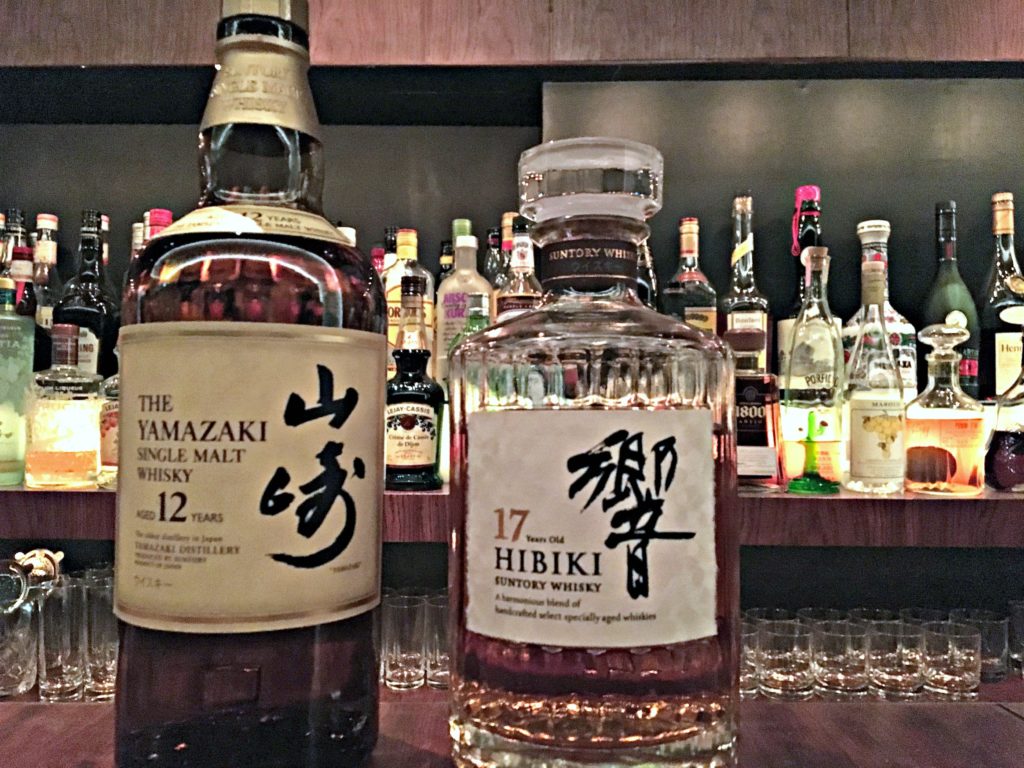 For our last night out in Tokyo we went to the other Yakitori Alley in Ginza. It's not as big as the one in Shinjuku but it is next to and actually built within a train trestle and the delicious smell of grilled meat fills the air.
Day 6: This morning we went back to the fish market for breakfast but instead of sushi we chose the curry option at Nakaei. When we walked in the server, in very broken English, tried to explain that this was not a sushi restaurant. Apparently, the only westerners that come in are those that assume all the restaurants serve sushi. We assured him we knew it wasn't a sushi restaurant and enjoyed an incredible meal of fresh seafood curry. If you ate breakfast every morning at a different one of these restaurants you'd leave Tokyo a very happy customer.
DINING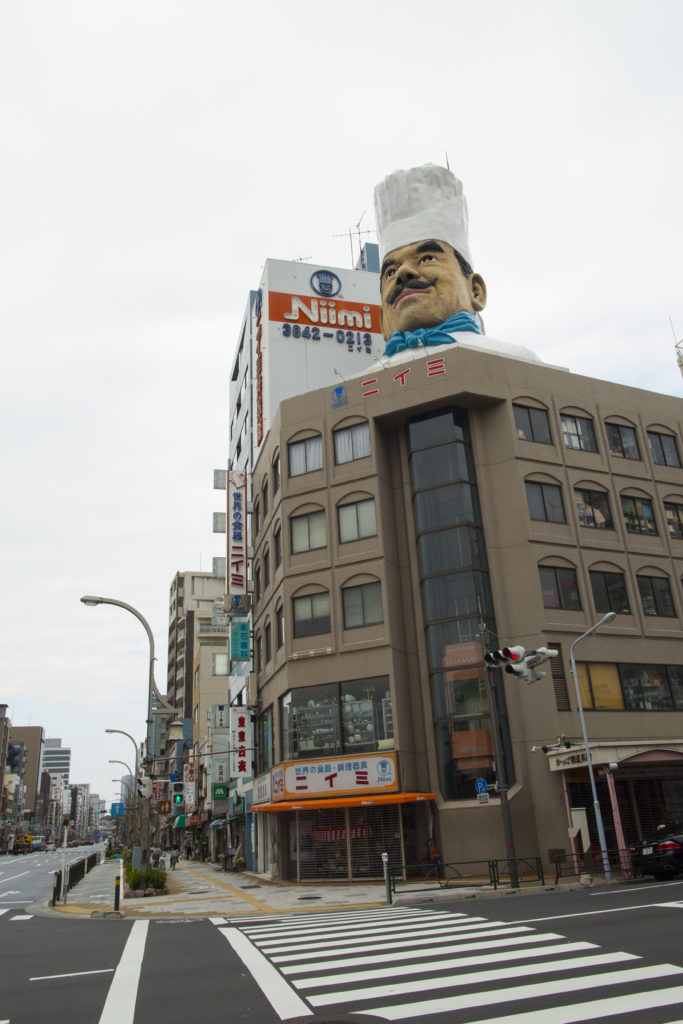 As previously mentioned, Japan is perhaps the country you should be most adventurous when it comes to eating. See someplace that looks good? Don't be afraid to just step inside, sit down, and point. Even though many Japanese restaurants don't have english speaking employees they often have menus with pictures. Why? I have no idea but for some reason they just love picture menus. They also love to create plastic renditions of their meals and showcase them in the storefront windows. In Tokyo there is actually a small district, Kappabashi St, near the Senso-Ji temple where you can find a number of stores specializing in plastic food. Sushi magnets and sashimi Christmas ornaments make great souvenirs.
Here's a list of some of the places (and experiences) we enjoyed.
Tsukiji Fish Market – As long as you're there before November 2016 and it's open, then eating breakfast sushi here is a must. Avoid the terribly long lines at Sushi Daiwa and Sushi Dai and pick something with Japanese patrons. One of the best meals of our trip was at Ichi ba Sushi. We also ate at Ryu Sushi. Not all the restaurants are sushi. We had a great seafood curry at Nakaei. There's also a tiny cool old school coffee shop right next to Sushi Daiwa that serves freshly made "milk coffee" and toast.
Japanese Whisky is totally a thing. If you're into single malts, blends, or bourbons then you should absolutely make it a point to seek out a good whisky bar in Japan. There are a number of them around Shinjuku Station. We went to the well known and well regarded Zoetrope, where a large variety of the brown liquor can be had in a tiny setting while old silent movies play in the background.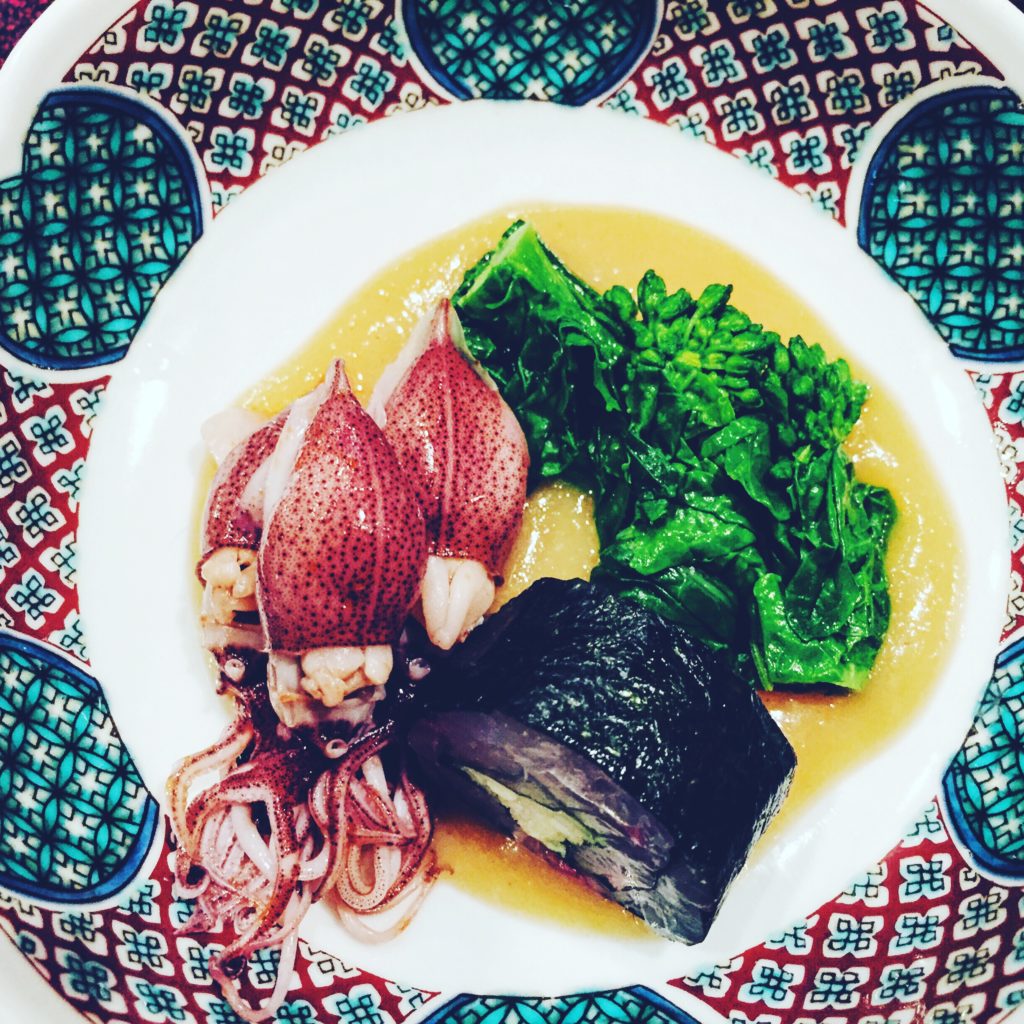 We had two good sushi dinners in Tokyo, both were in traditional sushi restaurants with only a handful of seats. One was at Sushi Hattori in Roppongi. We found it on Openable.com and it was a great first meal in Tokyo. Sushi Bar Yasuda is run by a Japanese chef that used to be the head chef of a restaurant by the same name in New York. This place is popular with many Americans, and New Yorkers in particular. It can be very difficult to get reservations here and the menu is omakase only.  Chef Yasuda is very engaging and adds to the experience.
There is a Yakatori Alley in both Ginza and Shinjuku. Both are on our map above. Best way to approach these are simply strolling through and returning to whatever looks good. You can visit several in the course of one meal. Skewers are small and cheap so don't be afraid to try new things — grilled chicken thigh pieces, squid, pork, chicken skin, leeks, shistito peppers, etc.
Ramen is to Japan what fast-food is to America and there seems to be one on every corner. Most are pretty basic in terms of set up and many actually feature electronic ordering. One late night we wondered into a place called Ramen TOKI on a busy corner in Shinjuku. It was as good as any ramen we've ever had. The electronic ordering systems are easy to operate and if you look confused long enough a patron or one of the servers will probably help you out. Or you could just hit the buttons, put in some yen, and see what comes out.
Bakeries are an unexpected surprise in Tokyo. They make great snacks too. If you're hungry and on the move stop into one and grab some fresh baked bread, pastries, or mini pizzas. You will not be disappointed.
You've probably heard of Wagyu beef. While the rumors about the cows being massaged or drinking whisky are (mostly) untrue it makes for a truly memorable dining experience. It is not, however, cheap. We had some at a restaurant along Pontocho Alley in Kyoto.  If you really want to splurge head to the Park Hyatt Hotel in Tokyo. Made famous by the movie Lost in Translation you'll find the New York Bar at the top with fabulous views of the city and top notch cuisine. For a cheaper view just grab a cocktail.
sleeping
Airbnb near Shinjuku (Yotsuyasanchome station); Tokyo.  Three floors PLUS a rooftop garden on a quiet neighborhood street run by the very hospitable Colleen.  This place has since been recommended in LUXE City Guides as a top Airbnb location.
Matsui Inn (a traditional ryokan); Kyoto. Complete with matcha tea upon arrival, traditional Japanese bathhouse, bamboo futon sleeping mats, and an elaborate Japanese breakfast.
Airbnb in Ginza nearish to  the Tsukiji Fish Market; Tokyo. A somewhat sterile alcove studio apartment in a high-rise building, in a convenient location with self check-in/check-out.
Recommended travel guide
Food, Sake, Tokyo by Yukari Sakamoto